Win VIP Packages to the Oktoberfest at PartyPoker

Damien Oborne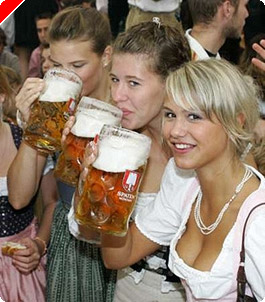 PartyPoker.com are currently running a fantastic promotion for the biggest party in Europe, Oktoberfest 2007!
The promotion runs until the 28th of September and gives players the chance of winning their way to Munich for the party of a lifetime. There are 12 VIP packages to be won. These packages include -
* $500USD for travel expenses
* Accommodation for 2 people in a luxury 5 star hotel
* A Friday night dinner which includes an exclusive Freeroll Poker Tournament. The winner of this event receives a $12,000 Partypoker.com Million Cruise Package
* A Go Kart experience
* VIP treatment at P1 nightclub
* An exclusive VIP dinner and party in the famous hippodrome tent
So what does it cost to get to the best party of the year?
You can join an Oktoberfest qualifying table by earning as little as 20 Party points. You can also qualify for the special Tell-a-Friend Oktoberfest qualifier by referring 2 friends or more before the 27th of September.
There are going to be two big events, each giving away 6 packages. They take place on Friday the 21st and Friday the 28th of September at 14.30 ET. There are three ways to gain entry into these monster events. The first is by finishing in the top 10 in a daily 20 point qualifier. The second is by having a top 25 finish in a 50 point qualifier. The third is by earning 750 player points before the Oktoberfest final. This gains you automatic entry.
An expected attendance of 6 million people from around the globe makes this an event you need to be part of. So get involved at PartyPoker.com and take a shot at a once in a lifetime package. As A PartyPoker.com spokesman commented: "There is no doubt that 20 Party points is a small price to pay for what will be a superb experience."
An extra incentive to get involved at PartyPoker.com is the two remaining $5000 Pokernews Cup freerolls. Those exclusive freerolls are for people that sign up through UK PokerNews. Join PartyPoker today and win a trip to Munich for Oktoberfest or Melbourne for the PokerNews Cup.