UK PokerNews Exclusive: Interview with Daniel Negreanu

Kevin Stevens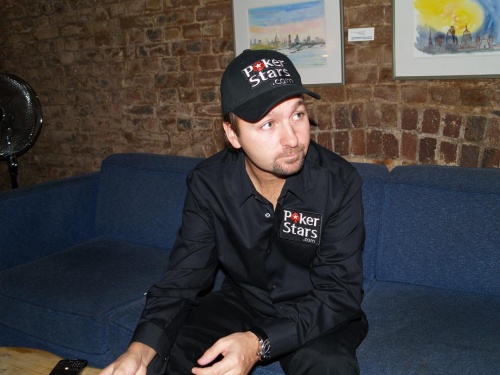 Kevin Stevens joined the stars at last weekends Holdem 100 charity tournament in aid of the Royal Marsden Cancer Fund. During a break in play he caught up with Pokerstars' Daniel Negreanu for a chat about all things poker. Here is our exclusive interview.
POKER NEWS: What does it mean to you personally to be able to help such a worthy causes as you are today with the Royal Marsden Cancer Fund?
DANIEL NEGREANU: That's one of the key reasons I signed for Pokerstars because they do so much for charity. I feel poker is the evolution of the charity golf tournament. The charity golf tournaments have always raised so much for charity but poker can reach so much further, because at charity golf tournaments people have to be able to play! If you can't swing a club your day is going to suck! But poker is real easy to learn and it's good way to earn a lot of money for good causes. So every time poker stars run a day like this I'm going to be involved.
POKER NEWS: It's five months since you joined team Pokerstars, do you feel being part of a team of players has affected your play?
DANIEL NEGREANU: I actually feel that right now I'm playing really great. I try not to be a results orientated guy but I feel the last three or four tournaments I have played I have played better than I have ever played before in my entire life. I feel that right now I am peeking at both online cash game play and my tournament play. The last event here in London and the EPT event in Barcelona I played exceptionally well and was unlucky to get knocked out of them both, but that's part of the game and I know now my focus is in the right place. Sometimes I have won tournaments when my focus has not been as good so right now I know I am a threat and I'm playing my best poker.
POKER NEWS: So you're really looking forward to the EPT London event next week?
DANIEL NEGREANU: Yes I'm really looking forward to a big run. I brought a lot of clothes with me!
POKER NEWS: Has working with Pokerstars pushed you more in the direction of the live tournaments circuit and away from the big game in Vegas?
DANIEL NEGREANU: Well the big game is a sporadic thing; it does not run on a permanent basis. So I have learned to challenge myself in other ways. The one thing I have taken on recently is the challenge of the high stakes No Limit online cash games. I have heard so much about how good these online players are I wanted to test myself against them and I have found out 'Hey, wait a minute. These guys are not that good!' I mean they're good! But I think I was duped into buying into the hype a little bit. So I have been doing fairly well playing in those games and also the new challenge for me is the EPT which Pokerstars are the title sponsor. I plan to win the trifecta, no one has ever won a WSOP bracelet. A WPT title and an EPT title and I plan on being the first.
POKER NEWS: Now your playing so much more online at Pokerstars do you use any poker software, like Poker Office or Poker Tracker?
DANIEL NEGREANU: I am virtually illiterate when it comes to poker software! I have trouble playing two games at once, I can't focus, and I can't play! What I try to do is find the biggest games and the best players and just play one table. That way I focus better and make notes on players, as far as poker tracker and the stats, I don't know how to use them.
POKER NEWS: Are there any names on Pokerstars you keep coming across?
DANIEL NEGREANU: Well obviously is a pretty similar group of players. There's ABA AKA, SBrugby of course. The guy who has given me most trouble, not financially I just I find him difficult to play against, is Stinger88. He's pretty tough but overall I have found the style of play amongst the online payers is relatively robotic and pattern based and I feel that I have made a couple of key adjustments to my online game that has made me less dependent on my people reading skills and more betting pattern dependant. I do play completely differently live than I do online; I mean I never thought that would be true, I thought it's poker! What's the difference you just have to play, but I have actually found that there are hands that to get the right read on a situation I have to play it in a certain way to get the information I need. In a live game scenario I can sometimes just look at the guy, watch him bet the chips and get a feel for whether he's steaming or confident. So there are some betting adjustments I have made on my play that have made me move from a break even online player to probably a winning player.
POKER NEWS: Do you think that might help your live play?
DANIEL NEGREANU: A little bit yeah, because it's basically just playing the game better overall. It makes playing live easier because now when I play live I have these extra ideas of how they play online and I can look at them too, so they're completely dead!
POKER NEWS: You're a prolific "blogger" and author of poker articles, do you find having this creative writing outlet helps your game?
DANIEL NEGREANU: Yeah, a lot of the times and people can usually tell, my blog goes through these phases when all I talk about is golf and movies because that all I'm really doing. But then when I'm actually in a tournament or playing a lot online by blogs get a lot more intense as I'm writing and teaching in general I fell like I learn myself just by reaffirming what I already know. I find it exciting, I went through a phase when I probably didn't really talk about poker very much because I just wasn't very interested in it but when I am, I know my brains working and things are going on up there that are continually evolving my game. I have always felt that when you get stagnant and get to a point where you feel like there's nothing left to learn that's the point when you actually begin to go backwards because other players are learning and if your not your going to get passed by.
POKER NEWS: I know you like playing computer games, when you buy a new game or play something new do you immediately see the essence of the game, the strategic elements?
DANIEL NEGREANU: Absolutely, simple story we where filming this 'Prop Bets' segment during the world series for ESPN. There was me, Eric Lingren, Josh Arieh and Bill Gazes. I went into each segment with a clear and dedicated strategy. Like the dodgeball, I figured out how may points I needed and who I need to block out and what my strategy needed to be. That's just how my brain works. I watch survivor and other reality TV programs and my brain is always thinking about ways too think outside the box and what if they did this or this. It's all just an extension of game playing.
POKER NEWS: Did you play a lot of games together as a family when you where a kid?
DANIEL NEGREANU: I always really wanted to play a lot of games but my family was just not a games playing family. It is really strange that they rarely wanted to play games and all I wanted to do was play card games with them. It's strange because there is no family history of game playing, it just came out of nowhere with me.
POKER NEWS: I know your blog often strays from poker, but do you ever want to write in a completely non-poker direction?
DANIEL NEGREANU: Yeah, you know I have literally a million ideas of things I would like to do I just wish there was a thousand hours in a day! I feel like I have a filmic mind, it's something I have enjoyed so much. I came up with some really cool ideas for a script so I have started writing here and there. I feel like I could do it, it's just a matter of finding the time. There so many other things I have to do first. There's another project I'm working on at the moment called Poker VT. This is a poker virtual training course, which along with the book, the columns and my actual life make it hard!
POKER NEWS: Poker VT is this going to me an online training site?
DANIEL NEGREANU: Yes. I think it will be the coolest poker teaching site you have seen. PokerVT.COM will be a virtual poker training experience where lf you're new to poker you would start of at the beginner level and we generate a lesson plan with the basics. If you're an experienced player we would make the lesson plan fit you so it's more advanced subject matter. It's a multi faceted site with a lot of interaction, its nothing as simple as here's some videos watch these, there so much more to it than that.
POKER NEWS: So when's the planned launch for PokerVT.COM?
DANIEL NEGREANU: We are hoping for an early January Launch.
POKER NEWS: Have you had hands on involvement with the project?
DANIEL NEGREANU: Yes, I have been working on it like crazy, been filming a lot and creating content. For example I have just had Kirk Morrison and Paul Wasicka out in LA filming. We have basically been playing at a table and shooting content for the site. I feel like the best way to teach is to take real hands and real situations and show them and the thinking behind the play.
POKER NEWS: So it's online with at the felt footage as well as online play?
DANIEL NEGREANU: Yes, it's almost as if the majority will be at the felt training, but of course a component of the site will be online play. On the site we will have a number of the online superstars playing and explaining why there doing what there doing.
POKER NEWS: Well good luck with the launch. If you could outdraw anyone in the world for all the money, who would it be and why?
DANIEL NEGREANU: I would say the funniest person to outdraw would be pretty obvious; Phil Hellmuth. You get like an explosion and it's just fun to watch. I always laugh at him on the spot so it would just be a kick.
POKER NEWS: If you could change anything in the poker world what would it be and why?
DANIEL NEGREANU: There are some rules. At the moment poker players tools are being limited by tournament directors who don't understand how the game works. The rule I'm talking about is the ability to show one hole card in a hand. I think it's beneficial to everyone if you allow this, it makes for exciting TV and it makes the game more skilful. There's virtually no negative to this if you bet all your money on the river why should I not be able to show you my hand to get a read off you. Who is this rule designed to protect. If you're playing in an elite poker competition and you don't want to look then hide your eyes. It's just absurd
.
POKER NEWS: What's your favourite place in the world to play poker?
DANIEL NEGREANU: I really enjoy playing at the Commerce Casino in Los Angeles. I really like the setup. It's the biggest poker room in the world and I find it really comfortable.
POKER NEWS: If you could borrow an ability from another player what would it be and why?
DANIEL NEGREANU: I would say 100% I would like to borrow John Juanda's ability to sense weakness before the flop. John is better than anyone else at reading weakness and re-raising them with absolute garbage. Every time I try it they have pocket aces!
POKER NEWS: Is John Juanda the best pre-flop player in the world?
DANIEL NEGREANU: I would say when it comes to reading weakness John Juanda is the scariest! He plays a different brand of poker than me and Phil Ivey and some others who are a little more conservative pre-flop. John's instinct for punishing blind steals is better than anyone else I know.
POKER NEWS: Was there ever one particular hand that you think might have held back your career?
DANIEL NEGREANU: Yes, sure. In 2001 in the main event which Carlo Mortensen went on to win I was the chip leader with twelve players left and I played a pot where Carlos raised to 30,000 and Henry Nowakowski, a German player who was kind of wild, re-raised. I was in the big blind with AK. In this situation now I would have folded but I felt at the time Henry was very weak and so was Carlos so I re-raised with the AK. Henry moved all in with pocket sixes and I lost this pot when it came 10 J on the flop and nothing on the turn and river and that put me in jeopardy. If I win this pot I have a very good chance to win the tournament and even if I don't play the pot I still have a very good chance to win. That was a very crucial hand for me in a lot of ways.
POKER NEWS: What's you major career goal now? Is it to win the main event?
DANIEL NEGREANU: No, the one I really want to win is the $50K H.O.R.S.E. That's the world championship of poker if you ask me. I think this is the tournament that better crowns the best all around player every year. That's the tournament that's more pro-centric and is a more sophisticated style of poker.
The world series of poker main event, and people might take this the wrong way and not understand what I'm talking about, it really isn't an elite form of poker. The fact that there are so many amateurs is great for it and I'm not saying we should reduce the number but the style of play that's necessary when you have one pro and nine amateurs is completely different. You dumb down your game. You won't see sophisticated play because you're not at a table where it's necessary. I enjoy a sophisticated style of poker much more. You know out thinking each other rather than waiting for an idiot to blow away his chips to you? I find in the main event that, because it's such a large tournament now, that it's easy to do well at the event but I find the quality of the poker really sub par.
POKER NEWS: There is a lot of gambling involved isn't there?
DANIEL NEGREANU: There's a lot of lower end unsophisticated play. If there are two pro's at the same table in the main event there not going to be playing sophisticated poker against each other because there are so many better spots.
POKER NEWS: What's your favourite poker variation?
DANIEL NEGREANU: My favourite game is stud eight or better. The first game I really learned to play well was a home game. We played stud hi-lo with no qualifier. You also rolled your own all the way and then you declare at the end. It was a really fun game and it taught me more about the psychology of the game. You had to learn to read into the game. Why is he showing me this card? Is he going high or going low? I learned more from that game than any other game.
POKER NEWS: Well thanks for your time Daniel and good luck for the London EPT event.
Ed note: Play against Daniel Negreanu at Pokerstars