The Hold'em 100 to Attract Big Name Stars

Barry Carter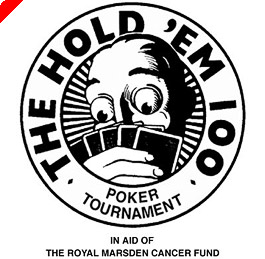 Way before poker was a thriving media industry and poker players had agents, made public appearances and wrote autographs - players were playing in charity tournaments. At a time when professional poker players still carried a stigma around there was the 'Hold'em 100' which went some way to showing how respectable and generous poker players can be.
In 1995 Conrad Brunner led a group of poker players to start 'Hold'em 100' – a charity tournament which expected to attract 100 players, in fact it got 104. "A 100-player tournament was a really big deal back then," said Brunner. "We didn't think we would get enough players but kicked off the first event with 104 runners. That made it the UK's biggest ever tournament at the time."
The event is in aid of the Royal Marsden Cancer Fund, one of the UK's leading cancer hospitals. The tournament is now in its 12th year and running and has raised over £100,000. "People don't believe poker players are generous, but every year we see them splashing out extravagantly on the rebuys, knowing the cash is going to a very good cause," Brunner said. Proceeds from the tournament are split between the hospital's research work and its practical patient care.
This years 'Hold'em 100' gets underway this Sunday at the Loose Cannon Sports Bar in London. Poker player Gavin Griffin, a cancer activist, has been invited to this event as a guest of honor. Griffin and his girlfriend Kristen have done a lot to raise cancer awareness and raise money, including dying Gavins hair pink, in recognition of the 'pink ribbon' campaign.
The buy-in to the tournament is £50 and is structured for unlimited rebuys to maximise donations. Our good friends at Pokerstars are the official sponsors of the event and with the London EPT just round the corner, stars like Chris Moneymaker, Daniel Negreanu and Katja Thater are expected to attend.
Pokerstars have also added to the excitement by gifting a £5,400 seat to the London EPT to the eventual winner of the tournament. "This generous donation means that - as well as getting a chance to sit next to some major stars for an initial buy-in of only £50, players have an even more valuable target to aim for," Brunner added.
Tickets are still available for the 2007 Hold'em 100. For more information go to: http://www.holdem100.com
Ed note: You can qualify for EPT events at Pokerstars