Annette Obrestad Storms into European Rankings Top Ten

Barry Carter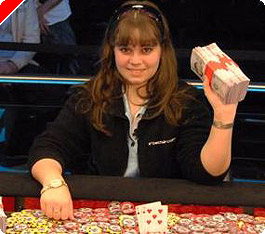 Following her amazing victory at the World Series of Poker Europe, Annette Obrestad has jumped some 404 places in the European Rankings and straight into the top ten. We predicted last time we brought you the Mansion European Poker Rankings that the WSOPE and upcoming EPT Events could have a profound effect on the top ten and indeed they have.
Obrestad, who has only cashed in four live events since turning 18 and is predominantly an internet player, was sat in 409th position before the WSOPE started. Ranking points are given for final tables only and are weighted in terms of the buy-in and number of entrants in a given tournament. Annette's only other final table came in €500 side event at the EPT Grand Final where she came 5th, now winning arguably the toughest and richest tournament in Europe has catapulted her into 5th in the European Rankings.
Annette sits behind the UKs Dave Smith and Dave Colclough. Her rise in the rankings has pushed Sheffield's Mazhar Nawab out of the top ten, but popular UK circuit player James Dempsey has crept into the top ten after making his 9th and 10th final table of the year in back to back side events at the Plymouth GUKPT (7 of the others were in the Rendevous Casino in Brighton.)
Søren Kongsgaard will take some beating, however, sitting in 1st place following three 1st places and two other final tables in major European Competition (Including a 3rd place finish in the EPT Grand Final).
Annette has proved that the Mansion Poker European Poker Rankings are not over until the clock strikes 12 at the end of the year and with the upcoming EPTs in London, Baden, Dublin and Prague, we could see the top ten change its guard several times over until we see who the European Player of the Year is.
The European Rankings and Points currently look like this:
1st Søren Kongsgaard (Denmark) - 8,725
2nd Andreas Krause (Germany) - 6,875
3rd Dave Colclough (Wales) - 4,585
4th Dave Smith (England) - 4,240
5th Annette Obrestad (Norway) - 4,140
6th Erich Kollmann (Austria) - 4,085
7th Samir Shakhtoor (Sweden) - 3,940
8th Sebastian Ruthenberg (Germany) - 3,885
9th James Dempsey (England) - 3,706
10th Siegfried Rath (Austria) - 3,630
Ed note: Win big money tournaments like Annette when you play at Mansion Poker