WSOP Europe is "Sick"

Catman - The Poker Agent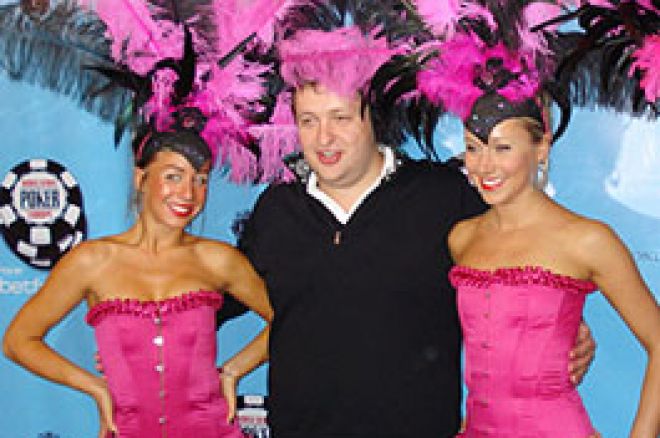 The WSOP Europe is sick! For those in the know, "sick" is street and poker slang, an adjective, meaning "cool" or "awesome". If you haven't yet got your train or air ticket to London to view Europe's greatest poker spectacle, do it now!
If you haven't got a ticket to play, then sell your dog and get one. Monday, September 10th is the day the big one kicks off and without any doubt will be the "Dog's Danglers". Come and meet the stars; you won't find a better bunch off a poker table.
Betfair's presentation of the WSOP is an investment as solid as Fort Knox for, along with Harrah's Entertainments Inc and LCI, they have brought London a show to die for. This is the World Cup, Premiership and Olympics of Poker wrapped into one. Yes, I am buzzing! For inside LCI's three venues you will find what is simply the best line-up of American and World Poker Talent ever assembled outside of Las Vegas.
Betfair and Europe has already reaped one huge award; Betfair's sponsored player, Thomas "Buzzer" Bihl, has taken down the H.O.R.S.E. event, gaining possession of one of the most valuable WSOP bracelets ever. No mean feat considering there was a collective of 98 WSOP bracelets held by the 105 players in that event.
The Main Event will see around 130 of Betfair's qualifiers enter into a field of truly sick pro's. Whatever the final number, players will battle in a game resembling the olden days of Binnions when the fields were comprised primarily of the best players in the world.
The muscle and grace of Betfair and Harrah's have made the very first WSOP Europe an event to die for. In turn, the players have supported this seed in the growth of Live European Poker.
Does wearing a WSOP Europe bracelet mean as much as wearing a WSOP Vegas bracelet? Yes, without a doubt; maybe not financially, but this event will stimulate a more level playing field for real poker play.
We are talking platinum quality players and absolute quantity; the winner of the £10,000 Main Event will hold what may become the ultimate WSOP bracelet.
European players will at last have a home advantage while for our American brothers it is a chance to gain exposure in Europe and of course possible ownership and bragging rights to a truly exclusive bracelet. European exposure is now vital for every poker room and player given the state of the American online market. It is only a matter of time before WSOP Europe becomes a circuit event and, when it does, it will be supported and vied for.
The carnival started last Wednesday with yet another launch party, this one as good as the previous two. Tony G posed with the showgirls and Betfair and Harrah's continued to offer sensational hospitality.
The whole thing can't get much better. Yes, the Main Event will be split over three casinos but who gives a brass monkey's? Rest assured, the WSOP Europe will get bigger, but how much better can it be?
I sat down in the H.O.R.S.E. event (with many thanks to my sponsor, poker's most eligible bachelor, Matt Dale, a man you will hear plenty more from in the future). "Heads up for Rollz!" barked Matt at a very bemused Phil Hellmuth, not having quite yet fully grasped the English sense of humour.
My first table in the H.O.R.S.E. had Andy Black, Lederer, Pescatori and Eric Dalby, one of Europe's original big cash players. A little later, I was moved to the poker room downstairs and, "bad-a-bing!", the whole full force of WSOP Europe hit me square in the chops. I sat down and Donnacha O'Dea, Gus Hansen, Allen Cunningham, Z Justin and Joe Beevers were my opponents! Was it Christmas?
Over Gus' shoulder, Tony G, Phil Hellmuth, Bloch and Harman. In fact, anywhere you looked was a poker legend. "Welcome to my World!" Gus Hansen would exclaim after hitting quad queens and a straight flush, and what an exciting world we were in.
Phil was yapping on about "36 Billion? Maybe we should all buy a casino in Vegas" and how the nightclub, China White's, had made him wait five minutes in a queue.
Apparently, Barry Greenstein hadn't sat down, but the biggest daddy of them all had, Doyle Brunson was seated. What a room, what a feeling, only a few faces were missing but the likes of "Kid Poker" Negreanu, Greg Raymer and Jamie Gold were slowly arriving for the next event, the "Omaha".
During the break, I wandered into the players' lounge just to watch Doyle take a nap with his Stetson draped over his nose. Doyle had just ridden into town and no matter how much I wanted to take a photo I could not dare to infringe on the privacy of poker's greatest legend, full stop. Doyle Brunson's attendance was the icing on the cake and his personal endorsement on the value of this event.
Naturally, I arranged a little tête-à-tête with Doyle via his charming manager, Trish. "Catman, did I tell you my ancestry is from Essex somewhere in the 1500's? I came to England and asked a cab driver to take me to Essex, I thought it was a town!" related my hero as he took time to pose and give lessons to the Catgirl in her red catsuit. While we are on that matter, on 12th September at 7pm, you can meet Doyle up live and close for photos at The Century Club in London.
I have been dying to feel a little patriotic and when I saw my very good friend Joe Beevers, along with the sensational Omaha expert Gary Jones, vie against a Russian, a German and three Americans at the H.O.R.S.E. final table, I almost went out to purchase a Union Jack, if we still have one.
London is my home and poker is my passion; now I have got it all. Betfair, WSOP Europe and its players have provided a historical landmark in European history. It was the day the Yanks invaded, just as I had predicted.
Betfair have had little time to promote this first event and have been extremely generous online to promote the Big One. This attitude of giving online players a little more for their money will prove the event a massive success in the future.
So what have we got? The best players in the world, lovely seared tuna and sushi at the buffet, a Betfair players' lounge with vibrating massage chairs (did I say showgirls?) and Doyle Brunson has come to see us.
The Chelsea FC owner, Roman Abramovich himself, could not have done a better job in gathering the world's greatest players to celebrate not only the birth of WSOP Europe presented by Betfair but of course establishing that our fair capital, London, is the new capital of European Poker.
Come on down, the price is right, just bring your passport, membership at the door!
Ed note: Play LIVE on TV at Sky Poker