High Stakes Fish

Catman - The Poker Agent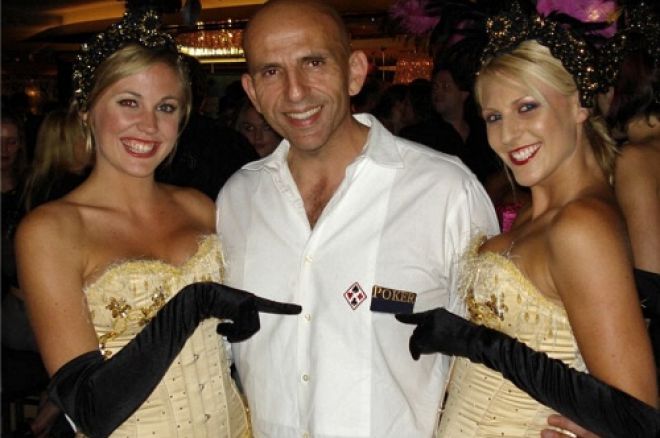 With the WSOP Europe presented by Betfair just having played out, anyone with a brain was getting a little action out of the Americans whilst they were still in town. Doyle "Texas Dolly" Brunson will be seen across the European circuit later this year and will also bring a Doyle's Room Series of events. Doyle said; "I might well be doing some work with my very good friend, Toby McGuire, (alias Spiderman)" which would certainly bring further recognition and some mainstream press for our game.
A top-flight online poker magazine said I must have been drunk when I wrote about the WSOPE on UK PokerNews; I confirm they were correct! I am still drunk with delight from seeing the world's most celebrated American players coming here en masse and of course getting blitzed by us Europeans. However, the American presence in Europe will provide for more exposure of UK poker players and eventually offer them the chance to relish the rewards enjoyed by the American rock stars of poker. Europe still has room for some more major events that will bring the Americans and TV coverage that is so vital for us all. Europe is the new money of poker for the time being and the industry is slowly tapping in.
On Monday night, I rushed to the trendy Soho Hotel to attend the Full Tilt press event, hoping to catch up with some of the most inhuman monsters who make up the sick Full Tilt team. I got there at 9pm and of course the party had finished at 7pm. So, that meant I would miss my invite to the Full Tilt TV Million Dollar Cash Game at Fifty Casino. Allen Cunningham (my K9 nemesis in the WSOPE H.O.R.S.E.) and Gus Hansen both had the pleasure of playing with the Catman and I really did want to go and shake Allen's…er…hand!
Splashing the Cash
Tuesday night's televised cash game saw Tiger Ivey sit down with $750k, along with a Full Tilt Posse wedged up with plenty of huge stacks. Phil Ivey and Patrik Antonius were in battle with a pot of $807,400 which was further driven by $600k of prop bets. Naturally a European, "On Your Bike" Tony G, buying in for a total of $150,000, cashed out the biggest winner with $223,000 on the night. The Full Tilt Team will now move onto Germany to spread the word of Uncle Tilty.
The day prior saw Party Poker stage their Poker Den Marathon Cash Game with cut-throat precision, enlisting the likes of Jamie Gold, Chris Ferguson, Tony G, Erick Lindgren, Devilfish, Phil Hellmuth, Roland De Wolfe and more. There was a list as long as your arm to play till you drop in this 24-hour extravaganza. Whispers have it that Tony G again came out one of the top winners. The action has only just begun in Europe and the battle for mainstream TV continues. Party Poker really do have a good conveyor belt moving with Matchroom and are providing some quality poker entertainment.
It will be interesting to see how many of the "Yanks" have remained for Pokerstars' £5,000 EPT event starting on 25th September at the London Grosvenor Victoria - I suspect a large number.
Gone Fishing in Omaha
This week, I was asked a very intelligent question by a learned accountant and keen poker enthusiast:
"Just been watching David Benyamine online at Full Tilt Poker, on a $40k max stake table, take $400k plus, most of it off William Thorsson (Frooodo) of Sweden. Frooodo was donking it off on another heads up table too – both of them Omaha High. For a professional, is Thorsson a real fish, or is heads up Omaha so narrow an edge?"
Whether heads up or full table, Omaha requires a discipline so rare it might only be found light years away. I don't how "Superman" Benyamine multi-tables four massive games at once without diluting the ability to follow each game to the max. Some months he is up $1.5million; other months down the same amount. Is he a real fish, a genius or a mad gambler on mild tilt? Heads up requires the same mesmerising concentration as a full table, that is unless you are a mad gambler. It also requires a different game strategy where bluffs take more the form of betting weak starting hands pre-flop, then playing and hitting Gus-style. The battle is against one's own wits and self control.
Omaha players consider odds and edges as second nature, the game is one of never ending draws and to pursue and win them is an art form. Let's think Hendrix and no music sheets - he played the best tune every time but never a sheet of music in sight. Players feel rather than think odds along with a multitude of abstract considerations. Intuition and senses must be on auto-pilot, but it is knowing when to switch the damn thing off, that is the art.
In reality, a game so simple but so complex that nobody could venture you into the mind of a man like Frooodo. "A Real Fish" he is certainly not - this man has Viking Blood and to play high stakes on a daily basis, you would need to be part man, part "Terminator".
The variables around any Omaha hand do not allow for the ABC poker that can make you a great profit in Hold'em. Even the "rockiest" Omaha player will hold his breath and thrash his top/mid trips to the max in the face of made/drawing flushes and straights. Watch Gus play and you may call him a fish as he wipes you out time after time with his un-backed gutshot draws, for his world is a very different one. The game is such it immerses you deep into a world of excitement, pain and pleasure, a very seductive world. Let's call it "My World" (quote Gus Hansen). Marco Pierre White, a man who loves a game of spoof, would probably resemble the madman who first created this fine delicacy, as alluring as human flesh is to Hannibal Lector.
Omaha, unlike cigarettes, does not need to bear any health warnings, it is a game that has always been feared and in turn shunned by non-believers and maybe those who value their bankrolls. Omaha is making a huge resurgence, it is as fashionable as a Lambo in St Johns Wood and will require that exact bankroll if you are going to be taken seriously.
For the sake of this question we are talking high Stakes Omaha, the kind you want to be seen playing of course, $200-400 / $300- $600 pot limit. Most of the action in this elite clique involves names like Frooodo, Ziigmund, BENYAMINE, Hansen, IdreamofJenna, Luigi66369 (Patrik Antonius), a long list of pros when they have funds, 18-23 year old drop outs (Townsend etc), millionaires and billionaires. The list is building big time and, like any great club, it is a very difficult one to get into. If you do gain access, how long will you be able to afford to stay for?
Benyamine won $480k on the 15th Sept 2007, from Ziigmund and Frooodo, Frooodo seemingly whilst whittling a way a further small fortune heads up simultaneously on another $200-$400 table. A couple of nights later, Frooodo won $300k on the night and has been involved in six pots between $175k and $330k over the last week or so alone. From 1st August till 17th September 2007, an approximation of cashes under players' most common alias (most have several) were:
Benyamine's winnings in Omaha are $1.930.262. A couple of months back, he was down a similar amount. In the same period, KaiBuxxe has won $1.24mill, Frooodo $452k, sbrugby/Townsend $377k. Townsend was at some stage down $4million and is now up around two mill. Ivey is of course up around $250k, ZRC down $1.1mill, Ziigmund down $530k and Gus Hansen down $368k. Looking at an average of 70-100 hands per hour. (**)
(**) Source: www.highstakesdb.com
Balls, skill and of course preying on those whose balls weren't in the right place at the right time, Omaha will have you gasping for breath. Hand over hand, the danger of tilt is ever present, playing garbage a threat hanging over the least degenerate of players. Studying starting hands that have been played by the so-called masters in high limit games, Hold'em or Omaha, will present you with some utter garbage. Caro's quote, "Much poker is played on a whim", is demonstrated with added intensity and the depth and complexity of the mind process in high stakes provides a further dimension that may cloud judgement.
Of course, you will be playing the player but the mind-altering effect of Omaha is greater than any hallucinogenic drug making the game and the players totally unpredictable. The glamour and temptation of this game played by very naughty schoolboys like Gus is driven full throttle by the non-conformist stance of those who play it. Like Kate Moss, the more sensational the play, whether good or bad, the more the players will do it and the more I for one will watch and hopefully one day join the action. Like any great source of pleasure, you will never get enough of it hence this multi-tabling madness that can create a Fish out of the Masters. The problem is that Omaha leads to continual chasing and those who play it at this level cannot be satisfied by one serious game, they need to be exhausted by continual action.
But if it is entertainment you want, then you have got to learn to play Omaha and live Rock'n'Roll Poker. Omaha is like walking a tightrope made of razor wire, wearing leather soles that are nearly cut through whilst balancing an egg on your head for a prop bet. You will never know if you are going to make it to the other side, no matter how good you may think you are.
Is Frooodo a fish, was he pushed, or did he fall? Neither Frooodo nor I will ever be able to answer that one. Is an Omaha player a Kamikaze Pilot, Hero, Insane or Genius? Quite probably all of these.
Health Warning – with regard to Fish, I would generally think "Shark" and "Piranha" whilst
playing any of the above mentioned maniacs!
Ed note: There are plenty of fish at Titan Poker - we'll give you $50 free to get started there too!