UK Online Poker Rankings

Barry Carter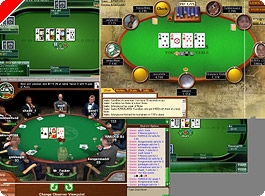 Earlier this month we brought you details of the European and UK Poker rankings but what about the rankings for our home grown talent at the online tables? PocketFives.com as ever are revolutionising their online rankings database and now allow you to filter their rankings into Country and even region.
It's with great pride that I find myself in 2nd place in the Sheffield rankings on P5s, that wouldn't seem bad as I don't really play tournaments, however as there are only two of us registered in the Sheffield rankings, maybe I should delete this paragraph? If you think you might be the best player in Tamworth then take a look yourself at Pocket Fives.
Sat at the top of the UK rankings is allinstevie, whose real name is Stephen Devlin from Omagh. He has had over $500,000 in cashes on Pokerstars alone and most recently won the $215 Sunday Second Chance a few weeks ago for $54,000.
Himclip85 sits in 4th with over $350,000 in cashes and a couple of Sunday Million final tables on his resume. I'm not sure what his actual name is but I played against him once in Manchester and shared a taxi with him, seemed a nice enough guy.
Stevie444 aka Steve Chidwick from Kent is another young Steve in the top ten with a string of big cashes across all the poker rooms. Gerard Barclay from Northampton, known as GezBar online is just behind him with a $200,000 win on Pokerstars this year.
If non of these names mean anything to you then maybe the next one will. Mavfish is non other than JP Kelly, one of the UKs brightest stars both live and online. With over $500,000 in cashes online in tournaments alone and $400,000 in ranking live tournaments, he really is one of the players that transcends both disciplines of poker.
The UK top ten look like this.

1) Allinstevie
2) moorman1
3) JayPez
4) HimClip85
5) Stevie444
6) GezBar
7) Willeiolti
8) MavFish
9) Doctor fun
10) Badpab2
Ed Note: Get yourself in the top ten and get a $500 bonus at the same time with Ladbrokes Poker