Titanic Jackpot Sit and Gos Reach New Highs

Damien Oborne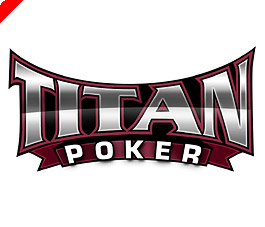 The time has never been better to play at Titan Poker. The Jackpot Sit and Gos are rising by the week and there is fantastic value to be had for regular single table tournament players.
The Jackpot Sit and Gos at Titan Poker cater for every size of bank roll with prices ranging from $2+0.40 to $50+9.
The $2+0.40 Dirty Dozen tournaments feature 12 players and awards players, who can win 4 events in a row, with a $2000 bonus. This is a fantastic chance for players to hugely increase their bank rolls from a small outlay.
The next level of sit and go is the 10 seat $5+1 Maui. The Maui bonus starts off at $15,000 and rises each week until someone achieves a winning streak of 5. The bonus currently sits at $22,000. On top of this Titan Poker offers a compensation prize of $200 for 5 top 2 finishes in succession.
The $45,000 bonus for the $20+3.50 Rio is another very appealing option for players. These sit and gos feature 6 players. If you manage to win 6 in a row you will take a $45,000 payday down. This bonus starts at $25,000 and rises by the week so $45,000 is a fantastic incentive to take part in the Rio events and see if you can get a result! Again, Titan Poker offers players compensation for consecutive top 2 finishes. $300 is awarded if you can finish top 2 in 6 consecutive events.
The most expensive of the Jackpot Sit and Go's is known as the Fort Knox. Those are priced at $50+9 and currently offer a bonus of $70,000 for 6 wins in a row. The bonus starts at $50,000 and rises weekly. These sit and go's are the same as Rio's - with 6 players taking part. The compensation bonus for 6 top 2 finishes in succession is $750.
With all three of the progressive jackpots sitting a lot higher than standard now is the time to get involved! For a small outlay you can win a jackpot that can substantially increase your poker bank roll.
Ed note: Get started at Titan Poker via UK PokerNews and we'll credit your new account with $50 FOR FREE after you make your first deposit