Behind the Rail – Saving up for my Aston Martin on PokerStars

Barry Carter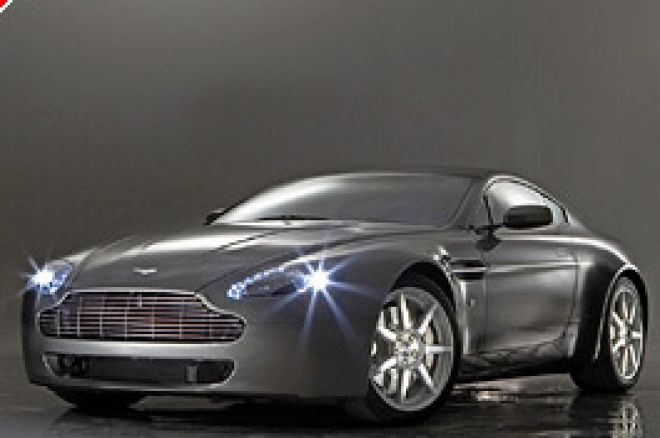 If you are ever lucky enough to be invited round to my house for a cup of tea and wondered where I purchased some of my electrical items and furnishings I can save you the effort of asking. If anything in my house looks less than a year old then it almost certainly has been bought from Amazon. Most of my kitchen appliances and crockery, my HD TV, my coffee table, the huge rug in the front room and series 1-5 of Quantum Leap on DVD are all from the hugely popular online retailer.
No I'm not working for Amazon and I certainly don't want to suggest that they are the best online store around (they might be I'm not sure) it's just that PokerStars give away Amazon vouchers in exchange for Frequent Player Points and I'm a very frequent player.
I multi-table the higher stakes SNGs on PokerStars which generate a lot of Frequent Player Points alone. I'm at Platinum level in the VIP programme which means that I get a 150% bonus on every FFP I generate. I'm hoping to hit Supernova before the end of the summer and must admit that now and then become slightly too preoccupied by the FFPs and not enough to my actual real money profits/losses!
When you play a lot of online poker you are going to be paying a lot of rake which is why it's very important to be making use of reward systems that all the good online poker rooms have. I know some players who generate £1000 a month in rakeback, I know some guys who get sponsored to play in tournaments using their reward points and, for me, I play on PokerStars so much that I have to make use of their FFPs.
So, being a bit of a geek and because it's been a slow week for me, I made up a little excel spreadsheet and tried to work out what was the best value prize I could redeem from the FFP store. I didn't include anything that would be a one off purchase like an Ipod or a T-shirt just the stuff that high rakers, like myself, can benefit from for years to come.
So essentially there are three types of reward on offer in the VIP store which we can use over and over again. These are gift vouchers, tournament tickets and cash back.
Let's start with my favourites; the Amazon vouchers. You can redeem them in £10, £50 and £250. The £10 vouchers only cost 1400 FFPs whereas the £250 cost you 30000. The bigger the sum the more value you get for your FFPs here with the £10 vouchers the FFPs are worth £0.07 for every 10, while 10 FFPs are worth £0.08. Amazon vouchers may seem a limiting way to spend ones FFPs but you would be surprised at how much there is on offer on the website, or you may wish to simply use them to buy something good to sell on ebay.
You can also get travel vouchers from Expedia once you have a few points in the bag. The $1000 vouchers will set you back 60,000 FFPs and the $2500 cost 145000. The $2500 voucher is actually worth £0.09 for every 10 FFPs and is probably the best value reward on offer, the problem is you are restricted to travel and in my experience Expedia are not necessarily the best travel operator to go with for value for money.
The tournament tickets are a good investment. Not only for their value for money but also because they are a cheap way at a shot at a huge payday. You can get tickets for the $215, $530 and $1050 Sunday major tournaments at an exchange rate of £0.08 for 10 FFPs. You can also get entry into land based tournaments like the EPT and APPT for a similar rate with a much longer wait. With 775000 FPPs being the price for the EPT you would need to be a Supernova rack them up.
You can also use your hard earned reward points to play in a one table tournament with one of the Pokerstars sponsored pros. The prize pool is $2000 with a $250 bounty on the head of the Pokerstars rep. These are actually reasonable value, at 15000 points for what a seat which is essentially worth $225, which could return you up to $1250. From what I can tell Tom McEvoy has never won a game of poker in his life on PokerStars so this game might be even more value! (only joking Tom) This is of course potentially a very fun way to spend those points and with Daniel Negreanu signing up for Stars recently he could be in high demand if he gets his own table!
It may seem like the best thing to go with is the cold hard cash in the form of the cash back reward but they actually are the worse value for money. You can get $285 back for 25000 FFPs, $650 back for 50000 and $1500 returned for 100000 points. Like the Amazon vouchers the longer you wait to redeem your points the bigger your return will be, but the average value of 10 FFPs is still only £0.06.
I know I said I wasn't going to touch them but there are two items on the VIP store shelves that can't be ignored. That is the Porsche Caymen and the Aston Martin V8. You have to be playing some of the highest stakes heads-up matches non stop to come close to being able to ever afford one of these but they are actually the best value for your FFPs. The Caymen is retailing for about £44000 and at 3 million FFPs that's actually a brilliant exchange rate of £0.15 for every 10 FFPs. The Aston Martin is even better value, costing 5 million FFPs but retailing at £80000, that's an exchange rate of £0.16 for every 10 FFPs.
Now, if you are seriously in a quandary about whether or not to get a Porsche or a V8, then maybe you really don't need to know what the best value way to redeem your FFPs is. But, if you are a grinder like myself, or are really into your Tesco club card vouchers, then they do make a difference.
All round I would say that the Amazon vouchers are the best value, the travel vouchers are worth more per FFP but they are limited in what you can redeem. If however you want to play in some of the major online tournaments without denting the bankroll the tournament tickets are good values too.
Ed note: Join PokerStars today and not only could you earn great rewards from the FPPs you'll also get a shot at a free PokerNews Cup seat in Melbourne!