Father and Son Triumph at the NPL Final Table

Barry Carter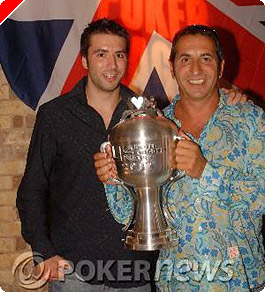 The first National Poker League Main Event in London was a family affair last weekend. Father and Son team Peter and Josh Gould made history by appearing at a final table together and cashing for £42,500 between them. Father Peter went one step further and took the first prize for the Gould family trophy cabinet.
It was a small but classy field that sat down for the £2500 NPL Main Event, including Tony G, Roland De Wolfe, Dave Colclough, Jennifer Tilly and Roy Brindley. Tilly was the last of the big names to fall and we were left with the TV table of:
Seat 1: Jason Ho — 124,000
Seat 2: Peter Gould — 50,000
Seat 3: Patrik Selin — 65,200
Seat 4: Josh Gould — 53,300
Seat 5: Dieter Dijkstra — 23,900
Seat 6: Jeff Buffenbarger — 21,400
Gould Snr, a property developer and professional poker player, showed his son Josh a little tough love, when his pocket nines developed into a set and eliminated his 18 year old son in 4th place. This completely dispelled any concerns of collusion and put Gould Snr in a commanding chip position.
Gould went onto eliminate Buffenbarger in 3rd place when he made a flush to Buffenbargers top pair, Gould had a ridiculous chip lead and saw off Patrick Selin heads up in only 3 hands. Gould, who has come close in major events like this but never saw the finish line, took home £34,000 and the very first NPL Championship title.
1 £ 34,000 Peter Gould
2 £ 21,250 Patrik Selin
3 £ 12,750 Jeff Buffenbarger
4 £ 8,500 Josh Gould
5 £ 5,100 Jason Ho
6 £ 3,400 Dieter Dijkstra
Ed Note: A $500 bonus from Mansion Poker is the Daddy of all incentives