Dave Clark wins the Grosvenor UK Poker Tour: Luton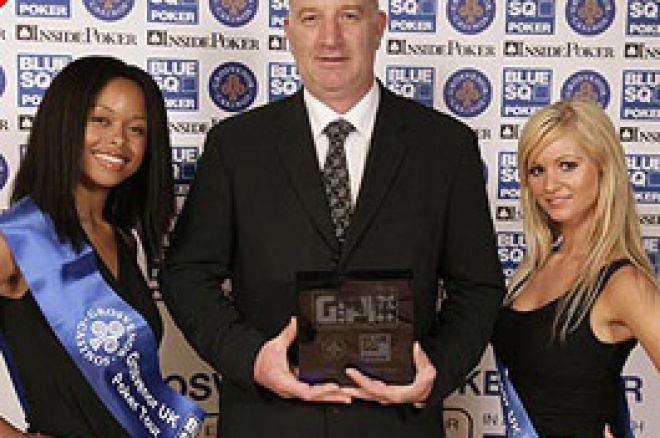 The Luton leg of the Grosvenor UK Poker Tour came round quickly after Newcastle stint and the trip down the M1 saw a significantly increased field of 315 turn up in their smart shoes (Luton is the only leg on the tour with a strict dresscode). The quality of players seemingly has increased for this leg too, with names such as Ram Vaswani, Surinder Sunar and Roland De Wolfe in attendance.
There was also a big influx of foreign talent at the newly refurbished G Casino, including Cardplayer Europe editor Rolf Slotbloom, EPT Dortmund Runner Up Cristiano Blanco and the final table was joined by Jan Magnus Brevik of Norway, the rest of which looked like:
Seat 1: Dave Clark — 378,000
Seat 2: Ian Herbert — 427,000
Seat 3: Jan Magnus Brevik — 195,000
Seat 4: Tony Ringe — 385,000
Seat 5: Alan Vinson — 595,000
Seat 6: Adam Stoneham — 351,000
Seat 7: Ben Turnstill — 167,000
Seat 8: Jonathan Butters — 97,000
Seat 9: Warren Wooldridge — 559,000
It would take 13 hours before we were down to three players fighting it out for the lions share of the prize fund, Warren Wooldridge held a commanding 2-1 chip lead over Dave Clark and Jonathan Butters (who was at his second GUKPT final table after coming 5th last month in Newcastle).
Butters was the next to fall when he got all his money in the middle of the felt with pocket jacks to Dave Clarks King-Queen. A queen on the turn sent Jonathan Butters out in 3rd with £34,000 and Clark now matched Wooldridge almost in chips.
In contrast to the previous GUKPT which was a short final with a mammoth heads up match, this was a long final with a short heads up match. After getting crippled holding top pair to Clarks pocket kings, Wooldridge attempted a huge bluff on a King-four-jack board holding Queen five but was called by Clark's Jack-nine. No help on later streets granted Clark the title, £107,000 and entry into the grand final at the Vic.
The next stop on the ever popular tour is in Plymouth in September, just before the WSOPE. The final table payouts were as follows:
1st: Dave Clark - £97,000 plus £10,000 added by Blue Square
2nd: Warren Wooldridge - £51,800
3rd: Jonathan Butters - £34,550
4th: Alan Vinson - £25,100
5th: Jan Magnus Brevik - £18,850
6th: Ian Herbert - £15,700
7th: Tony Ringe - £12,550
8th: Adam Stoneham - £9,400
9th: Ben Turnstill - £6,300
Ed Note: Bankroll your way to Plymouth by signing up to Sun Poker for a $1000 monthly bonus.