Is Golf the new Poker?

Barry Carter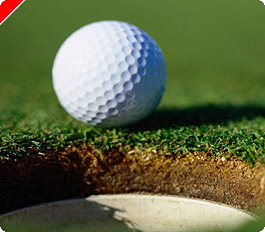 Golf is fast becoming the new poker. If you find yourself in Las Vegas on a rare break from the card tables then the putting green is the place to go for some action. A few months ago the first World Series of Golf was organised where players play rounds of golf like a round of poker, with betting, antes and folding on each hole.
Then came the infamous prop bet where Erick Lindgren completed four rounds of golf, shooting under 100 each time in the blistering Las Vegas heat with no caddy. Lindgren was $340,000 better off but who knows what it did to his body.
Now the poker pros have organised a $9 million tournament between teams of high stakes cash players. The inaugural Doyle Brunson and Dewey Tomko Invitational starts today in Las Vegas with three teams of three, consisting of:
Team 1: Doyle Brunson, Vince Van Patten, Dewey Tomko.
Team 2: Erick Lindgren, Daniel Negreanu, Josh Arieh
Team 3: Russ Hamilton, Phil Hellmuth, Bill Walters
Then there is a second paired event, with a $250,000 buy-in:
• Doyle Brunson / Dewey Tomko
• Bill Walters / Hilbert Shirey
• Russ Hamilton / Phil Hellmuth
• Daniel Negreanu / Erick Lindgren
• Mickey Appleman / John Hanson
• Janet Jones / Vince Van Patten
• Butch Holmes / Al DeCarlo
• David Grey / Huck Seed
• Phil Ivey / David Oppenheim
The events are to be televised for a series of high stakes shows of this nature. The insiders seem to think that Huck Seed, Negreanu and Lindgren are the players to watch in these tournaments. Regrettably the weather is so atrocious here that we are unlikely to produce a world class poker-golf prop player but the next time you fancy a round when your out in Vegas, make sure you take your wallet.
Ed Note: The weather is always good at Sun Poker and with a $1000 bonus waiting for you, why go out at all?