Dan Harrington Finally Wins a WPT Title

BarryCarter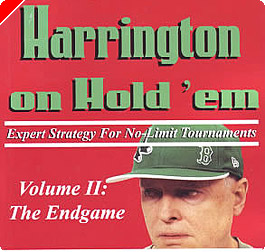 'Action' Dan Harrington, the man who alongside Doyle Brunson is probably most responsible for educating a whole generation of poker players, has finally captured a WPT title. In the early hours of this morning he defeated David Pham heads up at the Legends of Poker, earning him $1.6 million.
Harrington is the author of arguably the greatest poker books of all time, Harrington on Hold'em (HOH) 1, 2 and 3. If Supersystem is the cash players bible then HOH is undoubtedly the tournament players handbook. No only did Harrington win the WSOP main event in 1995 (and another preliminary event the same year) but he made back to back final tables in 2003 and 2004 – a feat which most agree is the greatest ever seen in WSOP history.
Now Action Dan joins the elite group of people who have captured both a WSOP Main Event title and a WPT title, an accolade he shares with Doyle Brunson, Joe Hachem, Carlos Mortensen and Scotty Nguyen. Harrington has proved his worth both before and after the internet boom and along with his bestselling book he must now be considered one of the best tournament strategists of all time.
Ask almost any successful young tournament player how they improved their game and you are likely to hear the words Harrington on Hold'em. I myself had the pleasure of meeting the man earlier this year at the Irish Open and, like many others before me, thanked the man for creating a book that has helped me win money at tournament poker. His book introduces concepts like M and Q, which are mathematical calculations to assess your current standing in a tournament.
The final table was a tough one, which included the in form Tom Schneider and WPT nearly man David Pham.
Seat 1 - Shi jia Liu -1,305,000
Seat 2 - Dan Harrington - 2,230,000
Seat 3 - Tom Schneider - 3,495,000
Seat 4 - Thu Nguyen - 1,475,000
Seat 5 - David Pham 'The Dragon' - 470,000
Seat 6 - Mike McClain - 725,000
The heads up battled lasted an eternity with both men doubling each other up to a stand still. Eventually in the wee hours of the morning, all the money went in the middle of an unraised pot when Harrington held top and bottom pair to Phams bottom pair. Pham was drawing dead and Harrington was $1.6 million and presumably soon to be a few book sales richer.
Ed Note: Practice was Dan preaches at Inter Poker and get a $150 bonus