The Biggest Show in Town is About to Kick Butt

Catman - The Poker Agent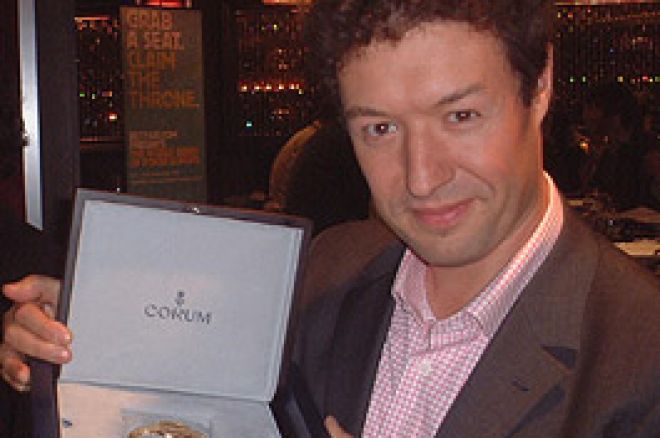 With the WSOP Europe only weeks away, Andy Pyrah, consultant to London Clubs International, sent me an invite to the WSOP press lunch with Betfair and Harrah's Entertainments Inc.
Naturally, it was made very clear on the invite that there would be a game of poker available, so, along with 40 or so journalists, I rushed along to the "The Casino at The Empire", Leicester Square. My protégé, "The Catgirl", was alas not able to accompany me as the event was full. Having repaired the scratches from her claws, I was told to go and enjoy my day and of course not to forget her ticket to play in the main event.
Indeed, this was a very special occasion; I was dying to see if Harrah's had put their stamp on London as Europe's poker capital. I had visited The Casino at The Empire twelve weeks earlier when it was an empty shell, then – "ba-da-bing!" - the place is now finished to the finest detail "Vegas-style" and in record time. I was greeted with the old bubbly as you do at these events and was welcomed by the lovely Angele (with an "e") from Harrah's. After I had taught her what a "monkey" was in poker slang, the question I was dying to ask shot out; "When is the next one, what venue is it in?" Angele looked a little shocked and stated, "Everything is in planning".
I bumped into several delightful old muckers of mine, "Never Play Channing Bad Beat in a Satellite", Tony "Tikay" Kendall and Eliza Burnett of Poker Europa. I have not been offered a job at Sky TV yet; I once turned down the job of Poker Whisperer but that wasn't at Sky, so I was especially pleased to chat to Tony in case he had a job for me as the resident fish at Sky.
Tony Kendall is one of the godfathers of British poker and has done an amazing job in his role at Sky. Now don't take this the wrong way but it is not often you are proud to be British and this really was a special occasion I was sharing with my friends. Why so special? Eight years ago, the choice of venues to play poker was The Vic or The Dungeon at The Stakis and fish were few. The development of British poker and fish ponds will be rocketed by Harrah's influence and power. By the way, Eliza has just released a book called "Girl's Guide to Poker" which I might just read when I eventually get time and some "wonga" to play poker full time.
I wasn't attending this prestigious event for the free lunch, I was there for the free poker game (I jest of course). We were seated for lunch and I noticed that Harrah's and Vegas really had arrived; the waitresses were actually sexy and super glamorous. I even saw a pair of fishnets. Now tell me the last time you were in a restaurant where the staff not only looked good, but actually said please and thank you. Yes, I was impressed, everything about our little press lunch was special and this is the way it should be. The customer should be treated as a king and I felt like one.
Years ago I brought glamour to London and created a club called Sophisticat's, which was renowned for its glamour and style, now finally someone else has made a little effort too. Not only will Harrah's presence stimulate the competition in our beloved game of poker, but in turn will lead to the revamping of all our casinos.
Ty Stewart of Harrah's gave us a welcome speech. As a PR man myself, I was dying to see how good this man would be bearing in mind he is employed by an organisation as powerful as you care to think.
"People ask us, 'Why the WSOP Europe?' The secret is in this box, won and lost, honour, prestige, history defined. It is the players who have made it meaningful." Question answered, the man must be worth every dollar. We all want to get our grubby little hands on the money, but if I could get to bloomin' buy and win, I would wear my WSOP bracelet on the bus and in the bath.
So there we sat, ten or so at the dinner table, when Mr Clever Pants (I, the Catman) again opened my huge gob, the question to Betfair's Head of Marketing, Stephan Samson, and Betfair's Janina Vallance:
"So tell me the next venue for the WSOP Europe and why so expensive?" I barked.
"It will be here" said Jan.
"The price is for prestige" Bengt Sonnert, Betfair's pro, explained to me.
Oh, the point was finally made clear to me that The World Series of Europe was in fact only one event, each year, to be held in London. The word 'Series' had so stuck in my head that I thought the event would take me all over Europe and provide for sensational competition with the WPT and EPT.
So, bearing this in mind, $20,000 is peanuts for the honour this bracelet will reap. Think about being the first to wear the ultimate prize in European poker and it will be a rare honour too. I just want The H.O.R.S.E. bracelet, just like my fave Freddy Deeb has and I have only got to find $5,000 to enter. How PR guru Oliver Bowen had ever managed to place Stephan Samson next to me, I will never know, because anyone who knows me knows the meaning of the word "push". Stephan's picture is shown here, delighting over Europe's first WSOP bracelet. If he can put up with me for lunch, I am sure he will provide some excellent incentives for us to play at Betfair Poker.
Harrah's and Betfair know how to throw a party, no long speeches, lunch and give the players what they want, a game of poker. We were to play for $4,000 of satellite buy-ins for The WSOP, but more importantly we were to sit at the very tables our American heroes would be sitting on, come September. I am not easily impressed by names and I don't want to name drop, but I have had tea with Al Pacino, spent many years surrounded by the most exquisite showgirls and been on tour with Playboy Bunnies, but I am so excited by the thought of not having to get on a plane to see the American stars up close.
It would be better if I am sitting playing poker with them of course but, if I must, I will railbird and wait to see Phil H kick his chair over. Back to the game, naturally the Catman's superior playing skill and good fortune came through at the wrong time when I knocked out the MD of Betfair, Niall Wass, and claimed the bounty sat on his head. Betfair's other pro, Thomas "Buzzer" Bihl, stealthily managed to avoid me while Neil "Bad Beat" Channing, who always knocks Catman out of a satellite, destroyed me with his J Q versus my 10 J. I still managed to get two satellite entries to play in one of Betfair's overlaid tournaments for a seat in the big one. I should have won three satellite seats if a charming fish by the name of Bruce Stubbs from Betfair hadn't played such a brilliant all-in with J4 off. He is a yank and for some strange moment I believed I was about to knock Mike The Mouth out of the main WSOP Europe event.
Footnote – going south, alas the chips we played with were not the chips that were going to be used in the WSOP Europe, which is my only complaint. Imagine the value of those on Ebay prior to the event!
If you haven't got the odd $20G's, please enjoy this opportunity to come to London, the poker capital of Europe, and railbird what will be Europe's most exciting poker game ever. Given time, I know Betfair will further open the doors to the players and give them a real chance of getting a $20,000 seat, without busting their balls. I am praying for the day they take the WSOP across Europe, I just want to watch the game stakes go up as the WPT and EPT face this mighty giant. I will take bets that this event will expand and very soon we may well see Harrah's and Betfair WSOP Europe Circuit; what fun that would be. The betting is on for how many will play; I am putting a 20 spot on 500 plus players, but I will wager any amount that next year it will be full.
Finally, my sympathies go to the lovely wife and backbone of that miserable growler Roy Houghton of The Loose Cannon Club and VC Players Lounge. "Den" has just lost her lovely mother. As Tony "Tikay" Kendall reminded me, life is too short, enjoy it and respect each other.
Ed note: Join WPT Poker for a huge $1500 deposit bonus