Sex Appeal and New Talent, Catgirl Meets Shannon Elizabeth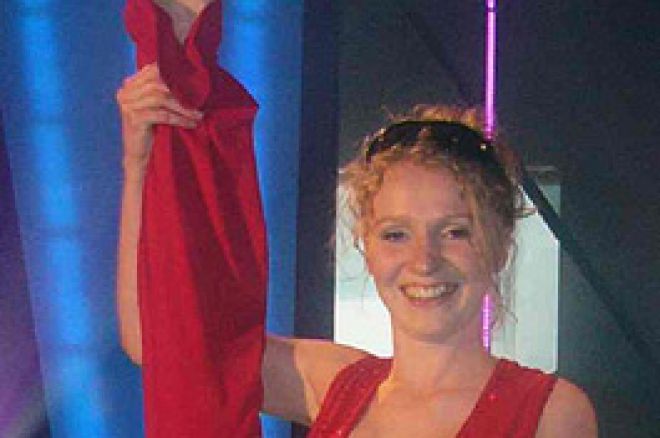 Although we all complain that TV poker generally sucks, whatever the weather we cannot help but tune in for more. The point is that poker is the only televised sport that you can get to learn, exactly how to play the game, from whomever your chosen master is. The great news of course is that with so many events to watch new players can get as much ill advice as good.
The poker industry cannot get enough of it either, TV will always be the most powerful form of brand exposure and with advertising bans looming even closer, we can expect to see more. Presently the leading producer of Poker TV is Party Poker along with Matchroom. It seems that Party have most of the year booked up with Matchroom, filming events from $3,000 buy-ins right up to $50,000 and much of it going to terrestrial TV. Amazing, considering two years ago you could not get poker away from Challenge and Bravo.
So, in a bid to make the whole thing a lot more exciting, I took along some new talent to Party Poker's World Women's Open, $3k buy in, held last week. "Catgirl" is a stunning 22-year-old Latvian, whom I taught poker in a beginners school a couple of years back and this was to be her very first sponsored TV appearance.
Catgirl is an ex-gymnast and a high stakes cash player. Unlike half the opposition, she was focused and ready to battle in a sprint event '6 Seat Shoot Out'. In this event only the winner of each 6-seat table goes through to the next round; getting to the final was only one game away.
Talent on Catgirl's table took the form of professionals "Bad Girl" Pham and Katherine Hartree, Shelley Rubenstein, the journalist, celebrity Kara Scott and the lovely Marina Milosevska from the Gutshot.
There I sat in the green room, pigging as you do on the cheese and onion sandwiches that my mate Eddie Hearn had supplied, when Jessie May announced, "Catgirl is a protégé of the famous Catman!" Great, so now her every bloomin' move would be analysed and reflect back on me. But we were prepared, having spent several years of my misspent youth working the door of a nightclub, I learnt that one must be able to walk the walk, and not just talk the talk. Catgirl purrs and strolls like a lioness, so I had plenty of faith.
Poker is still a man's world for the simple reason that there are simply not that many women playing. I could name twenty or so, but that is my job, so the good news for women is that there is a lot of scope if you have talent; the sky is the limit.
Warren Lush, spokesman for Party explained to me, "We held a women's tournament, but in poker if you've got the skill you can succeed no matter what sex you are."
So there I sat, totally absorbed, watching Catgirl's every move in the green room, as the 20 or so bodies in the green room scrutinised every move. The game continued with fine displays of poker coming mainly from the celebrity qualifier and winner of this particular heat, Kara Scott, who made plenty of moves, assisted by good cards and "bottle". Catgirl played a game that will delight all future sponsors and was in a strong second when she was crippled by a most interesting play by Kathryn Hartree, the competition favourite. But, poker is poker and, for an upcoming pro such as Catgirl, TV time is almost as important as winning (ha bloody ha), but she was "another gravy" and did her sponsors proud.
Footnote to Eddie Hearn; Over exposure and dwelling on Catgirl's ample cleavage will be tolerated, that is probably why she wore a low cut dress.
Behind the microphone, Jessie May was accompanied by another legend, the one and only Shannon "American Pie" Elizabeth. Shannon is massive, I believe she is sponsored by Full Tilt Poker and of course she is in great demand. Deservedly so, she is an icon of sexual fantasy after she appeared as Nadia in "American Pie" in 1999. Mena Suvari also starred in that film prior to American Beauty, so without being sexist we have two of the sexiest women in the world playing poker. Now the fur will fly when you get to hear Shannon's commentary, she is superbly informed, very knowledgeable and doesn't hold a thing back. I managed to survive the stress of the game till the break and then in walked the goddess Shannon. I grabbed her for a pic and a couple of words. "Shannon, your commentary and knowledge is sensational, I only hope you can play better than Phil Hellmuth Jnr" I gently purred.
Shannon was first out of her heat, her commentary was great, but the words "push, push" must be associated with the words "control, control". Shannon is a powerful tool for selling this TV format and you will enjoy every second of her hyper aggressive commentary. It is far too easy to over criticise when you see the cards. Remember, if you get the chance to play on TV, enjoy every second, stardom is only a game away.
This week I get to go to lunch with the WSOP Europe team, which is nice, still working out how I will get them to put me in the H.O.R.S.E, but at least we get a nice lunch and a game of poker at The Empire!
Finally, this week sees the start of the National Poker League at the Loose Cannon Sports Bar and VC Players Lounge, which is looking like boasting a major field of US stars. In fact, it looks like the many of our heroes will be arriving early and staying here for the WSOP Europe. The NPL kicked off on Sunday 12th August with the main event - a £2,500 double chance freeze-out over 2 days - starting 17th August. I worked for a fair period promoting the venue and it is truly a magnificent site. With the likes of Roy Houghton, Sonny Osman and Robert Carlisle at the wheel, it is definitely worth a visit.
Ed note: Play Shannon Elizabeth at Full Tilt Poker and claim a $600 bonus when you open your account