Eggheads to Face the Brains of Blonde

Barry Carter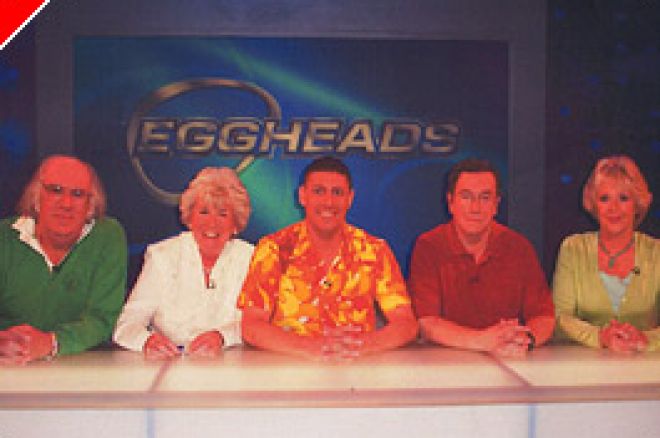 A group of poker playing friends are set to take on the BBC Eggheads in the popular daytime quiz show. The group from the Blondepoker forum will be taking on one of the toughest quizzes around as they go head to head against a team which consists of Mastermind, 15-1 and Who wants to be a Millionaire champions.
The Blonde team is made up of Daniel Phillips, Ed Debaes, Claire Macgregor, Andrew Tracey and UK PokerNews writer Richard Prew.
Anyone who has seen the general knowledge quiz knows that defeating the Eggheads is very rare indeed and it will take more than just the skills they have learnt at the card tables for the Blonde guys to triumph.
Team Captain Ed Debaes told us that their specialist subjects include Sport, Entertainment and Science, but they are all currently swatting up on their History, which is an often used category on the show.
The show consists of 5 rounds where team members go head to head against an Egghead, the loser of each round is then eliminated and only those who have succeeded in their head to head can play in the team based final round.
The Eggheads are usually at full strength by the final round but getting eliminated and playing with only a small amount of ammo is second nature to a poker player and hopefully we'll be seeing a short stack master class from Team Blonde.
Filming for the show is later on this month and as yet is unconfirmed when the show will air.
Ed note: You don't need to be the sharpest tool in the box to know that $50 TOTALLY FREE at Titan Poker is a great deal