Beverley Pace wins the Party Poker Women's Open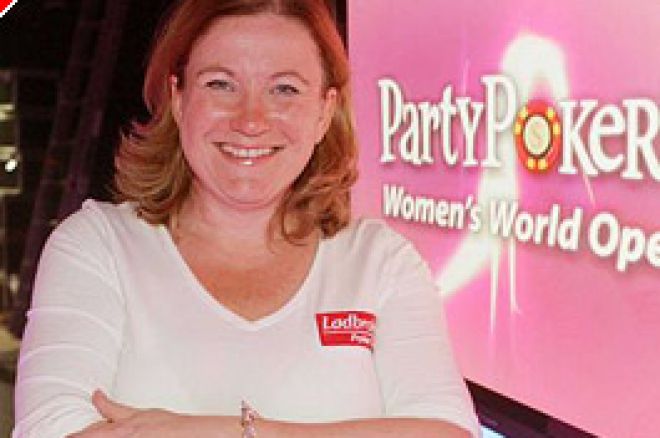 Beverley Pace, the wife of comedian Norman Pace, has won the inaugural Party Poker Women's World Open in London. She overcame in-form Blondepoker legend Jen Mason heads-up to pick up the $50,000 pay day, when her pocket sixes held up against Mason's Ace-Jack.
Norman Pace was well known in the eighties and nineties for being one half of the double act Hale & Pace, who were known for their characters The Two Rons. In recent times Norman and Beverley have become well respected members of the UK poker community. Norman is one of the faces of Sky Poker and Beverley is regarded as the better player of the two.
Pace overcame a lot of big names on her way to the title, she had to face Lucy Rokach in here first heat to advance to the final and the rest of the tournament boasted names such as Jennifer Tilly, Liz Lieu, Katharine Hartree and Xuyen 'Bad Girl' Pham. The final table also included Bronwun Campbell, Maria Demetriou, Kara Scott and Jackie Vaswani (wife of Ram).
Jen Mason, whom we interviewed last week at UKPN, is in some serious form at the moment and many fancied her to win the title. "I was pleased to beat Jen Mason," said Bev. "I have huge respect for her and she has taught me a lot on the circuit. Perhaps she didn't do herself any favours as I have picked up a lot about how she plays!"
Pace, like any true poker player, will be using her winnings to fund more poker pursuits "This is my first big win and I intend to give myself a bankroll to play more tournaments for bigger stakes in the near future. I was sixth in the Ladies European Championship in April and went to the WSOP and Aussie Millions this year but haven't really cashed significantly."
And Bev was very quick to speak out in favour of women only tournaments. "Women's tournaments are good for getting more ladies into the game," said Bev. "The standard is no different to a mixed sex game but they do encourage some to come forward who wouldn't do otherwise."
The final payouts were as follows:
1st BEVERLEY PACE (UK) $50,000
2nd JEN MASON (UK) $22,000
3rd MARIA DEMETRIOU (UK) $14,000
4th BRONWYN CAMPBELL (CANADA) $10,000
5th JACKIE VASWANI (UK) $7,000
6th KARA SCOTT (UK) $5,000
Ed Note: Join Beverley's husband Norman and a host of stars at Sky Poker and play in £1000 freerolls twice a week