Behind The Rail - Is Poker Cool?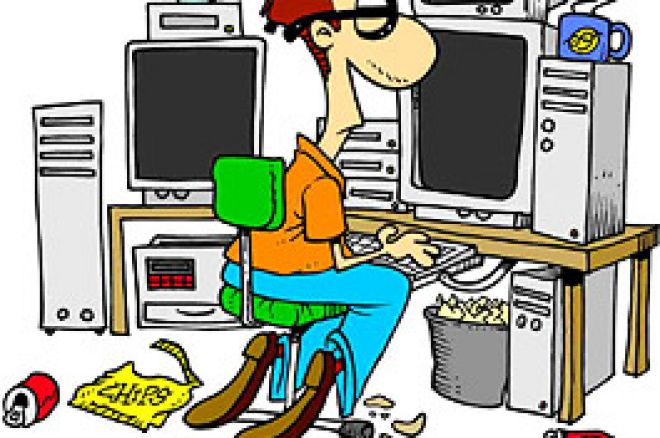 Of course it is.
When I tell people I make a living playing and writing about poker its always a mixed response. Surprise is always there, some people are fascinated, others are sceptical, some are jealous and some pity me. Whatever their own issues with the game, they also have a preconception about what a poker player looks like.
Some get very excited, women especially. They think Monte Carlo, James Bond, Tuxedos and men that can afford to buy them a lot of shoes. Some guys have images of you out until the wee hours every night with a bunny girl on each arm. Poker is cool.
Then there is the other, pole opposite, preconception. That poker players are in fact, nerds. That poker and Star Trek go hand in hand, their image of a poker pro is of an overweight bespectacled man playing online in his parents loft.
So which is it? Of course we all think poker is cool, its what we do. Fishermen think Fishing is cool, Landscape gardeners think lawnmowers are cool and darts players think Phil Taylor is their version of the Fonz.
Poker is Cool
The casino is an iconic image of cool. Its open til the wee hours of the morning, serves alcohol and has a lot of beautiful women walking around. Las Vegas is the gambling mecca and, although cheesy, is undeniably cool.
The casino and gambling in general has an element of danger to it, and danger is always cool. Whether it's the danger of losing your money or the chances that Robert De Niro is going to take you into the back room and smash your knuckles in with a hammer, there is always an undercurrent of risk, which is cool.
We then have the players who epitomise cool. The Devilfish is arguably cool, he looks like a James Bond villain and has a quirky name. Gus Hansen is one of those guys that men want to be and women want to be with. We even have our own bit of Hollywood in the form of Jennifer 'I can't believe she's nearly 50' Tily.
But the number one argument in the favour of cool is a recent one, James Bond. Casino Royale is the best Bond movie and rebranded the franchise with a grittier, harder and cooler Bond. Poker replaced Baccarat in this remake and, if we forget the final hand, Poker was painted in a complementary light. If Bond plays poker, poker is cool.
Poker is for Geeks
For every Gus Hansen, there is about 100 22 year old virgins who make a small fortune in their bedrooms while their Mum makes their dinner. For every Phil Ivey there is a Phil Hellmuth, for every Antonio Esfandiari there is a Phil Laak. If you go to any ranking poker tournament there s invariably a few spotty kids and a lot of overweight men.
The catalyst for all this is of course the internet. The internet is cool, because of its endless possibilities, but people who use the internet are not cool, because of the lack of a social and sex life. I'm sorry but if you spend most of your day infront of a laptop in your PJs then you are a nerd in the majority's eye.
Just like drugs are bad, mckay, so is problem gambling. It's very hard to argue that poker is cool when it can be linked with problem gambling. Drinking too much, smoking too much and doing drugs are all things those of us with a public conscience should go out of their way not to glorify, so even though we would all say Poker is not gambling in its purist form, perhaps its linked just enough for us to be irresponsible to say its cool? I'm not sure.
But perhaps the main argument poker being cool comes from something we all learnt very early at school. That Maths is very very uncool. Nobody liked maths at school and we were all well within our rights to bully the kids that were good at it. You don't need to be Carol Vorderman to play poker but you do need a solid understanding of odds and probabilities, and that I'm afraid is enough to warrant your head being flushed down then toilet by the older boys.
Ed Note: There is not much cooler than a $600 Bonus from Full Tilt, sign up today for this exclusive Pokernews offer.