WSOP Results Round Up – Events 51 to 54 - Ram Vaswani Wins a Bracelet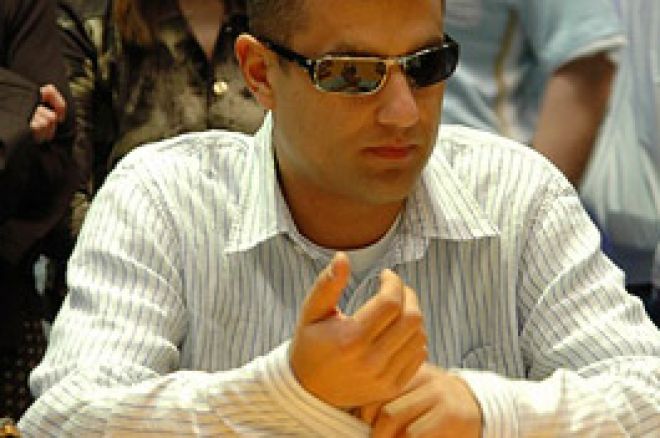 The Main Event of the 2007 World Series of Poker® is into its "Day Two" phase. While that comes to the boil, we will conclude our side events results summaries with the last batch, from 51 to 54 which saw some big names keeping up their reputations, not least Ram Vaswani of the Hendon Mob.
Event 51: $1,000 Limit S.H.O.E. (730 entries)
The S.H.O.E. tournament incorporates limit poker in Seven Card Stud, Texas Hold'em, Omaha Hi/Lo and Seven Card Stud Hi/Lo (the "E" derived from the alternative name for this - "Eight or Better"). Our fellow website, Estonia Poker News, was represented at the final table here by its co-editor Imre Leibold. They breed them strong out there as co-editor Marek Kolk has already picked up the 888 UK Poker Open in recent times.
1. Dao Bac (Vietnam) $157,975
2. Richard Geyer (USA) $86,691
3. Chip Jett (USA) $55,801
4. Raymond Davis (USA) $34,012
5. Imre Leibold (Estonia) $26,572
6. Vladimir Schemelev (Russia) $20,793
7. Michael Craig (USA) $15,943
8. Pat Poels (USA) $11,957
9. Eric Tomberlin (USA) $8,171
10. Juliano Maesano $8,171
Event 52: $1,000 No Limit Texas Hold'em with Rebuys (1,048 entries; 2,336 rebuys)
Action stations with a cheap no limit rebuy tournament! Maybe mass fatigue (or simply poverty after 50-odd events) had set in by now because little more than 1,000 players chanced their arms here. Finally, they were whittled down to 10 and they battled it out to the following result.
1. Michael Graves (USA) $742,121
2. Theo Tran (USA) $387,193
3. Shawn Luman (USA) $224,229
4. Shawn Hattem (Canada) $161,339
5. Chad Batista (USA) $129,064
6. Kris Tate $112,931
7. Isaac Haxton (USA) $96,798
8. Arnold Spee (USA) $80,665
9. Thierry Cazals (France) $72,599
10. Ali Alawadhi (USA) $64,532
Event 53: $1,500 Limit Texas Hold'em Shootout (720 entries)
A WSOP gold bracelet for Ram Vaswani, the most aggressive of the Hendon Mob quartet, seems almost an inevitable happening. Watching Vaswani at the poker table reveals a fearless player and he is always a dominant force on single table formats. It perhaps comes as no surprise then that he cleaned up in event 53 in a shootout format which requires a player to win their table and progress to the next round to face 8 or 9 other "heat winners". Having reached the final table here, he eventually got heads up with a fellow British player, Andy Ward. In the end, Vaswani's relentless raising style told although he got the break to finish Ward off with the latter's A 10 offsuit finding an ace on an all-heart flop. The fourth heart on the turn was enough for Vaswani's KQ offsuit (with heart) to prevail.
Many congratulations to Ram Vaswani.
1. Ram Vaswani (London, UK) $217,438
2. Andy Ward (London, UK) $124,816
3. Anh Nguyen (USA) $83,538
4. David Mosca $58,968
5. Ishak Noyan (Sweden) $31,450
6. Sondre Sagstuen (Norway) $19,656
7. David Baker (USA) $12,776
8. Rayvenia Pucket $9,582
9. Victor Ramdin (USA) $6,634
10. Brian Haveson (USA) $6,634
Event 54: $5,000 No Limit Deuce to Seven Lowball with Rebuys (78 entries; 226 rebuys)
An exclusive field of just 78 players brought their thick wads of dollars to the table here for a $5k rebuy tournament in a specialist event. No surprise then that the winner is a veteran of high stakes poker, former WSOP champion, Erik Seidel. Only seven places paid and one of those was the ever talkative Irishman Andrew Black. Another decent payday then for Black albeit not in the league of the $1.75m he picked up a few years back in the WSOP Main Event. The $50,000 H.O.R.S.E. winner, Freddy Deeb took 6th spot.
1. Erik Seidel (USA) $538,835
2. Chad Brown (USA) $324,777
3. Sean Sheikhan (USA) $206,676
4. Wil Wilkinson (USA) $162,389
5. Andy Black (Ireland) $118,101
6. Freddy Deeb (USA) $73,813
7. Todd Brunson (USA) $51,669
Ed note: Grab an extra $50 bonus on top of the normal $100 bonus – exclusive to UK Poker News when opening a new account at Everest Poker