WSOP Update: Event 55 – Main Event – End of Day 3

Tony Bromham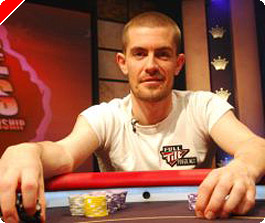 This year's World Series of Poker® Main Event is in full swing. The numbers involved are well down on last year's 8,773 but of course vast numbers of potential qualifiers have been denied their online fix this time round following the infamous US legislation passed in October.
We are at the end of Day Three – which is really Day Seven as there were four Day Ones and two Day Twos! With me so far?
At the end of the shake up, 337 hardy survivors remained to bag up their chips and retire for the night satisfied that they were all in profit and, who knows, several million dollars richer by next week. The top twenty on the leaderboard looked like this:
Dario Minieri 2,398,000
Jeff Weiss 1,533,000
Jon Kalmar 1,410,000
Hevad Khan 1,319,000
Kenny Tran 1,175,000
Steven Jacobs 1,127,000
Brock Parker 1,089,000
Robert Neitrayan 1,058,000
Nicolas Atlan 1,057,000
William Spadea 1,057,000
Gus Hansen 1,044,000
Phillip Liou 975,000
Rep Porter 974,000
Senovio Ramirez, III 947,000
Clint Schafer 940,000
Andrew Barnes 932,000
Jimmy Blevins 855,000
Jon Moonves 854,000
Jim Lucas 836,000
Conor Tate 800,000
Way out in front is a young internet professional from Rome, Dario Minieri. From accounts given, this Italian lad has recently qualified for a Porsche Cayman car on the strength of his mountain of Player Points collected at Pokerstars playing multiple tournaments all day, every day online. His policy here is to raise or re-raise and it seems to be paying off handsomely. Our Live Update team in Las Vegas will be keeping an eye on this ultra-aggressive young man who must be a big threat operating without the poker player's biggest enemy – fear!
In third place, sitting very nicely is Jon "Skalie" Kalmar, well known to many on the UK circuit and beyond.
Aggressiveness, unpredictability and a fearsome reputation are all great assets to own in no limit poker. One person who displays this array of characteristics is Denmark's Gus Hansen and he figures comfortably in the top twenty as Day 4 commences. The reigning Aussie Millions winner and multiple WPT title holder must be a danger to the rest. Hansen will either win this thing or crash out trying. A heads up battle between Hansen and Minieri would be well worth the admission money.
A name familiar to WSOP watchers is Conor Tate, from Northern Ireland. Tate, known mainly for his cash poker exploits, was in the running at the later stages of the 2005 WSOP Main Event before finally bowing out just short of the final table in 12th spot. A $600,000 take home purse on that occasion made it a soft landing on exit. Can Conor go eleven places better this time? Currently he sits in 20th.
The WSOP Championship is building up for a great finish!
Follow all the happenings with us via Poker News' exclusive Live Updates service.