WSOP Results Round Up – Events 41 to 45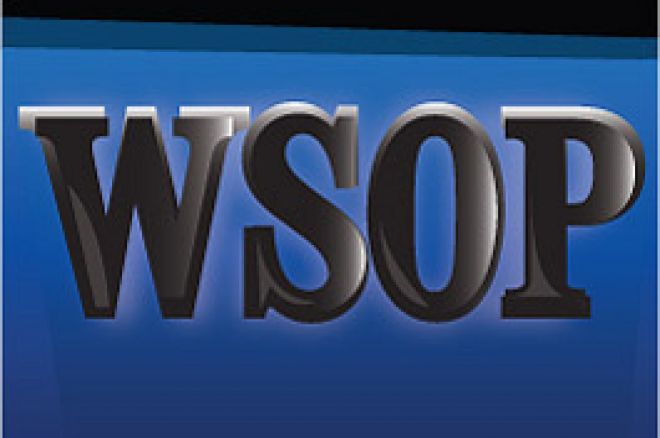 The final bend of this marathon of poker in Las Vegas, the World Series of Poker®, is in sight. There seem to be a hundred tournaments a day going on so this is a quick run through the results of events 41 to 45 covering Omaha Hi/Lo and Texas Hold'em events.
Event 41: $1,000 No Limit Texas Hold'em - Seniors (1,882 entries)
A substantial number of "old-timers" emerged from the woodwork for the seniors event. In keeping with a good social policy of looking after one's elders, the buy-in was kept affordable too. The lucky guys receiving a boost to their pensions were:
1. Ernest Bennett $348,423
2. Anthony Korfman $217,503
3. Rod Clarida $142,147
4. Ed Smith $95,907
5. Thomas Catanzaro $65,080
6. Leon Lewis $47,953
7. Jack Deutsch $35,965
8. Ray Abels $26,546
9. Chuck Anderson $20,209
10. Hassan Kamoei $15,499
Event 42: $1,500 Pot Limit Omaha Hi/Lo (687 entries)
This is apparently the first time the WSOP has put on a pot limit Omaha Hi/Lo tournament (previously only a limit version was played). As some of us have played this fascinating variation of poker online for years and it is heavily played at both Pokerstars and Party Poker, this is somewhat surprising. Nearly 700 players decided to have a go and a Canadian took the spoils.
1. Lukasz Dumanski (Canada) $227,454
2. David Bach (USA) $139,725
3. James Trolley $91,900
4. Gene Timberlake (USA) $60,485
5. Chad Brown (USA) $43,606
6. Dario Alioto (Italy) $33,759
7. Thomas Hant $25,319
8. Mark Wilds (USA) $18,755
9. George Danzer (Germany) $13,597
10. Michael Watson (Canada) $9,049
Event 43: $2,000 Limit Texas Hold'em (472 entries)
The limit stakes variation of Hold'em never attracts the big numbers of its no limit counterpart which is unsurprising as there is little action in the earlier stages and the long structures for limit disciplines haven't impressed all the professionals here. In this event, another cluster of unknown names took the big money.
1. Saifuddin Ahmad (USA) $217,329
2. William Jensen (USA) $133,151
3. Michael Graffeo (USA) $88,481
4. Justin Pechie (USA) $59,274
5. Tommy Rounds (USA) $43,811
6. Hal Havlisch (USA) $34,362
7. Bob Pacleb (USA) $25,771
8. Joe Mandia $18,899
9. Gerald Kane (USA) $13,475
10. David Ventura (Canada) $9,020
Event 44: $2,000 Limit Omaha Hi/Lo (534 entries)
After the Pot Limit came the Limit version of Omaha Hi/Lo. This was won by a player taking his second WSOP bracelet, both at Omaha Hi/Lo which is quite an achievement. The final table will not have been quiet with Marcel Luske the "Singing Dutchman" on board. He came fourth for $64,000 and change.
1. Frank O'Dell (USA) $240,057
2. Thang Luu (USA) $147,726
3. Martin Corpuz Jr (USA) $97,188
4. Marcel Luske (The Netherlands) $64,630
5. Marvin Ryan (USA) $47,136
6. Jess Robinson (USA) $36,931
7. Ming Lee (USA) $27,699
8. Stuart Paterson (USA) $20,409
9. Mitch Maples (USA) $14,578
10. John Juanda (USA) $9,719
Event 45: $5,000 No Limit Texas Hold'em (728 entries)
The big guns returned for the $5k buy-in short-handed game – six to a table. This version encourages more action as players are less inclined to believe the quality of hands held by opponents and bluffs are more frequent. This suits the likes of Tony G who was able to keep everyone entertained or intrigued until he was busted in 10th spot when his AJ failed to double him up against a caller with A8. "That's poker!" as every irritating online player is apt to say just when you do not need to hear it.
1. Bill Edler (USA) $904,672
2. Alex Bolotin (USA) $504,686
3. Erik Friberg (Sweden) $345,582
4. Greg Pohler (USA) $232,669
5. Dutch Boyd (USA) $169,369
6. Gioi Luong (USA) $110,860
7. Thierry van den Berg (The Netherlands) $83,145
8. Emil Patel (USA) $83,145
9. David Daneshgar (USA) $58,852
10. Tony G (Lithuania/Australia) $58,852
Ed note: Play Tony G Poker and grab $30 absolutely free!