PokerProForAYear Series 3 is Over!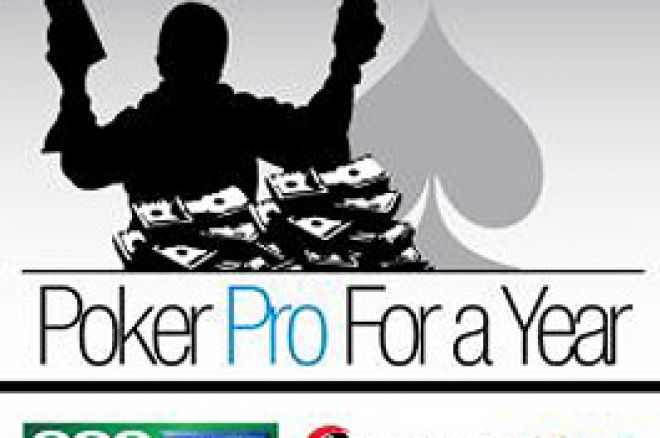 We are now right in the middle of the year-long PokerProForAYear competition and Series 3 has recently come to a close. The third seat at the coveted PokerProForAYear Final Table has been filled and players are now looking forward to Series 4, where another lucky player will take a seat at the Final Table and compete for the grand prize – a $50,000 package including entry to four of the top poker tournaments in 2008.
The Series 3 winner's crown was awarded to Italian Carlo Carione, who emerged victorious in a tough competition to win a seat at the PokerProForAYear Final Table. Carlo has been a major contender throughout Series 3, placing consistently in the top 20 in nearly all the $10+$1 $500 Guaranteed Tournaments. Carlo now joins Ilja Smid, from Germany and Englishman Martin Page at the PokerProForAYear Final Table.
Series 3 also saw the likes of kassike, sfanants, Goldrak, merock and mobay all battle it out on the Leaderboards for top ten positioning. In the end, it was Carlo (oleandro) who conquered all competition. We recently spoke to Carlo, about life, poker and winning Series 3 in the PokerProForAYear competition.
PN: How did you feel when you won the Series 3 Final?
Carlo: I was totally excited! The [Series 3] Final table was very hard, full of experts and very good players. I was the chip leader for most of the tournament, but when it got down to three players I lost a big hand and thought I was out for sure. I held on and finally got to heads up where another heavy loss threatened to bust me. The stack was something like $18,900 against my $1100 but with courage and brains, I finally won.
PN: How did you celebrate your victory?
Carlo (laughs): It was 1am on a weeknight, so I couldn't really celebrate at all. I just shared my emotions with the other Italian players on the PokerProForAYear forums. However, the following Saturday I went out and had a big party with my friends.
PN: Is this your biggest poker success?
Carlo: I once won $2500 in an online tournament last year, but this is definitely my biggest poker victory.
PN: How long have you been playing poker? Why did you start playing?
Carlo: I like all card games, but I feel a greater emotional connection to poker. I've been playing for about 2 years now, both live and online. I've played at the Milan Italian Championships and finished in the money in a number of online WSOP and EPT satellites.
PN: What's your occupation?
Carlo: I'm an IT Specialist.
PN: Apart from poker, what are your hobbies?
Carlo: I like to ride my motorcycle and travel. I like soccer, both playing and watching (my heart will always be for AC Milan).
PN: Cats or dogs?
Carlo: Only dogs… I'm allergic to cats.
We wish Carlo all the very best for the PokerProForAYear competition. The Final Table will take place in early 2008 and the winner will be crowned PokerProForAYear and receive the $50,000 Grand Prize package. The package includes entry into four of the world's top poker tournaments, plus travel and accommodation.
Series 3 provided excellent value for players, as each $10+$1 Tournament had a guaranteed prizepool of $500. On top of that, Series 3 also hosted a $500 Freeroll and a $12,000 Global Freeroll, the prize package including entry to the 2007 World Series Main Event and $2000 for travel and accommodation.
Series 4 is now underway and will also offer excellent value to players, with another $500 Freeroll beginning July 18 and a massive EPT Global Freeroll on August 4, the winner of which will receive entry to the EPT in Baden, Austria plus money for travel and accommodation.
Series 4 Round 3 kicks off Saturday July 07 with a fantastic $10+$1 Tournament. Sign up to Pacific Poker today, make a deposit of $50 and start collecting 200 Pacific Poker Points before July 31 to be eligible for the EPT Global Freeroll on Saturday August 4.
For more information, click over to PokerProForAYear where you'll find schedules, League standings and community forums.
Ed Note: Pacific Poker is offering an exclusive 60% first deposit bonus up to $100 to all players who sign up through PokerNews. Take advantage of this offer today!