Party Poker Dutch Open to be filmed in England!

Tony Bromham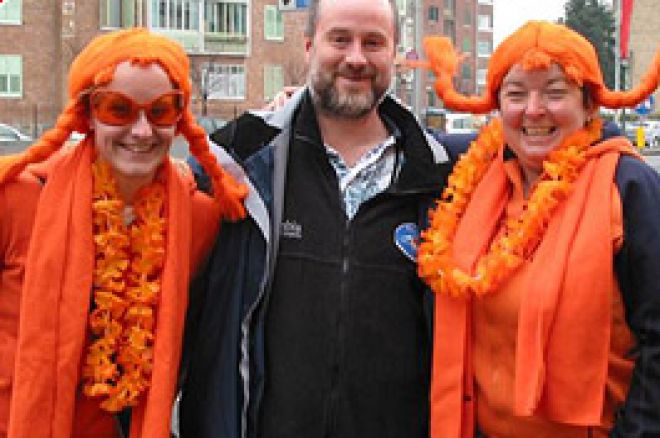 The title of this item may sound "Double Dutch" but it is true. The first Party Poker Dutch Open will be filmed in London between 11th and 14th August under the guiding hand of TV poker regulars Matchroom Sport, the company owned by poker, snooker, darts and boxing promoter, Barry Hearn.
This event is TV driven so we surmise that the banks of the Brouwersgracht were considered an inappropriate stage for this inaugural event! Location aside, everything else about this poker tournament will be coloured Dutch orange through and through.
The Netherlands can boast an array of fine poker talent. World Poker Tour Main Event winner, Rob Hollink, is an obvious example and he will be involved, not only playing the event but also contributing to the TV commentary. He will hope this does not include covering the final table as he would prefer to be on screen at that juncture.
Another Dutch luminary will be Rolf Slotboom, a well-known poker writer as well as accomplished player, particularly at the Omaha tables. If you ever sit down at an Omaha cash table and find Mr Slotboom opposite you, take great care! With four cash finishes at this year's WSOP, none of them Omaha, three of them Texas Hold'em, Rolf Slotboom will be one to watch at the Dutch Open.
Another cash finisher at the WSOP was Milly Uylenbroek, who achieved this in the Ladies no limit Texas Hold'em event. She will also be competing in London. Other players will include Tsai Chen and Peter Dalhuijsen, along with a highly regarded group of players under the name of "Team Veronica Poker".
All 36 Dutch players will buy-in for €2,500 hoping to win the first prize of €50,000 from an added-to prize pool of €117,000.
A Party Poker spokesman said:
"Dutch players are a major force in the poker world and this is a great way to showcase their talents. We're delighted to be sponsoring this tournament but we decided not to insist on orange felt on the table. After all, the orange and dark orange chips were the subject of a lot of debate at the WSOP. We're not sure if it is the favourite colour of poker players other than main event winner Jerry Yang at the moment, even if the player is Dutch!"
UK Poker News has no information on whether the biggest Dutch personality of the lot, the singing Dutchman Marcel Luske, will be present.
The TV show of the Dutch Open will be broadcast later this year with commentary from Frans Frederik and Rob Hollink.
Ed note: Party Poker are offering no less than EIGHT freeolls to win packages to the PokerNews Cup in Melbourne.