UK PokerNews Review: Luxor, Las Vegas

Paul Sandells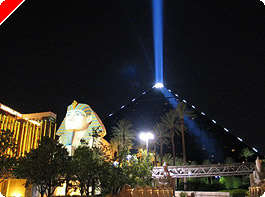 Seasoned travellers might associate the name Luxor with a hot place in the desert. The city of Luxor in Egypt has been brought to a different desert. This time in the city of sin, Las Vegas, Nevada.
This casino boasts a giant pyramid which shoots a brilliant white laser beam miles into space at night. Only in Las Vegas! The Luxor Casino & Hotel pyramid is one of the most familiar sites in Vegas. Some find it beautiful, others are appalled. None can argue about the brilliance of the architecture.
The Luxor can be a crowded place especially at weekends, and in the early afternoons, as check in opens. Fight your way through the crowds and eventually you'll spot the poker room in this popular casino.
For such a large, well appointed casino the poker room is disappointingly small. During our mid-morning arrival we noted there were no cash games currently running, although a $1-$1-$2 No Limit Hold'em game started up within 10 minutes. The daily tournament was in full swing. The $9 charge for this $21 buy-in seemed a little excessive and it appeared from the small turn out that this tournament is not the most popular in town.
The registration staff were very helpful and friendly. The dealers less so but professional all the same.
The facilities were hard to find at Luxor. After the game I spent a good 10 minutes wandering around looking for the restrooms. The cocktail waitresses were fast and friendly and it was a nice, if sticky, touch to be offered some free donuts during the game.
Poker is clearly not high on the agenda at this casino. There are many nicer poker rooms in Las Vegas and certainly better value daily tournaments. However, if you're not here solely for poker or you're not very confident about playing live in America, the $1-$1-$2 cash game won't be the most intimidating game you'll play on your trip.
Joining Luxor is the lovely looking Mandalay Bay Casino and Hotel. Thankfully you can travel between the two venues without taking a step outside into the burning desert heat. Mandalay Bay will be reviewed by UK PokerNews next.
Ed note: Huge overlays and massive deposit bonuses are on offer at Mansion Poker