Jerry Yang Wins the WSOP! Jon Kalmar Takes 5th for $1.25m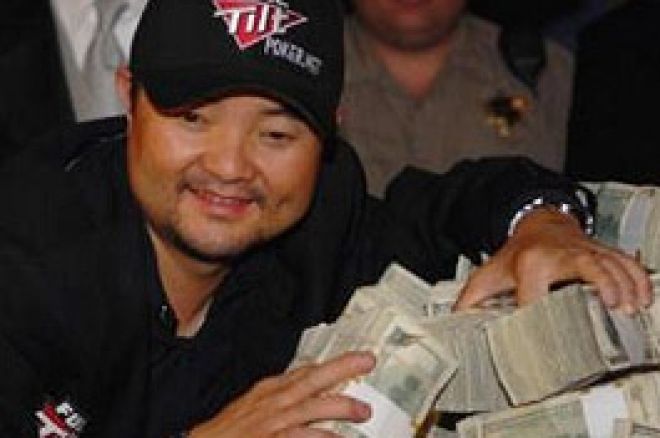 Jon "Skalie" Kalmar from Chorley has won $1,255,000 after finishing in 5th place out of 6,358 starters in the 2007 World Series of Poker® Main Event. The winner was USA based Jerry Yang who took out most of the other players and won heads-up against Canada's Tuan Lam.
The Final Table for the 2007 WSOP Championship started off with a revision of the seating. The redraw made the previous night should not have occurred and seating reverted to:
Seat 1 - Raymond Rahme - 16.32 million
Seat 2 - Alex Kravchenko - 6.57 million
Seat 3 - Lee Childs - 13.24 million
Seat 4 - Jerry Yang - 8.45 million
Seat 5 - Lee Watkinson - 9.925 million
Seat 6 - Tuan Lam - 21.315 million
Seat 7 - Philip Hilm - 22.07 million
Seat 8 - Jon Kalmar - 20.32 million
Seat 9 - Hevad 'Rain' Khan - 9.205 million
In seat 4 was US-based player Jerry Yang who originally hailed from Laos in the Far East. A psychologist by profession, Yang has studied the players at his table to good effect to reach this stage. He must have decided that the best psychology at this stage was to blast away because his 8th placed chipstack at the start was, before long, way out in front after eliminating Philip Hilm in 9th, Lee Watkinson in 8th and Lee Childs in 7th (Yang got fortunate here, spiking an 8 on the turn when Childs was all-in with


versus Yang's


).
Given that the three eliminated players started the day with over 45,000,000 in chips between them, it is no wonder Yang catapulted to the lead. He was able to start the rush by pushing all-in on hand # 9 against Lee Childs who surprisingly folded, revealing pocket queens, presumably through fear of elimination. One up for the "shrink", Mr Yang.
A pleasant side effect for the rest of the field, who were fairly passive up to that point, was that their potential payday increased from a minimum $525,000 to $926,000 without having taken any risks.
But what had, at the start, looked like a close battle between the big stacks had now totally changed. The chipcount looked like this with the chipleader holding over three times more than his nearest rival and virtually half of the entire chips in play:
Seat 4 - Jerry Yang - 62.49 million
Seat 6 - Tuan Lam - 20.025 million
Seat 1 - Raymond Rahme - 17.105 million
Seat 8 - Jon Kalmar - 15.91 million
Seat 9 - Hevad 'Rain' Khan - 7.755 million
Seat 2 - Alex Kravchenko - 4.2 million
Until this point, Jon Kalmar had not won a pot nor entered many, but when all about are losing their chips, it pays to keep yours! On hand # 30, Kalmar wrestled a few from Yang and continued to make small pick-ups here and there, as the table slowed down following the frenetic opening.
Hevad Kahn was next in line for the Yang "Chop Chop". Holding


he committed most of his chips before the flop which was called, after a long think, by Yang. Before the flop could come down, Kahn said he would be all-in "in the dark". The flop of



drew a call from Yang (who had only to put in another 3m into the huge pot) and he flipped over


. No help came for Kahn and he was gone.
Kalmar was now a guaranteed US dollar millionaire with the next level set at $1,255,069. Seeing


as he peeked at his cards, Kalmar was all-in way over the top of a raise of 2.7m from South African Raymond Rahme. This all-in move required Rahme to commit a further 13m chips and probably his own chances if he were to call and lose. He decided to call with


and once more the "hooks" snagged their prey. Kalmar was gone after the community cards came down low and raggy.
As our video interview with Jon Kalmar reveals, he was so close to leaving Las Vegas dispirited and poorer. One last super-satellite made all the difference!
Russian Alex Kravchenko was the small stack with four remaining but he would now be assured of surpassing Kirill Gerasimov as the leading Russian tournament money-winner in the world, having already secured one WSOP Gold Bracelet this year in the $1,500 Omaha Hi/Lo event # 9.
It was indeed Kravchenko who was next to leave the table but not before he had hauled himself up to around 30m chips by doubling through Jerry Yang with


and continuing to pick up smaller pots. Canada's Tuan Lam was by now hopelessly adrift but he still finished above Kravchenko!
The Russian's pile had dwindled a little back to 20m when he went all-in with


. "Chop, chop"! Along came Yang, prepared to call this big bet with


. A further

on the flop sent Alex Kravchenko packing.
Tuan Lam had been recovering well and it was the South African Raymond Rahme who finished third. With a bucketful of chips, Yang was prepared to call some big bets. Here, Rahme found


and reraised Yang's small raise pre-flop to 8m. Yang, holding


, called and saw a flop of



. Bingo for Yang! He bet 10m more and Rahme, clearly believing or hopeful that Yang was on the move, re-raised his remaining 27m all-in. Yang now had a major decision for Rahme's aggression suggested a bigger kicker with an ace. He was in the tank for a few minutes but finally called. Another king was not forthcoming on the turn or river.
Yang was again a dominant chip leader but this time heads up with Tuan Lam by a ratio of 104m:23m. The end was not a quick affair but eventually it happened. Yang raised to 2.3m and Tuan Lam pushed all-in with his remaining 22m. Another race was on – Yang's


versus Tuan Lam's


.
Here, we found out that the poker gods are of cruel persuasion. Of course, the cards are already in position and the players' fates are sealed but the order the cards are revealed makes for the entertainment and torture in equal measure. So it was that the flop helped Lam with



. The turn threw in the

to open up a straight possibility for Yang. It was any four of the 6's or two 8's left. The river was

and Yang had spiked his straight!
Congratulations to Jerry Yang on a superb display of aggressive poker from a starting small stack. $8,250,000 is all his and he has already said that charities and family will be the first to benefit. Click here for the Pokernews video interview with Jerry Yang.
Plaudits also from UK Poker News to John Kalmar for a popular final table finish.
Join in the biggest online tournament, WCOOP VI, at Pokerstars who are guaranteeing $15,000,000 in prizes!