Naked Bunny Girls and How Powerful is the WSOP Europe?

Catman - The Poker Agent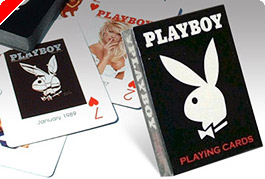 The World Series of Poker® attracted 54,000 registrants for the 55 qualifying events this year, a lot more than many expected. The World Series proved that the "yanks" are not going to be put off poker by something horrific like politics!
Left back here in London and losing $10 playing my 5th $2 sit'n'go at Paddies, I realised that there was more around the corner. Missing my fix of High Stakes Poker on the TV, I attempted to wrestle the remote control from my dear girlfriend "MoneyLover". She loves The Girls of Playboy Mansion; I love Cops combined with a ten-minute fix of poker on the box.
"Catman, I want to play poker in that Mae West outfit, like that girl". "Yes, my angel" I replied as I noticed that a virtually naked Bunny wore Mae West's outfit. Hugh Hefner has made porn so sexy, it is almost acceptable, a friendly household name with all its naughty little undertones forgotten. Playboy has no rivals; luckily for us the competition in the world of poker is a little stiffer.
After bearing another ten minutes of Hugh's cheeky little girlfriends, plural, I managed to snatch the remote from my beautiful Latvian friend and get to a real TV channel. The TV screen lit up with a 2005 Mirage Poker Showdown WPT Final table. Gavin Smith, Ted Forrest, Christoper Bell all battling for a couple of million bucks. It may well have been nearly two year old vintage poker, but at least it was there and more than worth waiting for.
Of course, the most exciting point was the six lovely ladies in evening dresses bringing the cash in; what could be more fun than being Gavin on that day? Winning the WSOP of course but even more exciting to us little Europeans would be winning the Betfair-sponsored "WSOP Europe". So good I heard a rumour that Betfair have paid an eight figure sponsorship fee. Well, I know that I would still buy a place in Hampstead if I had the odd £5 million, but the return on this bet surely will be truly repaid.
The money, glitz and glamour are the driving force behind any poker player's aspirations and, of course, exciting TV. GSN's High Stakes Poker has no rivals in terms of entertainment value. Season four features 17 episodes coming from South Point Hotel and Casino in Las Vegas. The "HSP" TV show is poker gone ballistic; it gives players the chance to learn, live and love the art of high stakes insanity.
It is probably the only cash game Phil Helmuth will insensitively drag himself to, knowing that he is the cash fish, but this is Hollywood Poker at its very best. This game is real fantasy, but of course played for real. Sammy Fahar might not be as sexy as the girls of Playboy Mansion, but he is irresistible to watch and fits the key to any sponsor's dream.
Poker is "cool" and just what the young key target audience wants to watch. This programme is the ultimate exercise in brand awareness. The poker players and odd millionaire are paying for the privilege of being seen as the very best and indeed they are. Danny Negreanu knows that his sometimes costly showboating will be money well invested. Who doesn't dream of calling $70k with 6 3 offsuit?
Beginning on Monday, 5th November, HSP goes one step further. The minimum buy in was raised to $500,000! David Benyamine, the enigma of cash stars, is in it and I am praying he will play like a demented demon. This is getting a little like WWF.
Guest millionaire or fish this year is Guy Laliberte, owner of Cirque Du Soleil. He is donating a percentage of the money he wins to his charity "One Drop". Donate the lot I say. Yes, this is poker's greatest showbiz show, it's the Mike Tyson and Cassius Clay rolled into one and then put out as a poker game. The last seven episodes featured over $5,000,000 on the table; that alone is great TV.
I wrote a list of 20 things that made the show interesting for me; it took 20 seconds. Now try that for "Big Brother"! American TV poker rules the roost. Celebrity poker is still providing shockingly honest beginners, entertaining us as only the Americans know how.
The EPT is a sensational event; it has brought poker to the masses and united Europe but, alas, the price of competing has just gone up and Colin Murray might need a rest. With Virgin Media taking over Challenge and Bravo, poker scheduling has seen a decline in the UK which is not such a bad thing. It is so hard to get the right blend of entertainment, quality and education, in one package.
Above all this, we want to compete. Let's forget bankrolls and money management, the WSOP Europe is like a poker spaceship arriving from Mars, filled with a thousand of the smoothest skinned vixens all of whom will fulfil your every desire. Forget the Bugatti Veyron, this is an Aston Martin DB4 GT Zagato designed by a Count who was jailed for comparing this car's beauty to that of a woman.
The WSOP is operated by an affiliate of Harrah's Entertainment, Inc., the world's largest operator of casino-entertainment resorts. Now let's not forget we are talking the daddies of poker and half of Vegas too. Harrah's started 70 years ago in Reno and now owns or manages 50 casino resorts on four continents. Please note: it was alleged that The Wynn Hotel in Vegas cost $2.7 Billion to build, so casinos are very serious pieces of real estate. Poker obviously has a very important home in Las Vegas and Harrah's are now sharing a little with us Europeans. It is better than any export I can think of.
Betfair has secured sponsorship to what will be the most powerful event ever to hit the European poker community. It should go out on ITV. If it does, I want to see Vegas showgirls or maybe those from The Lido in Paris doing the Can-Can around the winner. The TV coverage should be second to none. This event is the ultimate and I can't stop dreaming about it, so what do we do and what will the opposition do?
The WSOP Europe should almost be warned by the Monopoly Commission just for conceiving such a powerful formula. This event has set a new milestone for all to aspire to and I am sure at long last the poker community will benefit from this huge bun in the oven.
With September looming, how the hell do we get to play The WSOP Europe in September? To answer that question I got onto the "dog and bone" (= Phone, for my American friends) and called the WSOP Europe's sponsor, Betfair. After spending several minutes securing my VIP seat to watch the event from the ice cream stand at "The Casino at The Empire", we got down to the nitty gritty. Oliver Bowen, Betfair's PR guru told me, "Catman, you can qualify in numerous ways, from one cent to $250k in freerolls, along with overlays. Last Sunday night's 8.30pm tournament had a 60% overlay, STT's and guarantees on $1.5 million. We are going to make sure the first event is a major success for the poker community and we already have pro's including Phil Helmuth, Doyle and Todd Brunson, Phil Ivey, Lederer, Cunningham (and about another 20 names) and Brits including Barney and Ross Boatman".
Great news, I will summon up the one cent post haste and spend the next month battling for my place, that is almost for sure. Live registration has already started for the event. The Harrah's and Betfair WSOP Party was at Pure in Caesars Palace on 16th July. Unfortunately, my request for Betfair's private jet was politely refused by Oliver so we will just have to wait to railbird the stars in September at Fifty in St James, The Casino at the Empire in Leicester Square and The Sportsman at Marble Arch.
Expect the poker industry gloves to be off for the next few years as the Battle of The Titans commences. Naked Bunnies aside, Europe now has the opportunity to rule the poker roost as well the opportunity to make some damn exciting new Poker TV.
Ed note: Qualify for WSOP Europe with Betfair Poker and claim a $1,000 deposit bonus too!