Behind the Rail – Has the TV Bubble Burst?

Barry Carter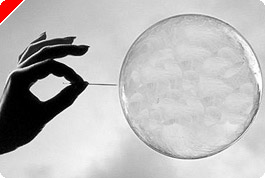 The other day I watched my Sky Plus backlog of the latest series of World Poker Tour which has just started on Challenge TV. I giggled to myself when a fresh faced Roland De Wolfe was referred to by Mike Sexton as a "solid player, he usually has the best hand". This was of course two years ago in the Grand Prix De Paris where De Wolfe made his name before going on one of the most prolific runs ever managed by a UK player, so I'll forgive Mr Sexton for claiming De Wolfe was a rock.
We are actually 2 series behind the States for the WPT and it leads me to ponder whether the bottom has fallen out of televised poker in the UK. Sky One and the like fight tooth and nail to get their hands on the most popular US shows like Lost and 24 as soon as possible and we are at a vantage point where we are sometimes only a few months or even just a few days behind the Americans. This high demand is clearly not replicated with poker shows and UK fans have to rely on YouTube and torrent websites if we want to keep up with shows like WPT and High Stakes Poker. I am going to have to wait a long time before I see that new WPT hostess on my big screen TV and that hurts me.
Another cause for concern is the decline of some of the dedicated poker programming we were inundated with. The Poker Channel is no longer available on Sky, although it has branched out onto the internet all across Europe. Recently the long running (relatively speaking) interactive show Poker Night Live was taken off the air and now Pokerzone is essentially an interactive roulette show that periodically shows the Hendon Mob's 2005 documentary (Has Barny Boatman finished his movie script yet by the way?).
In the United States poker players do have a legitimate claim to celebrity, the likes of Negreanu, Ivey and Laak are often signing autographs and endorsing products. Although it is a trait of a Z-lister, Phil Hellmuth has just signed up to participate in a reality show not unlike Celebrity Big Brother. I can't imagine seeing the Devilfish endorsing odour eaters or making a duck a l'orange on celebrity master chef any time soon.
But if you think the future for TV poker is looking grim, don't panic. There is a huge wealth of evidence that suggests that we are on the verge of something special. We have of course the EPTs which we are up to date with. The fields of these things are getting huge and very prestigious, no longer is the WPT the 'big boys' of poker show. We do of course have to put with Colin "does one pair beat two pair?" Murray struggling with the basics but at least John Duthie is there to correct him.
I hope that Sky Poker can continue to develop into a fully fledged and varied channel. It is now broadcasting Poker Week which is the first Poker Magazine show in the UK and one of the first things I series-linked when I got Sky Plus two weeks ago.
Production companies like Matchroom are producing a big range of specialist poker shows which include the Premier Poker League, Channel 5's Poker Den and the Poker Million. There are actually loads of poker shows like this spread across Sky Sports, Channel 4, Channel 5 and Challenge TV and they look set to continue. Then of course we have the increasingly popular UK tours from Gala and Grosvenor, both of which are going to showcase their final tables on terrestrial TV in the near future.
We may have lost some of our specialised poker channels and we might have to resort to piracy in order to watch some of the flagship American shows, but televised poker in the UK is something to be admired. You may have to stop up late or set your Sky Plus for most of them but they are on mainstream channels which is an endorsement of the popularity of poker in the UK. You can watch poker on British TV every day, which is not something you can say about a lot of other mainstream sport in this country.
Ed note: Get a front row at the best value tournaments in town at Mansion Poker and grab a $500 bonus too.