Boot Camps and The People Poker Column

Catman - The Poker Agent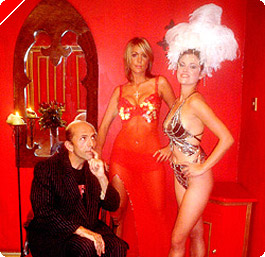 Another week in the blinds, or was I just going blind? Townsend is up $1.6, Benyamine is doing his $1.8 nuts. That was $1.8 million, by the way. My belief that computer minds like Benyamine could play with full impact; 400 hands an hour, with half a mill spread over, two Omaha Hi, one Hi Lo and one NL Hold'em, was possibly a misconception. Benyamine himself had casually told me of his million dollar swings, but exactly how much does your bankroll need to be to play at this level? If there is anyone that can explain to me, how you can avoid confusion and maintain control, then I will give them the Goldest Blue Peter Badge available! If Mr Omaha, Gary Jones, is reading, please mail me, and explain the mathematical probability of this deed being performed in earnest. If anyone knows, he will. There are lessons to be learnt for us all, every nanosecond we play the game.
Just as I was getting a little worried that I too might do my lot ($68) over three tables, ding dong, an invite arrives, would I like to attend 888.com Boot Camp? would I!?. Two days over the Bank Holiday Weekend to learn and refresh my limited poker skills and knowledge, so I too could play like "Sbrugby" (Brian Townsend). Friday night loomed and the other half would not have it. Firstly a little vexed, as she was not invited, and secondly that I would go to play poker without her. Not that there was anything in the world that would get her up at the ridiculous hour of 8am on a Saturday morning. "My friends are coming over and we are going to China White's," she bellowed, "Have fun darling," I softly replied, "You are coming too." Great, so after a night out with three 23 year olds my phone alarm woke me up at 7.30am to go spend a morning at 'Boot Camp.'
Jonny and Matt of 888.com provide innovative moves and this Boot Camp is one of them. Last year they were kind enough to send to me Las Vegas, as a manager of 888.com WSOP Ladies Poker Team, and a damn fine job we did too. My only problem was a 'son of a gun' journalist I was looking after, who I promised a pair of sunglasses as part of her image pack. Needless to say she got the $600 shades. With this in mind, I forced myself out of bed and rubbed my eyes as I noticed that the second bed, in my not too large bedroom, had two young ladies sleeping on it, no covers and in the 'all together.' Thinking it might be best to slip back under the covers and play 'eye spy', I remembered what a wise poker guru had once said to me "Seize every opportunity, to master the art," so I slipped back under the blankets!
Eventually I arrive to catch the start of the proceedings held at The Bonnington Hotel in London. A few of the wiser journalists had arrived to join around 40 players from around Europe that had travelled to attend the very first full boot camp. It was the real McCoy too and the teaching line up provided an excellent cross section of talent. After around eight coffees and six packets of hotel biscuits I was close to actually focussing. It was deep, but not too deep. 'Stop n Go', 'Blocking', 'Squeeze plays'. I only nearly threw my pram out the window when it came to Dr Tom's 'ECM's.' Don't ask me about it anyway, get along to the next course in Manchester! for you will be in for a big treat. The teaching line up is perfect, Dr Tom who provides technical excellence and ECM thingymajig, Nick Wealthhall, the anchorman, Padraig Parkinson and Neil Bad Beat Channing.
The course fee of some £595 would be worth paying to let Padraig and Channing loose to talk on any subject, excluding poker, because these are two of the most charismatic, knowledgeable and funny men in the game of poker. Neil had us in stitches, after one of his sensational blow by blow accounts of how his Queens were ( Bad Beat Not ) expensively busted in a Vic cash game the night before. There I stood at the back of the room with Padraig muttering 'What the heck,' as Neil replayed the hand. He then only just realised he had played as a 'Donkment'. Now Neil, is no Donk, he is in fact the Dogs Kahoonas, a cash play master and maniac, but it was just another lesson for the class. 'Every hand must be played as if your last,' he said. I'm not sure where that quote appeared from. Things got even better. Padraig has cashed in 80 WSOP events, he is 'da nutz' and above that a pleasure to listen to. "You just don't want to be doing that table talk stuff, just don't talk, a good player will hear a break in your voice or catch something about you," said the man who talks and jokes for Ireland. Padraig gave us anecdotes and lessons, all of which were well worth remembering.
Of course we were all waiting to sit down and practice our newly learnt skills at the sit 'n' go training sessions. I managed to get the lads to chuck a squid in the middle and the game was on. Padraig took delight in commentating, especially on Catman's sensational skill levels! I was playing the worst poker of my life raising with A5 early, etc, I think it was all Channing's fault. But above all the day was turning out to be fun and there was plenty that players of any level could learn from. The point is, there was a demand to learn, and the two day course saw new friendships formed and plenty of happy bunnies. Hats off to JN and Matt, nice move.
It was an exciting week climaxed by the appearance of my first poker column in The People newspaper. It was not easy getting there and I hope The People, who are giving it a trial, will be happy. What do you put in a national newspaper that will please the People's present audience as well as new and present poker players. I hope and pray I will get it right, the response has been excellent. Any comments on future content do not hesitate to mail me by leaving comments at the end of this article.
Ed note: Follow all the action at the WSOP on our WSOP Live Reporting pages