Catman Teaches the High Queens of Poker

Catman - The Poker Agent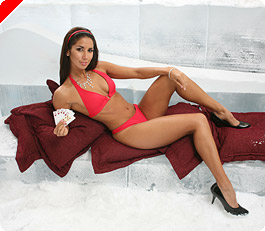 Great news! All the criticism that was spread by the "Yanks" and the poker press about the most epic film made about poker since "Rounders", entitled "Lucky You", has not been quite as bad in Europe!
But there are still bitchy snipes and incorrect observations by snivelling little journalists wishing to further insult the game. Many were confused and did not realise the film was about the main character fighting to raise funds to enter The WSOP and not The WPT, grrrrr! It was described as a film that would appeal to card fiends, showing poker as a dangerous addiction, then as a sport, then as a romantic comedy. But I for one don't give a damn, as long as they are talking.
Of course, sniping is all part of the game. It is just a shame that more thought wasn't put into the content that includes appearances by poker's greatest stars in action. Most importantly, poker made the early evening news (or was it "London Tonight"?) with a presenter actually admitting to playing our sacred game. As long as we get a few more fish coming to join the club, I am happy. Not that there are not enough fish, I just don't seem to be beating the beggars recently! We need to continue with our struggle to convince the "P.C." brigade that poker is a sociably acceptable game of skill. It will happen eventually, we know that it is a game of mad gamblers, but life is one big gamble and if a romantic comedy does it call me Romeo.
Like the film's naffly-named lead character Huck Cheever (why not call him Potato Chips?), I too am racing against the clock to raise enough readies to at least visit The WSOP. Many of us have got to blooming well graft here and don't have the spare G's required to enjoy expensive business meetings. Send me to Vegas and I am going to play day and night. Instead, I have just returned from the nauseous delights of Thorpe Park where I, a mighty 400 hour private pilot with aerobatic qualifications, vomited over my dear companion whilst savouring the "Nemesis" ride. I was of course recording with my mobile at the time, so watch out YouTube!
My hero Phil Hellmuth is blasting his way back into the popularity stakes with his 11th Bracelet and was close to a 12th with a final table in the $3,000 No Limit. He did it last year and he is doing it again this year. The man is pure class and my private lessons from him where he taught me more about the word "patience" have not gone unnoticed. I am continually spreading the word to the corporate world at poker events I arrange with my Poker Agency. Few of my "learned" pupils have heard of Phil but I am always asked if I have met The Devilfish which is a good starting point. Two players who so many enjoy to slag off but have proven the game is not just about luck.
So, luckily for me, I have plenty to do whilst not in Vegas. Like a door-knocking preacher, I spread Phil's world to the rich and successful players of the corporate world. Roy Houghton of The Loose Cannon gave me a great rattle to shake in the form of "Team Poker Events". Corporate poker as an entertainment is slowly leaping out of the closet, hopefully to blast intellectual events such as "Blue/White Collar Boxing Corporate Events" out of the window. I suppose it would be fun to combine the two but for the time being let's continue to promote our blood-free sport. Remember, every corporate I can convince that poker is fun might well become a new player. It is just like a very big money pyramid.
Last week, I had a great gig lined up teaching corporate players of possibly the biggest search engine provider (you can guess who but I must respect company compliance issues). It was a real honour to get to teach the clickthrough kings; of course, I had to be especially nice in case I could blag some assistance in the rankings. I had booked in a poker event that I called "Boardroom Poker" where, in my own magical little way, I compare the game of poker to controlling the boardroom in as detailed a fashion as my C Grade, A level Physics allows me to teach economics. Of course, whoever holds the dealer button is the chairman and the market place is the betting, and so on. It is really a rewarding way to earn a living. Now, on this evening, there was mild confusion, for my fairly tipsy party of 25 were ready for a roaring "poker party", not the intellectual challenge I had prepared for them. The unending bottles of Taittinger Champagne that were gracing the purple baize seemed to miss my observant eye in my determination to explain the significance of EV's and the dangers of silent (but deadly) players.
I quickly reduced the length of the "Reading Your Enemy" section and got down to making sure everyone knew how to play the basics, naturally teaching them that "table talk" is fun and how to scream "Jam it!" or "All in!" The party was in full swing, the power of two cards was seductive enough to ensure that everyone listened to more powerful tips and we were ready for the event. Every player receives a poker nickname, with three players in a team and 2,000 chips. If they buy in again, they receive only 1,500 chips but are charged for 2,000 and play lasts 2 to 3 hours. The object of the game is to buy in as little as possible and play real poker, something that luckily is rarely adhered to in the real world. The beautiful Alina Salnikova honoured me with her assistance. For those of you who have played her, she is stunning and girl-like, but for goodness sake don't mess with her! After around ten minutes, she advised me she would not be dealing with the children on Table A. "I am getting angry at High Queen, you go and look after that table now!" barked my sweet Princess.
"High Queen" was a character made for TV and I would happily sponsor him. Luckily, I do seem to have a good affinity with the gay community and I managed to prevent High Queen from knocking over a side table of champagne for the third time after he had lost a hand. A couple of years back, I sat down on a final table of a large charity game with Roland De Wolfe and Willie Tann. Roland was swearing out loud, with me telling him to button it, as I often did. In those days he was a mere mortal but this passion seems to be a powerful sign of a winner.
High Queen and the other execs played a battle of wits for the next two very enjoyable hours. High Queen was tilting on any hand he played. But, like Phil Hellmuth, hidden beneath this yelling facade was a sensationally patient man with a ghetto blaster for a table image. "He might be a queen but he is good with money" whispered his boss. Three hours later, the battle was over. The Victors; High Queen, Glamour Puss and Princess of The Mobster's Team no less.
This week I get to teach our dear friends from TalkSport Radio. They are holding a big shindig with the likes of Ian Wright, Alan Brazil and "Page 3" and Ladbrokes player, Leilani (pictured), expected to play which will be nice. Naturally a $5k freeroll is up for grabs and I am playing as a "Bounty Presenter". God, I love free poker!
I am trying my hardest to find an avenue to bring poker onto the radio and I do have a face for radio. All we need to do is sign up Thierry Henry and poker might get noticed.
The moral of this story is quite simply that Phil Hellmuth is The Daddy and what is more important in life or poker than "patience"? (Answers by post please). Of course, never underestimate your opponent, especially if they go by the name of "High Queen" and know how to make money.
Ed note: Want to win a $5,500 Caribbean Poker Cruise ticket? You won't get a better chance than by playing UK Poker News' exclusive Ladbrokes Freeroll on 28th June!