Atherton Hits Them for Six in Bolton

Paul Sandells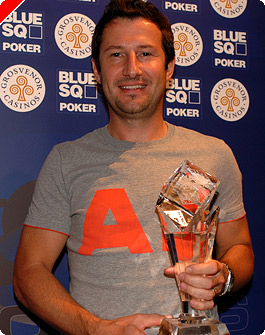 Lee Atherton took down the the 2nd Annual Poker 6 event at the Grosvenor Casino in Bolton, last weekend. The Poker 6 is fast becoming one of the more popular events on the UK circuit with its unusual mix of shootout and regular multi-table tournaments formats rolled into one.
Day one saw the shootout part of the Poker 6 take place. Twelve players would qualify for day two, which would switch to the more conventional multi-table tournament format. The twelve players who won their tables on Day 1 picked up £2,000 a piece and reconvened on Day 2 to fight it out for the lion's share of the £72,000 prize money.
Players who were knocked out Day 1 were treated to a free entry into the Grosvenor Plate event (a £100 one rebuy or add on tournament). This consolation tournament attracted 78 runners and had a total prize pool of £21,500. It was won by Paul King, who scooped over £8,000 after beating Kevin O'Leary into second place.
Lee Atherton was the eventual winner, picking up a first prize of £17,840 plus an additional £4,000 added by Blue Square. He defeated online qualifier Mark Emery after an epic heads up encounter that lasted for almost three hours.
Mark, who is more accustomed to £10 rebuy tournaments in Walsall, never looked out of his depth and was very pleased with his runner-up spot.
Third place went to Danielle Allen, one of two female players to make the final. Danielle qualified via a free roll yet walked away with almost £10,000 for her efforts. Carol Cotterill made it a great event for the ladies with a respectable fifth place.
The event featured added prize money to the value of £21,000 and although the size of the field was smaller than had been anticipated, it was by no means weak. Amongst the value hunters taking part were Mickey Wernick, Lucy Rokach, Liam Flood, GUKPT winner Dave Smith, Kevin O'Connell and last year's winner Steve Read.
The final result was:
1st Lee Atherton £21,840
2nd Mark Emery £12,560
3rd Danielle Allen £9,200
4th Ramazalini Abbassi £7,760
5th Carol Cotterill £6,800
6th Dave Smith £5,840
7th Matt Tyler £2,000
8th Balvinder Nijjar £2,000
9th John Sims £2,000
10th Jim Reid £2,000
11th Kevin O'Connell £2,000
12th Chris Cancelliere £2,000
Ed note: Join the big time live poker scene when you qualify for the $5,000 value PokerNews Cup for FREE with UK PokerNews and Full Tilt Poker