Shropshire Amateur Takes the GBPT Nottingham

Tony Bromham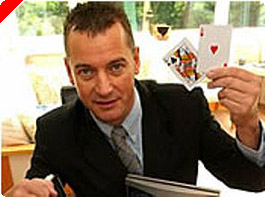 Stephen Holden, a satellite qualifier from Telford, has won the Nottingham leg of the Gala Casinos Great British Poker Tour, giving him a handy prize of £20,000 and a seat at the £2,500 buy-in GBPT Grand Final worth £500,000 to be held in Bristol this Autumn.
110 of Britain's best poker players, including Barny Boatman and Joe Beevers of the Hendon Mob, Julian Thew, Mike McGee, Iwan Jones and Paul Parker, sat down in Nottingham to do battle in the latest of the stops on the GBPT, in association with Gala Casinos, over two days. Stephen Holden was amongst them having won a £200 satellite the previous evening, picking up a further £4,990 as well as the Main Event entry.
Stephen said:
"I'm delighted – the dealer kept delivering great hands and some strong plays ensured that I came out on top. After putting in so much effort at card tables all around Nottinghamshire, this is a result to remember! The Great British Poker Tour is a brilliant chance for UK players to show off their skills in their own country. So many tours are focused abroad, so it's good to face some home-grown talent on our own turf. I'm now hoping I can bring the overall title home to Telford."
More players will be making that attempt at the next leg of the GBPT, this time in Bournemouth beginning 13th June.
Apart from the chance of glory, there is also the attraction of "fifteen minutes of fame". Gala Casinos recently signed an agreement to televise all six of the GBPT festivals on ITV4 later in the year. Regular poker producers, Presentable, are once more involved so a quality show is assured of which there will be twelve one-hour episodes in total, hosted by Alex Jones. Play from each final table will be filmed for these shows.
On the celebrity front, players of varying abilities (at poker) have tried their hand at the GBPT already. The likes of Michelle Heaton of Liberty-X, Doug Henshall of ITV1's Primeval and Norman Pace (ex-Hale & Pace) are amongst those.
Nick Potter of Gala Casinos said of the TV deal:
"This is a long term, prestigious partnership with ITV and Presentable which adds another dimension to the play at the GBPT. So far the tour has been a massive success and we plan to work with Presentable and the poker community to get some great programme content that all fans of the game will love."
Megan Stuart of Presentable said:
"It's thrilling to be working with Gala Casinos on this exciting new tour that takes television poker out of the studio and around the UK. We're anticipating some terrific contests and hope to discover some new poker stars in the process."
Perhaps Stephen Holden is one of those to be discovered!
Picture: shropshirestar.com
Ed note: From Nottingham to Las Vegas! Play for any of the 56 Team Poker News $12,000 WSOP packages at MANSION throughout next week – yes, FIFTY-SIX of them!