Roy "The Boy" Brindley Wins Betfair Poker Masters of Europe

Paul Sandells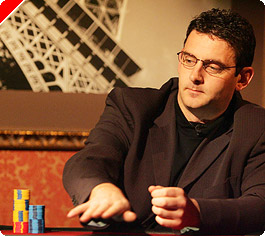 Friend of UK Poker News, Roy "The Boy" Brindley, has triumphed at the Betfair Poker Masters of Europe. Roy turned on the style to beat a star studded field this afternoon.
A final table containing Roy Brindley, Tony G. and Ram Vaswani should contain plenty of fireworks. The Betfair Poker Masters of Europe, which will be screened in the UK on Sky Sports on the 29th of May, looks like being exciting viewing! Especially for fans of Irish Pro' Brindley.
Brindley ran out the tournament winner earlier today and walked away a cool $120,000 better off.
William Thorson ran Roy all the way to the line, though. As the two battled out a lengthy heads up conclusion to this excellent event.
Brindley had to contend with his pocket aces being beaten on the river but after almost two hours Thorson went all in with King Jack. Brindley called and his Ace-7 gave him a winning hand of 2-pair (Aces and 9s) before the river card was needed.
Brindley said, "I got to the stage where I was really enjoying playing winning or losing. This is the first televised tournament I've won in 5 years. It means a great deal. More so financially now we have the baby."
Internet qualifiers Steve Cordy and Richard Collier were knocked out early along with in-form Hendon Mobster Ram Vaswani.
Tony G continued a recent trend by giving away his winnings to charity. Tony finished a creditable 3rd, winning $36,000. The money will be split between The Princes Trust and a Lithuanian charity called Bedu Turgus, which helps people who suffer from extreme poverty. It seems the "bad boy of poker" is not such a bad boy after all.
The day belonged to new father Brindley, however. Sleepless nights and bottom changes await the friendly Irishman. We're sure $120,000 will ease the pain, Roy!
Ed note: Head over to Betfair Poker for an amazing $1000 new player bonus.