Pool Ace Jackie Pots the Ladbrokes Ladies Championship

Tony Bromham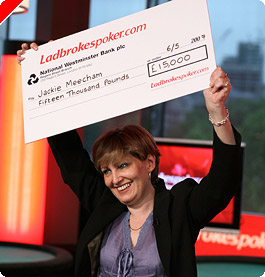 Jackie Meecham, a UK champion pool player from East London, saw off a poker challenge from 47 other ladies at the second Ladbrokes European Ladies Championship at Southbank Studios in London to secure a seat at the Poker Million VI.
Jackie won prizes worth £32,000 which included the cash prize of £15,000 (proudly held aloft in the picture) plus a much sought after seat at the jewel in the Ladbrokes Poker crown, the Poker Million VI. Jackie is a Home Office Manager when she is at work but has also been a no.1 ranked UK champion pool player. In comparison, Jackie's poker background has been a lot shorter - two and a half years.
Jackie's biggest win to date at the poker table was £700, which she picked up at her local card room, Equal Chance. Now she has the opportunity to go for the $1,000,000 or more that will be on offer in one of Europe's richest poker events.
The European Ladies Championship had its inaugural outing last year at Riverside TV studios in Hammersmith, West London. This year, it moved a little further up the Thames river, decamping to Southbank Studios. 48 ladies paid good money or else qualified online at Ladbrokes Poker to grab a seat at this friendliest of poker tournaments where happy discussion is the norm rather than macho posturing!
Amongst those playing were regulars such as Katherine Hartree (a high cash finisher at last year's WSOP), Liz Lieu, Lucy Rokach, Beverley Pace, Jen Mason, plus the wives of the winners of Poker Million IV (Tony Jones) and Poker Million V (Raj Modha).
Jackie Meecham was not so well-known in poker circles but, with her history in playing top class pool, a competitive spirit would not be lacking. She had qualified to play in the ELC tournament via a £1.50 online tournament win at Ladbrokes Poker and the outcome proved her fighting spirit to the end. She found herself well behind by the heads-up stage to Angelina Nilsson of Sweden but was able to tough it out before going on to win. The final table positions were:
1st -Jackie Meecham - Leytonstone England - £15,000
2nd - Angelina Nilsson - Sweden - £10,000
3rd - Lorna McDermid - John O'Groats, Scotland - £8,000
4th - Jen Mason - Hampstead, England - £5,000
5th - Tina Loucaides - Palmers Green, England - £4,000
6th - Bev Pace - Essex, England - £3,000
7th - Veronika Larsen - Norway - £2,000
8th - Janine Regan - Swindon, England - £1,000
Jackie Meecham was naturally very happy with events and will purchase a new car with her winnings. She also said:
"I watched poker on TV for a few months before I started to play and decided that this was a game that I could do well at. I packed my bags soon after and headed to Las Vegas for a holiday with the express intention of leaving knowing how to play poker well."
"I think I can safely say that has been achieved! I can't wait to participate in the Poker Million VI, as apart from the experience the amount of money to be won is astounding. If you just get to the semi-final you are guaranteed at least £6,000. It is an opportunity of a lifetime that I am going to grasp with both hands."
The European Ladies Championship will be broadcast as a prelude to The Ladbrokes Poker Million VI on Sky Sports 2 in July and August over 6 episodes. Jackie will then return to defend her ELC title next year.
Ed note: Play the exclusive free-to-enter UK Poker News/Ladbrokes Caribbean Poker Cruise Freeroll on 28th June and win a $5,500 10-day poker cruise. Register now!