PokerProForAYear – Join Series 3 Now!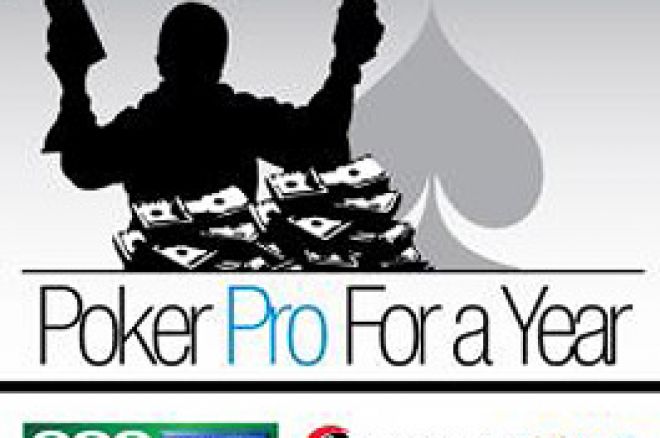 The fantastic PokerProForAYear year long competition is well underway, but remember you can join in at any time. And with $500 Guaranteed tournaments all thoughout Series 3, now is a great time to start playing!
The PokerProForAYear juggernaut keeps rolling along and we're close to halfway through Series 3. But there's still plenty of reasons to join in, as you can still qualify for the $50,000 Grand Prize!
Our $500 Guaranteed Tournaments have certainly made a splash, with 28 players lining up for Series 3 Round 1. The 500 league points and $250 went to MeRock, who almost made it back to back wins in Round 2, finishing 5th while Filpac took first place honors. Round 3 was equally as tough, where Mobay claimed the win from 19 starters.
Sitting atop the Series 3 Leaderboard is kassike – who has been unstoppable. Kassike won the Series 1 Global Freeroll and took a free trip to the European Poker Tour event in Dortmund, and also qualified for the Series 2 Final. With a healthy lead in the Overall Leaderboard as well, kassike may very well end up at our PokerProForAYear Final Table.
Remember there's plenty of ways to get to our PokerProForAYear Final Table at the end of the year – where one player will win the $50,000 Grand Prize and become a PokerProForAYear in 2008! You could win a Series Final, finish on top of the Overall Leaderboard, or qualify for the Top 100 Overall Leaderboard Freeroll at the end of the year which will award three seats! At the moment, just 80 points will get you into the Top 100 Overall Leaderboard – so it's never too late to join!
If you needed more incentive, don't forget our great freerolls for Series 3. There's a $500 Freeroll on May 23 at 06:00 EDT (10:00 GMT), to be able to enter simply make a deposit in the four days before the freeroll starts. There's also a fantastic $12,000 WSOP Global Freeroll on June 9 at 17:00 EDT (21:00 GMT). To qualify for this freeroll, you need to make a deposit of $50 or more and earn 200 Pacific Poker Points before June 5.
Remember all our PokerProForAYear League tournaments and freerolls are only for players that sign up to Pacific Poker through PokerNews or PokerProForAYear, so the fields offer great value!
If you fancy your chances and feel you can mix it with the best and possibly become the PokerProForAYear in 2008, then sign up today at PokerProForAYear, start earning those League points and we could see you on the Leaderboards very soon.