Free T-shirts for All UK Poker News Readers

Paul Sandells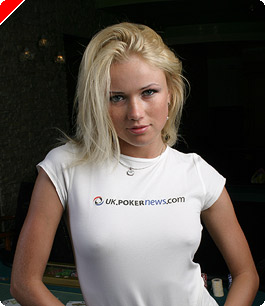 Summer is here and you'll need to keep your cool at the poker tables if you want to stay ahead of the game. What better way to show you're top of the fashion class, as well as the poker class, than to sport our new UK Poker News T-shirts at the table.
UK Poker News girl, Dovile, (pictured) knows how to turn up the heat at the poker table. Dovile still keeps her cool, though, by wearing her UK Poker News clothing whenever she plays.
Now you can be the envy of your poker playing pals by getting your hands on a UK Poker News T-shirt of your own. They're free too! That's right, no postage and packaging and no need to send any money. Just email your address and we'll do the rest.
Want to relax in the summer sunshine in your new T-shirt? Why not sit back and enjoy a new poker book from Matthew Hilger and Ian Taylor at the same time? We reviewed The Poker Mindset: Essential Attitudes for Poker Success back in April. It impressed our top poker book reviewer, Barry Carter, so much that he asked for some extra copies for our readers!
So, we've got two free copies of this brand new book to give away exclusively for UK Poker News readers. This is a first come, first served promotion. The first two readers to request one of our great free T-shirts will also be sent a free copy of The Poker Mindset.
It's win-win this summer at UK Poker News.
To get your free T-shirt email the UK Poker News Editor: paul@pokernews.com with your address and T-shirt size (M, L or XL). Please allow 28 days for delivery of your T-shirt.
Ed note: Grab some more free stuff at Titan Poker - this time it's $50 in cash!