PokerProForAYear Update – Qualify Now for the $12,000 Global Freeroll!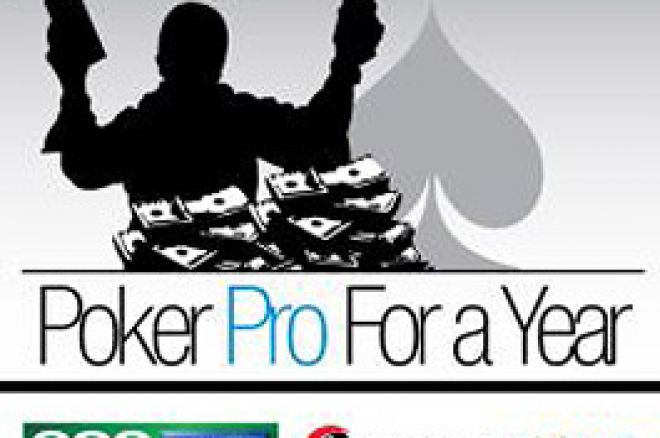 The tailend of Series 3 in the fantastic PokerProForAYear competition is at hand, but there's still time to qualify for a fantastic $12,000 Global Freeroll. There are also two more $500 Guaranteed Tournaments and of course, the Series 3 Final, so there are plenty of chances to rack up some PokerProForAYear League points.
Our $500 Guaranteed Tournaments continue to be popular in Series 3. Round 4 was taken out by utc67, who won $250 on top of 500 precious league points. The recent Series 3 $500 Freeroll generated feverish competition from 82 starters and was eventually won by German thorst14. Australia's TaipanJ took out second place with another German, svwerde3, placing third. Overall Germany was well represented, with 20 of the 82 starters calling Germany home. Finally, the Round 6 $500 Guaranteed Tournament was won by sfanants, who defeated the current Overall Leaderboard leader kassike to take home the league points and the cash.
Sfanants has now snuck into tenth position in the Series 3 Leaderboard, with several big players such as kassike, splug, and Goldrak all making appearances and first place is currently held by merock with an impressive 8710 points. Can merock convert his efforts in Series 3 to a place at the Final Table? With only three rounds remaining in Series 3, we won't have to wait long to find out.
One of those remaining rounds is the massive Series 3 $12,000 WSOP Global Freeroll which will happen on June 9 at 17:00 EDT (21:00 GMT). The winner of this Freeroll will win a package that includes entry to the 2007 World Series Main Event (priced at $10,000) plus $2000 for travel and accommodation. There are also 12,000 league points on offer for the winner, with an amazing 2000 awarded just for participating. This is the easiest way to make a huge impact in the PokerProForAYear competition. To qualify for this freeroll, you need to make a deposit of $50 or more plus earn 200 Pacific Poker Points before June 5.
Players that make it to the Final Table at the end of the year will be playing for an amazing $50,000 prize package that includes sponsorship into four major poker tournaments in 2008, plus travel and accommodations. Remember, all PokerProForAYear League events and freerolls are hosted by Pacific Poker and are only available to PokerNews players. That's amazing value right there.
Think you've got what it takes? Join PokerProForAYear now and start collecting those valuable league points and you too could rise up the Leaderboard and potentially become the PokerProForAYear in 2008.
Ed Note: PokerNews players who sign up to Pacific Poker are also entitled to an exclusive 60% first deposit bonus up to $100. Register through PokerNews today!