Sweden Pull Off Spectacular Win at PartyPoker Poker Nations Cup

Paul Sandells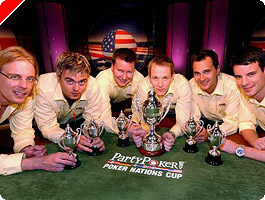 Despite huge odds against them, Sweden pulled off an amazing victory in the PartyPoker.com Poker Nations Cup last night. The strong looking Swedish team, captained by Bo Sehlstedt, scooped $100,000 for their efforts.
Channel 4 televised the final of the PartyPoker Poker Nations Cup last night and what an entertaining evening it was, especially for Swedish poker fans. Bo Sehlstedt's team, which included 2006 WSOP bracelet winners Anders Henriksson and Mats Rahm, as well as Johan Storakers, William Thorsson and online qualifier Hans Isoz, ran out spectacular winners of the highly regarded team event.
It was Anders Henriksson who was subject to much praise today, though. Henriksson faced a daunting task when heads-up vs. America's Robert Williamson III. Henriksson sat with just 12,000 for Sweden looked like the huge underdog against Williamson and America's 88,000. However, the Swede quickly doubled up and wore down his opponent in a superb display of poker.
Henriksson was delighted. "It is great to win. I always thought we were in with a chance because we had a very strong team. It didn't seem to be going good for a while but once I had doubled-up from almost nothing my confidence started to rise." USA captain Williamson III was devastated to have thrown away such a huge chip lead and could only say, "I don't need a bar right now, I need a doctor."
Defending champions Great Britain featuring Dave, "The Devilfish" Ulliott, Ram Vaswani and Joe Beevers steamrollered the field for the first few days and were runaway favourites to win going into the final. However, in a style only comparable to an England batting collapse, Team GB blew a great chance.
So, congratulations go out to Sweden and to Presentable Productions for an entertaining poker series. Next week sees the start of PartyPoker.com Premier League Poker, produced by Matchroom Sport, which starts at 11.50pm on Channel 4 on May 22nd.
Ed note: Qualify for the WSOP main event with Team Poker News and Party Poker for free!