Kenna James: Interview with The Cowboy

Tony Bromham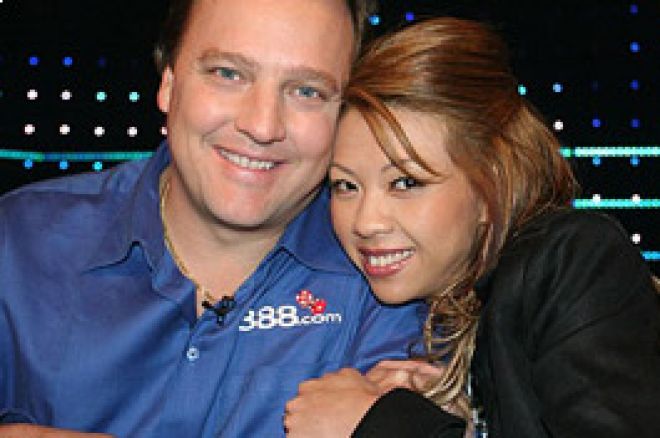 UKPN: Hello Kenna, thank you for taking time out to talk to UK Poker News.
KJ: No worries, mate. Glad to take the time to talk with the internet's premiere news portal. Wow, I sound like a commercial. Well, I was an actor for a couple of decades you know! Seriously, Tony G. has been a friend of mine for the past few years on tour and I've gotten to know a lot of you guys at Poker News and ya'll are all fine chaps doin' one helluva job!
UKPN: Thank you! British poker enthusiasts will have the chance to see you in action on TV soon when Channel 4 airs its series of programmes filmed at the recent UK-based Party Poker Premier League, in which you took part. Tell us how you first heard about this event and came to receive an invitation.
KJ: I've done quite a lot of work both commentating and playing for Matchroom Sports and we've enjoyed a good relationship over the past couple of years putting their poker programming together. So when it came time for the Premiere League, Eddie Hearn just gave me a call and told me to saddle up and mosey on over…and so I did.
UKPN: Having taken part, what was your impression of the Premier League as a poker concept, compared to the usual multi-day main events that you traditionally play?
KJ: I loved the concept as soon as I heard it. One of the downsides out on the poker tour is that when you travel to far away places to play in a main event, if you catch a bad break you can be out faster then it took you to travel there. That can be a gruelling and disheartening experience. But with the Party Poker Premiere League it gave us an opportunity to compete night after night against some of the best players in the world. If you caught a bad break one night you had the chance to come back and rework your strategies to prove your skills over the long run.
UKPN: What for you were the highlights of the week in Maidstone?
KJ: The first afternoon when I got there and found that the hotel we were staying in was right on a golf course, I got excited. It was very wet and overcast and late in the day when Phil Hellmuth showed up at the hotel. We made a beeline for the pro-shop and asked if we could go out and play a few holes. The guy in the pro-shop said "I wouldn't advise it." Well, we didn't know over here in England that meant "no". So we continued to have this conversation for like 10 minutes if we could go out and play. He said, "I wouldn't go out in weather like this." Phil said, "Yeah, but you're probably not going to be playing for $2,000 a hole! So can we just get some clubs and shoes from you so we can play some golf? I mean, are you open or not?" The guy said, "I think it's too dangerous out there right now." I had to laugh…certainly it was going to be dangerous to somebody's bankroll but certainly not because of some soggy ground and dark clouds.
Anyway, we eventually wrestled away two bags of clubs and headed out fighting the mud, wind and pending darkness. Phil got the best of me in the spot (4 strokes) and he ended up winning a grand from me but we had a great time. It was the precursor for a week of fun and competition that was top notch all the way through. All of us sang (well, I sang), we laughed, we competed during the day and each night we ended up at the hotel bar drinking, telling stories and playing more poker with a deck of cards at the bar. More money may have been won and lost in those sessions than on the TV show!
UKPN: Were there any interesting developments with the other players especially given that some of them (eg, Phil Hellmuth, Tony G, The Devilfish, etc) have highly-publicised reputations that make them ideal TV material?
KJ: A lot of trash talking in the green room. Some great lines that unfortunately didn't find the cameras but made being there and being a part of it all very fun. Still, a lot of it made it out onto the set and I'm sure it's going to be a great show.
UKPN: Do you get to visit the UK very often in your poker career and have you been here for other purposes, say a vacation? What are your thoughts on the UK as a place to visit for Americans?
KJ: I've travelled so much to London that it feels like a second home to me now. I love it there and always look forward when I arrive at Paddington Station. Mostly I'm there just to play poker but occasionally I will take in a show or do the tourist thing. There is so much history and I eat it up just sitting in a typical English pub and enjoying a pint with my mates. My last trip there we went to a pub that sat on some church grounds adjacent to a graveyard. We walked around the graveyard behind the pub and checked out the tombstones which were all dated in the 15-1600's. And I take in a castle here and there. Like to play cards in one of them someday.
UKPN: You are a big name in poker these days, especially in the States, but for our readers in the UK could you give us a brief recap of your poker career, where you developed your skills and a resumé of your considerable successes in major tournaments?
KJ: Well, I've been very blessed with a lot of opportunities and have managed to fashion some success in a very tough industry. Rather than go into all of it here if people are interested they can check out my profile and updates at www.kennajames.com. Briefly, I've won over 3 million dollars in 20+ wins, travelled the world many times over, direct tournaments and do some of the poker commentating on various television shows. It all started for me just as a regular player and playing $1-2 limit hold-em in Los Angeles, CA back in 1996.
UKPN: What do you regard as your personal highlights to date from these successes and what makes them stand out for you?
KJ: There's been so many so it's hard to pick from the lot. I guess making the final table on the WPT at the Bicycle Club Casino in 2005 even though I didn't win. I finished 2nd but it had been a dream of mine for years to make it to the final table as the fields are so tough and filled with the best players in the world. Also, beating "The Grinder" [Michael Mizrachi] heads up for the LA Poker Classic title in 2006 was a great moment and is my favourite trophy to date.
UKPN: Turning to the poker industry in general, what impact do you think last year's law changes to online gaming had on poker in America, and do you have any personal thoughts on their merits?
KJ: Huge impact. The trickle down effect has not even been realized yet but it will. Less tournaments, smaller prize pools, less dealers, less tips, less jobs, less career opportunities in poker. All this happens because money is taken out of the industry. Advertisers don't want to sponsor television programmes so there will be less poker shows on TV. The exposure is diminished so the player base will decrease. Poker as a whole will survive and thrive in other parts of the world by picking up the ball that the U.S. has dropped and pick up the player base that needs to go somewhere else that accepts them. It really is disappointing. I do believe that the whole online industry needs regulating and very strong controls to protect innocent people from losing their money unfairly.
UKPN: Do you play much online poker yourself? If so, what is your preferred game and stakes, and where can online players get the opportunity to play against you?
KJ: I currently spend most of my time playing on the tournament circuit in the brick and mortars. Occasionally I will play online but I am currently seeking an online sponsorship opportunity with a site that still believes they can benefit from a U.S. player representative like myself. I have friends at Cryptologic, Ladbrokes, Party Poker and others but nobody has stepped up to the plate and asked the Cowboy to saddle it up and join their team just yet. It's too bad too because I would love to spend more time in England and abroad promoting and developing an online site. I think there will be an opportunity soon and when it comes I will let you know where to find me.
UKPN: You were associated with Sun Poker which is one of the rooms that uses the leading CryptoLogic software platform. What is your opinion of this poker room?
KJ: Unfortunately my deal with Sun Poker ended with the new gaming law back in September. They are good people though and supported The Wounded Warrior charity that I work with and were a great support to me while I was with them.
UKPN: The majority of online players are found plying their action on the low stakes tables. You also started at these levels, such as $1-$2 limit hold'em, but in a matter of a few years now play the big buy-in circuits. This gives hope to many but what would you pinpoint as the key reason you managed to make progress and build your bankroll, something that most online players fail to do?
KJ: I am currently in development of a program that will help players do just that, making that transition and give them the road map to make those jumps. I will be developing interactive programming through my new site at www.kennajames.com and look for it to be in full swing within the next few months.
UKPN: Poker can be a grind even for the pro's, so what do you do to relax away from the poker circuit?
KJ: I love to play golf and go to the movies. I have two wonderful boys who I love to be with and watch them play ball. I also take time out to visit places where I travel from time to time.
UKPN: Finally, Kenna, with the US dollar so cheap for us Brits, what is your personal recommendation for a vacation destination in America (assuming we want to give poker a miss for a few days!).
KJ: Just know that this country is so vast and offers so many different ways of life. It's hard to say what's the best place to experience because it really goes to the individual. But know there is something for everybody here in the US We have friends here from Australia at the moment and they just took a plane and helicopter tour of the Grand Canyon yesterday. Just flew over to Arizona from Las Vegas for the day and had a picnic lunch right on the edge of the Grand Canyon. Then they took a helicopter ride to the bottom and a boat ride on the Snake River. Not that expensive either for the whole package, maybe a couple of hundred dollars a piece for a day they'll never forget. Well, there's one idea for ya mate. Then you can come back the same day and still get a game of poker in!
UKPN: Sounds good. It's been also good talking with you, Kenna, and we look forward to seeing you on the Premier League Poker on TV. Thank you again.
KJ: Thank you. I'm off to Vancouver, BC in Canada to play in Johnny Chan's event and then it will be time to see y'all over here for the greatest event of 'em all, hey? The WSOP 2007. C'ya on this side of the pond mate. Good flops and Happy Days Always, Kenna.
Ed note: See why Kenna likes Sun Poker, which offers a stunning $10,000 Freeroll exclusively for new players every month!