Jen Mason Wins the Green Joker Poker Main Event

Barry Carter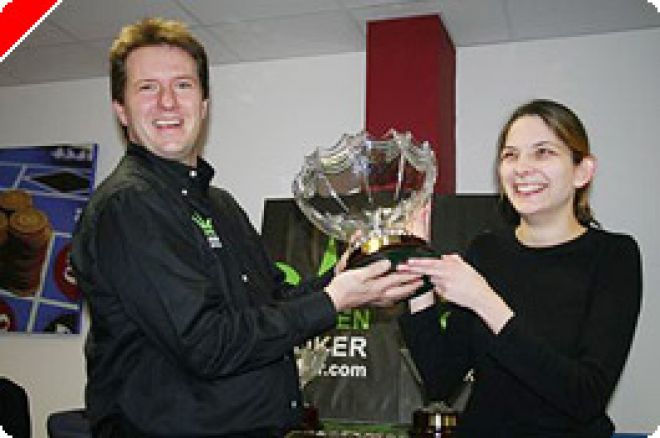 Jen Mason, an institute on the Blondepoker forum, has took down the Green Joker Poker Festival Main Event in Drogheda, Ireland. The second GJP Festival took place at the newly opened Drogheda Card Club, and consisted of a blind structure which every single poker player in a 50 mile radius would complement at any given opportunity.
With 15,000 starting chips, 1 hour clock and no running antes in the entire tournament, there was a lot of room for creative play. I myself played and despite going out late in the first day, I have to say that at no point did the blinds take over the action or I had to make a decision because of the mounting pressure from the running antes. Even at one in the morning players were still able to see flops, turns and rivers without it becoming a shovefest.
Not only were the entire poker community (which included Irish Open winner Marty Smyth, Julian Thew, David O'Callaghan and Mick McCloskey) raving about the blind structure, there was also something else very noticeably different about this event – no bad beat stories. With the structure in place everybody had the room to get away from big hands and control the action to the river, so everyone had to hold their hands up to some extent for their own demise (mine was due to a very bad fold and an even worse bluff).
The final table of the event included Mason, David O'Callaghan (who came 2nd in the first ever EPT event) Brendan McKenna (who made the final last year) and Jason O'Toole. Thomas Nolan, Kevin O'Leary, Robert Bright, John Lavin and Oscar Fred also made up the final 9.
The smart money was on either Jen Mason or David O'Callaghan at the start of the event, both went into the final with over 240,000 chips and acquitted themselves very well the previous day. In a very sick hand that played itself they were they actually found themselves locking horns with Mason's Aces against O'Callaghan's Kings and amazingly O'Callaghan went out in 8th place and Mason had a dominating lead.
Players fell by the wayside including the entertaining Brendan McKenna, John Lavin and Kevin O'Leary. Mason was looking strong until Thomas Nolan started chipping away at Jen and the rest of the table and gradually accumulated a commanding 1 million plus chips.
We were three handed with Nolan, Mason and Jason O'Toole. There was talk of a deal which would have stopped play but Mason flat refused "Sorry, but when are we ever going to get three handed with a structure like this again?" she reasoned. Play went on and amazingly it was Nolan who went out next after giving a series of pots to O'Toole, the latter being holding 8-2 to O'Toole's A-8 on a flop with the remaining two 8s.
O'Toole held a 2-1 chip lead but Mason started picking up pot after pot "Your chipping away at me Jen" O'Toole said, shortly before losing a huge and tournament deciding pot when he held 10-9 to Masons 6-5 on a 7-8-9 flop. Shorlty after Mason took the title and the €30,800 first prize when she paired her hit a pair of sixes holding 6-7 to O'Toole's pocket fives.
O'Toole was a true gent in defeat and invited the assembled crowd to give Mike Lacey and all the staff at Green Joker Poker a huge hand for organising the best tournament in Ireland.
I jokingly referred to my good friend Jen that she would become the poor mans Vicky Coren if she won this but I would like to now say on record that she totally deserves the title and was unquestionably the best player at the table, even before she took the chip lead.
But the real winner (if you don't consider €30,000 and a kick ass trophy a winner) was poker – even though I am down €2000 this weekend, I and all the players this weekend agreed it was the most enjoyable tournament we have played bar none.
€1000+€80 Main event
126 Players
1: Jen Mason 30,800
2: Jason O'Toole 29,000 (deal heads up)
3: Thomas Nolan 18,600
4: Robert Bright 12,300
5: John Lavin 9780
6: Kevin O'Leary 6300
7: Brendan McKenna 5040
8: David O'Callaghan 3780
9: Oscar Fred 2520
Ed note: Win a FREE WSOP Seat and grab a $200 bonus when you join Poker Time