Gentlemen Prefer Blondes, Boot Camps for All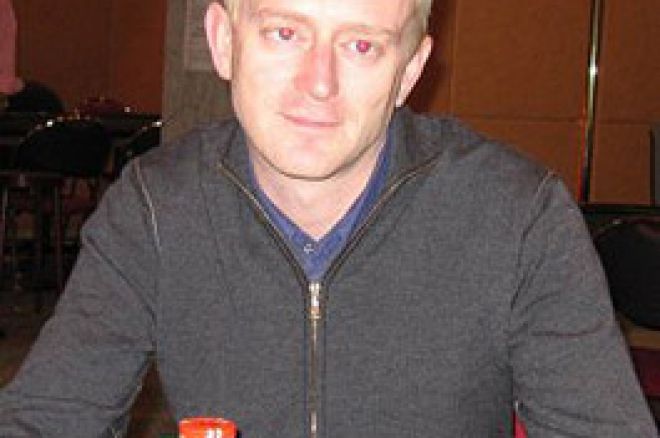 Poker is the only game in the world where you can become an expert in no time at all. Well, thankfully that is what 90% of the poker playing population believes. Great news for the real experts, those that understand the words of the great Doyle Brunson who said: "It takes minutes to learn and a lifetime to master" (well, I think it was Doyle!). The only secret I know is that if you don't want to learn from the Masters, you will never come within a gnat's breadth of them. So the net is either full of real big salmon or, alternatively, those who really are playing for fun.
Many years ago, when I trained in the martial arts under the great Sensei Enoeda, not to mention Charles Mack, both pioneers of karate in Europe, learning was a fairly painful process. Mess with the art and simply you would be dealt with by way of the mighty bamboo cane or simply receive a subtle kicking at some stage. Luckily for us, you can become pretty good at poker by simply following the teachings so freely given by all the top players. Just follow this enlightened road of knowledge on the net and you will not have to incur the expensive fee of paying to play or in fact learning the secrets the hard way.
Not many in the UK want to pay to go to boot camp, seminars or the like, not just yet. Well, that is what I thought having launched one of the first poker schools with one of the world's top pro's. But this weekend I get to visit 888.com Boot Camp. I can't wait because if I can't learn something from a weekend with Padraig Parkinson, Neil Channing and probably Casper Berry and Nick Weatherall too, then I must never play poker again.
I think we Brits just enjoy learning the hard way. But having ridden that wild fandango in my early days, I would not advise that trip if you can avoid it.
Then, shock of all shocks, comes an email. I follow the link to;
"This is the information that the poker pros don't want you to read. As far as they are concerned this material should be marked CONFIDENTIAL and should never be released to the general public."
For this is the introduction to "Insider Secrets of a Poker Professional", a series of audio tapes designed to teach the art of online poker. Now don't ask me how good it is yet as I haven't heard it, but I got on the blower to one of the few men that are possibly beyond aberration. Dave "El Blondie" Colclough, the voice behind these mystical lessons is a true poker master. "Silent but deadly" is not only a term that refers to Ninjas and aromatic air currents, both uncomfortable to meet in a crowded room, but this too may refer to Master Colclough and his artistry in our noble game.
With over 100 live wins and over two million dollars in winnings, surely this is a man to listen to. I forgot to mention his finishing in Europe's Top Ten over the last 5 years and of course his £100k win at the Grosvenor UKPT last month.
If you haven't yet seen Colclough in action, watch and learn, for El Blondie himself is the master of table observation and of course the game itself. Luckily for me Dave was in town and accepted an invite to a game. Off we went to Carluccios in Hampstead, who were somewhat shocked as I am normally seen playing poker there with another blonde. The stakes were high as always - cappuccinos are nearly two quid a pop - first to three wins. It was like the WSOP for me, the plan was to get to two up and then order shed loads of grub.
Dave Colclough's a guru, he has a spiritual awareness and Zen coming out of his ears. Coming to promote his own poker product is just not in his nature, he is a man who lives for the game of poker, not the limelight. When Tony Holden releases a book, it is a huge knees up at The Loose Cannon, but for me a heads up and a chance to learn a little from the governor, all for the price of a cuppa, beats any party.
I have spent time with most of the big boys, Phil H, David B, Danny N, Ted Forrest, Ram, Tony G, on and on. I will pump 'em for knowledge because if you don't want to listen poker will cost you an arm and a leg.
Our little game continued. Every time I am on the button, I raise each and every time, just as Danny Negreanu did to Tony "The Lizard" Bloom in a half million dollar heads up, which Dave talks about on the tape. "So, you have listened to the tape, Catman" said the man of knowledge who was just about to pay for the coffees. So tell me what is in there Dave, quizzed the Cat. "It's 3 hours of talking and now I can't think", said the man who really is just totally modest. "I hope I cover everything I can, from online to tournaments, the lot really."
So Dave asks me, "How can you spot a losing player?" and tells me, "It'll basically be the people who are playing the wrong hands in the wrong position. The people who'll be playing ace/nine in first position, taking you back to our old favourite. It'll be people who, if they've got, say, a pair of eights in the hand and then it's gone raise-raise-raise in front of them, now they still want to call with the information in front of them. They're ignoring the information that someone obviously has a much higher pair out there. A lot of people play just for fun, it's important to remember that. A lot of people aren't really playing to win."
Simplicity is indeed a virtue; we go back to the point that there are indeed people other than ourselves that actually do play the game for fun. Now, we are not calling them fish, but how often do we think about these points such as this during a game?
"El Blondie" and I have an enjoyable chat, more about Las Vegas than the poker tapes. Dave is only a salesman at the poker table. Most importantly is that if someone like Colclough deems to put his name to a teaching publication, you can rest assured that the knowledge will be worthy of your attention. The website is www.elblondie.co.uk. It has more than a hint of American salesmanship but, the point is, surely it is wiser to pay a little than a lot?
With everything hotting up for the WSOP, there is something nearly as exciting at foot. My pal Joe Barnard who is one of the "big nobs" at The Oxford Cup 6, is looking for more poker pro's for the spotty rich kids to bash (I love 'em). Phil Hellmuth has played it and numerous other glitterati as I am sure you know. This year I will miss it; it is an event I dream of winning/ Imagine beating quite literally the greatest intellectual brains worldwide. Last year saw the biggest land-based event turn out in Europe. So, pro's, get in contact. I will make sure you get a free bike tour around Oxford from Joe as part of the sponsorship package.
Important point – please try and look out for my new piece in The People on Sunday. I have waited six months for it and hopefully it will be there on Sunday.
Good luck and if you need a one-to-one lesson with Colclough, I reckon about Twenty Large might be the right price (speak to the agent), or £50 if you want one with me! 
Ed note: Go cruising with UK Poker News! Win your ticket to the Ladbrokes Caribbean Poker Cruise for FREE!