Naked Women and Poker

Catman - The Poker Agent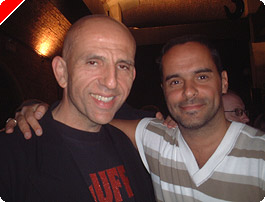 It's all a matter of timing in the game of poker, and as much so in the world of poker business. Last week saw the launch of two poker products that come along all too rarely. Firstly, Mr Anthony Holden's new book "The Bigger Deal" and, fairly simultaneously, the only film dedicated to our sacred game since "Rounders", titled "Lucky you".
Can you tell me who said "What the hell was that"? Of course, we all know it was The Mayor of Hiroshima. A learned phrase when it comes to naming a film "Lucky" when the American market of filmgoers can (a) not play poker online legally, and (b) when poker is a game of skill, not luck.
As a martial arts practitioner, well someone who regularly punches a makiwara (look it up), I love the whole learning game. On my appearances on Poker Night Live (please get the channel back soon!), I would always quote from lessons learnt from honourable Masters, such as Phil H, Willie Tann and Tony G. Poker is a game of continual learning, but so many refuse to listen to life's lessons. Saturday morning's martial arts class is with my dear friend Larry Marks of Zen Kyo Shin teachings, a friend I have suffered 20 years of painful verbal and physical play fighting. Martial arts teaches you to learn; "Larry, why do I have to get up at 7am to come to your class on a Saturday, what is the philosophy?" "Catman, it is just to teach you that everything has a price to pay." So, the price I paid was to miss out on Party Poker's World Open filming, which is always fun to go to, thanks to their great PR, The Lush.
Hopefully, my friends Jim Sibcy and Sam Oram will also get lucky, and be able to get Poker Night Live back on the air, which seems to have fallen to the poker recession.
Before poker, I refused to read. In the last few years I have browsed through many of the poker strategy books, but who ever listens? A6 suited looks great. Everyone omits the simple lessons to learn from these books and life itself and, luckily, many play their own game, with little editing.
My one book recommendation that may assist you in your poker play, a book that is not about poker, is "Book Of The Five Rings", the classic guide to strategy, by Miyamoto Musashi. So, when my dear friends at The Loose Cannon and VC Players Lounge called me to say that PokerStars were throwing a shindig for Tony Holden, Samurai Master Musashi shot one of his pearls of wisdom through my shell-like. "Catman, today is a good day to die." This translates, live each day like your last, not the feeling one gets on tilt, but the signal to trot along, drink, eat, play a freeroll for the EPT and salute a legend.
Like Late Night Poker, Tony is responsible for many people delving deep into the game of poker. The original "Big Deal" was a journey with Tony in 1989, where he had ten thousand quid to last him a year on the road as a poker pro. If you haven't yet read it, you will. Imagine, if today a little fairy dropped down on your lap and gave you £100,000 and said "Let's see what you have got, baby!" So, off Tony set on the poker road and covered his adventures giving us all an insight into a job we were all made for. I have not yet had a chance to read "The Bigger Deal" but again I will.
I took my friend Matt Wilson from TalkSport Radio along with the gorgeous Alina Salnikova and smartly went down to my favourite kind of poker game, free to play with a fantastic prize. My hat goes off to the Loose Cannon, especially to that miserable git who I love like a dad, Roy Houghton. It was a right Royal affair. Tony has written two books about Prince Charles and my old mate Tom Parker-Bowles may have been there. I had two glasses of shampoo and that was that.
Lord Melvyn Bragg of "South Bank" fame was in attendance, unfortunately not playing. His photo would have been devoured by the press playing our naughty game and certainly given it some positive promotion. But Melvyn was there to support Tony, along with the likes of Al Alvararez, Sir Clive Sinclair, various actors I cannot name, a poker cast including Victoria Coren (non-playing if I am correct), Mel Judah, Sonny Osman, Michael Greco, John Duthie, Jessie May, Warren Wooldridge, Robert Carlyle (the face of Loose Cannons), Norman Pace and so on.
But this was one of the few events in which many really did attend to support a legend and not get a free poker game. I went for the game of course, but I was entertaining. Another entertainer was my mate Michael "The Grecs" Greco (pictured with yours truly), who had recently won his first big event, in the GUKPT, and I am delighted for him. But even more of a delight was to bump into Mike McGee, one of the old school, and probably the greatest odds man you will meet. "Catman, if you want me to teach you poker, it will be five grand" said Mike in about 1999 at Luton. Let me tell you, if I get that offer in my next life I will take it. Mike is looking at giving poker lessons at The Loose Cannon soon. If you want to learn, he is the man.
Bear in mind that Tony Holden, through his genius and to his surprise, got to play a fair bit of poker with the backing of PokerStars, as did my mate and journalist Simon Young. Tony was also invited to America by Bill Gates, who it is believed was inspired to play poker after reading Tony's book. If I can eventually learn to write, then I too will knock on the door of PokerStars or maybe Bill. The title of my book? "Naked Women and Poker" with lots of big pictures!
So the night rolled on, a fantastic speech by Tony, followed by verbal from Roy and off we waltzed. After the break, I picked up a monster pair of sevens, short stacked all in under the gun, passed to mid-position and the legend Al Alvarez "jams it". Al is another daddy of poker authors, "The Biggest Game in Town" by Al being one of the first poker issues. So when Al "The Croney" Alvarez went all in, what book had he been reading with A9 off? Naturally the master knocked me out. I bowed and left with dignity as always.
Get onto Ebay now and get Tony's first book, then you are sure to go and buy the others too. It makes sense. "Reading "Big Deal" is better than losing at poker." (Walter Matthau).
Poker requires good timing and having the goods to sell, The launch of "The Bigger Deal" has been timed perfectly, what with the WSOP around the corner. Now, here comes the big one, "Lucky You". It has just been released, timed perfectly to battle with "Spiderman 3" One grossed $2 million on it's first weekend, the other $134 million.
The film was widely supported, featured in minor roles and cameos by the likes of Todd Brunson, Matt Savage, Jennifer Harman, Mike Matusow, Sammy Farha and so on.
But headlining was Drew Barrymore, Eric Bana and Robert Duvall, which is a fairly strong line up. Unfortunately, the film has received a poor critique, in that it featured nearly an hour of poker play, more in the form of a hand lesson, than capturing the glamour and excitement of what would be expected of a box office hit. Poker is made by its characters and stars, think Stu Ungar story and then you have a hit. I shall wait and see for myself. Surprisingly, "Rounders", a sensational film, made only $22.9 million at the box office, so if you are going to do it, then do it properly and check the odds. The Samurai say "Slice with the sword, the cut is meaningful" Also bear in mind, it has two edges.
Well the story carries on, I am close to securing my little poker column in the national press, which I have waited six months for, so let us all be lucky this week.
Ed note: Qualify for the WSOP by playing the $12,000 WSOP Team Pokernews Freeroll at Everest Poker this week on 11th May. Just open an account, make a deposit. Then enter the freeroll. Simple!