Cruise into the Caribbean with UK Poker News

Tony Bromham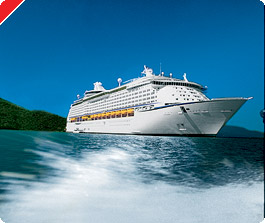 There is less than five weeks to go before the unique, totally free-to-enter, UK Poker News Caribbean Poker Cruise Freeroll takes place! Grab your ticket to a 10-day holiday in the Caribbean sun, playing poker with the European greats!
UK Poker News is bringing you this one-off opportunity to play a very exclusive online freeroll with a select number of players – only those signing up for it through selected Poker News websites get a seat. Our partner for this event is the highly regarded Ladbrokes Poker who have generously offered no less than ten prizes for the entrants.
The winner gets the $5,500 Cruise ticket, including entries into the big poker events on board. Second and third each get a $550 entry into a super-satellite event to win another ticket. Fourth to tenth each receives a $66 entry into a satellite to the Cruise super-satellite. All told, ten ways to go cruising!
Last time the Caribbean Poker Cruise sailed, the passengers included big names Roy "The Boy" Brindley (who has just won the Betfair European Open), Dave "The Devilfish" Ulliott, Marc "Mr Cool" Goodwin and Swedish superstar Bengt Sonnert. They were simply a selection of top players mingling with a huge number of Ladbrokes online qualifiers.
This is not just a poker festival; it is also a chance to visit four sumptuous Caribbean holiday destinations having sailed from New York aboard the luxurious cruise liner "Explorer of the Seas". You will visit San Juan in Puerto Rico, Charlotte Amalie in St. Thomas, Casa de Campo in the Dominican Republic and finally, an exclusive private beach and watersports paradise at Labadee.
Still not convinced? Those of you accustomed to watching TV poker will know the colourful commentary duo of Jesse May and Roy "The Boy" Brindley. In his inimitable style Roy, who represents Ladbrokes Poker on the Cruise, had this to say during the previous cruise:
"….On a boat that possesses more egotistical maniacs per-square-inch than St Maarten has cars and people per-square-foot combined, it is nice to unearth an unlikely hero in the form of Clara Killeen, a remarkable nine-year-old poker star of the future.
Young Clara, on board with her Irish poker playing father Kevin, only answered the call of a wealthy and irrepressible Swedish player to a heads-up challenge and stuffed the opposition two-games to nil.
This is not the first time the youngster has overcome unlikely odds. Rumour has it she was once left to play on a practice table but somehow found herself in the thick of some real action with a most rewarding outcome…."
Fun, sun, sea and poker are guaranteed in equal measure on the Ladbrokes Caribbean Poker Cruise and you might return with close to half a million dollars in prize money!
Ed note: Click on this Ladbrokes/UK Poker News information page for more on entering our unique Cruise freeroll.