WSOP Gold Bracelet Winner Takes Down the EPT Monte Carlo

Tony Bromham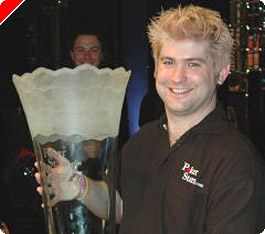 Gavin Griffin, of Chicago, USA, has become the winner of €1,825,010 and champion of the European Poker Tour Grand Final held in the rich man's playground of Monte Carlo. Griffin is a former WSOP Gold Bracelet winner from 2004 but this is by far his biggest payout.
706 players entered the biggest ever European poker tournament and, by the 5th day, we were down to eight. The line-up reflected a wide palette of established poker skill and experience.
In seat 1, from the UK, Hendon Mobster Ram "Crazy Horse" Vaswani sported a solid history of aggressive poker and huge success. With well over $2,000,000 in poker winnings and three EPT and six WSOP final tables behind him, even starting with the smallest stack (just 432,000), he could not be ruled out with a double up or two. The feeling was he would be here five minutes or win the thing, especially as he was seen playing Chinese Poker in the early hours. So much for getting some rest before the big game!
In seat 2, the second UK player to make the last eight, with position on Vaswani, was Steve Jelinek, a Pokerstars.com qualifier from Manchester. Jelinek regularly goes deep in tournaments around the UK but this one was a monster cut above the usual circuit games! Another low stack starting the last day, he would need to make his presence felt early to improve his 758,000 in chips.
Seat 3 contained Canadian Marc Karam, second in chips with 1,742,000. Karam is fast gaining a final table reputation and appeared here last year too, as well as the Aussie Millions and the first WPT event in Canada, the North American Poker Championship in Ontario. He would be hoping to improve on his 4th place from Monte Carlo last year.
Another Aussie Millions finalist in seat 4, Andrew Black of Ireland was another on a short stack, having led the tournament at one stage for two whole days. His 683,000 chips would need working.
Appearing from nowhere, Søren Kongsgaard of Denmark, has made several final tables in top tournaments in the last few months, including winning the Scandinavian Open, a second at the Irish Poker Championships and 6th in the Asian Poker Classic main event. He started this final table in Monaco with 1,612,000 and was drawn in seat 5.
In seat 6, Josh Prager of California, USA had 1,593,000 in starting chips. This is another Pokerstars.com qualifier, a tennis coach in Northern California. He recently had a good Aussie Millions campaign and the trend is improving here.
Overnight chip leader in seat 7, Gavin Griffin held no less than 2,597,000 in chips. In 2004, he became (at that time) the youngest ever winner of a Gold Bracelet at the WSOP in Las Vegas, at the age of 22.
In seat 8, Norwegian, Kristian Kjondal with 1,203,000 chips, fits the "aggressive Scandinavian internet qualifier" to perfection. So far, offline, it is working out for him.
So to the play:
Marc Karam started the final table as the second highest chipstack while Ram Vaswani needed a double up as the lowest. Five hands in, the Mobster took his chance on a board of




holding


. Ideal territory for this move. Karam called with


. No diamond or jack on the river meant "curtains" for Vaswani. He won €159,270 for 8th place.
7th lowest at the start, Andrew Black finished 7th! The flop of



encouraged an all-in move from Black with


. The Norwegian Kjondal called with the superior


which held up. Black took away €238,910 to help pay the previous night's bar bill.
Another pair of jack's was soon to finish off Steve Jelinek. This time, he moved in with


only to be called by Marc Karam with


. Jelinek's purse of €305,270 is way above anything he has won before.
So far, the 6th, 7th and 8th starters had perished in strict order. This must have been ominous for the next in line at the start, Kristian Kjondal. However, it was Josh Prager that fell next, in a hand that was almost a carbon copy of the one that saw off Andrew Black. Soren Kongsgaard bet out on a flop of



and Prager moved all-in with


. Kongsgaard called immediately with


and held on to bust Prager for a take-home prize of €391,550.
There were some big pots played out without losing a player. Gavin Griffin took a big chunk of Kongsgaard's pile with a Q-Q v J-J clash, at a time when the Dane was chip leader. He won back a lot of those from Griffin soon after this.
Neither player went out next. This was the fate of Norwegian youngster Kristian Kjondal who picked up a very tasty €471,180 for his efforts. He had moved all-in on a flop of



with


only to find Gavin Griffin more than delighted to call with


for the set. It proved to be enough.
The last chance for Scandinavia to win yet another EPT title disappeared when Søren Kongsgaard moved all-in on a board of




, after a checked flop, and was called by Gavin Griffin. Sadly for Kongsgaard, his all-in move was a bluff with


and Griffin had caught an ace on the turn before he made the bluff. A case of unfortunate mistiming. Nonetheless, third place paid the Dane a handsome €610,550.
Heads up was therefore between two North Americans, Marc Karam of Canada and Gavin Griffin of the USA, and it took 92 hands before a hand played out that could have gone either way. Such is the nature of heads-up poker.
Gavin Griffin raised 125,000 pre-flop and was re-raised by Marc Karam to 400,000. Griffin called to see a flop of



. Karam bet out 500,000 and was himself re-raised by Griffin to 2,000,000. Karam declared "all-in". Griffin called without too much confidence.
Karam showed


for a pair of fours. Griffin had an open-ended straight draw with


. Any A, 5, 6 or K would be enough for Griffin save one or two combinations that might help Karam. The odds were fairly even and Karam had just a little less in chips than Griffin. Either way, the winner here would likely be the champion.
The turn saw the

but the river spiked the

for Griffin and pierced the heart of Karam.
Marc Karam walked away with €1,061,820 while Gavin Griffin won €1,825,010 and the large trophy and title of EPT Grand Final (Season 3) Champion.
The final table result looked like this:
1 Gavin Griffin (USA) €1,825,010
2 Marc Karam (Canada) €1,061,820
3 Søren Kongsgaard (Denmark) €610,550
4 Kristian Kjondal (Norway) €471,180
5 Josh Prager (USA) €391,550
6 Steve Jelinek (UK) €305,270
7 Andy Black (Ireland) €238,910
8 Ram Vaswani (UK) €159,270
Ed note: Download Pokestars.com now for the best way to win an EPT title without paying a fortune to enter!