WPT $25K Championship at the Bellagio Down to Last 27

Tony Bromham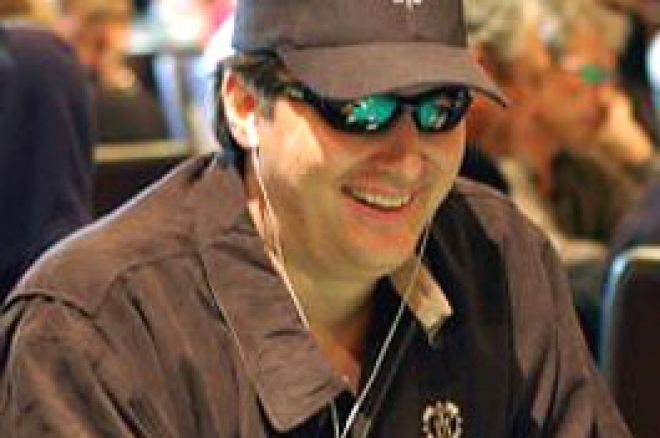 We are now at the sharp end of one of the biggest poker tournaments in the world, the WPT World Championship with its huge buy-in of $25,000. Everyone left in now will get a handsome pay cheque. These include Roland de Wolfe and Phil Hellmuth.
Roland de Wolfe, as we reported, led after Day 2 with Phil Hellmuth and the likes of Sammy Farha breathing down his neck. The next day, Day 3, started and ended extremely well for the Poker Brat and it was the 10-times Gold Bracelet winner who led after a day of brutal action which saw major winners like Martin de Knijff (2004 winner of this event), Jamie Gold (2006 WSOP champion), J.C. Tran (who is burning up this year's circuit), James Van Alstyne (finalist here last year) and Jennifer Harman (ultra high stakes cash player) crash and burn.
Eventually, the last 100 were reached, and everyone left knew they were in profit. Just as quickly, the bottom prizes were being claimed as player after player was eliminated. Amongst the UK notables who didn't quite make it were no less than three of the Hendon Mobsters each taking home $46,410. Ram Vaswani was the first of them to go in 71st. Then, near the end of the day's play, both Barny Boatman and brother Ross went out in 58th and 56th respectively for the same money as the Crazy Horse. Maybe they all had a plane to catch.
After the next player was out, play ceased for the day, leaving just 54 players to return on Day 4, which would be played down to 27.
At the end of Day 3, the top five looked like this, with Hellmuth and Roland de Wolfe prominent:
1. Phil Hellmuth (1,827,000)
2. Raymond Davis (1,704,000)
3. Loi Phan (1,419,000)
4. Kirk Morrison (1,327,000)
5. Roland de Wolfe (1,287,000)
This is familiar territory for de Wolfe who cashed a million dollars in this event last year for his third spot finish.
Day 4 began and, very soon, two more UK stars departed. Marc Goodwin and Praz Bansi were eliminated in tandem each earning $61,880 for their 49th and 50th placed finishes.
Meanwhile, Phil Hellmuth was starting to find his smooth passage to glory lined with treacle. In quick succession he was on the wrong end of some sizeable pots. One involved the third placed finisher at the recent Paddy Power Poker Irish Open, Canadian Sorel Mizzi, who found a set on a flop of Ad9c4s, holding 9s9d. Betting and calling to the river, Hellmuth tagged along for the ride as is his usually successful style. The turn and river were AsQc. Mizzi had made a full house on the turn and after the river moved all-in. Hellmuth, still a big stack, was in the tank for a while but decided – with Ac in hand – that his set of aces might be sufficient to take the 1,000,000 and more in chips now sitting in the centre. Alas, it wasn't.
Roland de Wolfe also found Day 4 hard going and, like Phil Hellmuth, had slipped down the rankings with moves not coming off.
So, at the end of Day 4, which finished relatively early, the leaderboard has turned somewhat on its head. The erstwhile leaders now have work to do if they are to make the final table later today. Cream still rises to the top though and WSOP 2001 Champion, Carlos Mortensen of Spain is heavily in contention along with Sorel Mizzi, Thomas Wahlroos and others. The WPT $25K Championship then plays to a finish on Day 6 under the World Poker Tour TV rigs. The top ten are:
1. Paul Lee (3,601,000)
2. Kirk Morrison (2,980,000)
3. Carlos Mortensen (2,429,000)
4. Sorel Mizzi (2,256,000)
5. Thomas Wahlroos (1,847,000)
6. Jake Minter (1,568,000)
7. Benjamin Johnson (1,280,000)
8. Tim Phan (1,273,000)
9. Scott Fischman (1,268,000)
10. David Levi (1,258,000)
Others:
19. Phil Hellmuth (738,000)
23. Roland de Wolfe (460,000)
Ed note: Play on TV every night when you play The Open live and interactive on Sky Poker. A unique experience!