TV Poker and Murdoch's Millions

Catman - The Poker Agent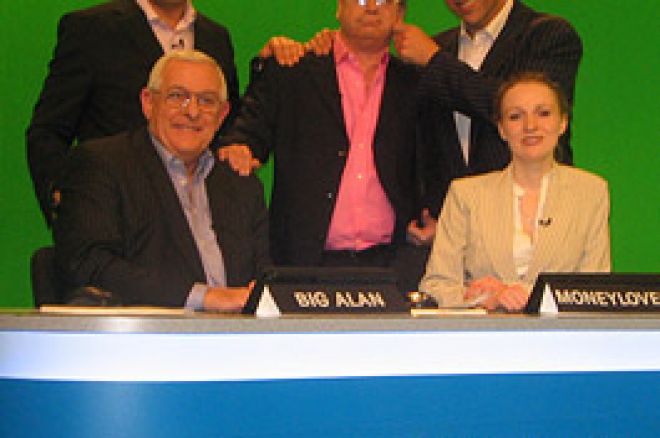 Another exciting week has gone by and the doors continue to open, especially for my friend Roland De Wolfe. 708 players battled it out at the Paddy Power Poker Irish Open and of course Roland came second! Ireland is a lucky place for Roland; he won the Irish Masters EPT there too.
One of Roland's lucky moments was his A3 beating AK and AQ. Having got to the final table, a player decided to tell Roland he was about to be annihilated - the reply from RDW?
"Not only am I a good player, not only have I got chips, but I am very, very lucky too!"
In any event, be it cash or "we will hold our breaths and gamble on numerous occasions awaiting lady luck's fate", it is all part of the fun or pain. So, with Israel and Russia deeming poker a game of skill, the debate continues on. The point is that if you are lucky or skilful like Phil Ivey, Phil Hellmuth and Danny Negreanu etc, do you really want to be taxed like them? We all know that poker requires skill and, to make the top gravy, you have got to use every piece of knowledge accessible. Dave 'El Blondie' Colclough always quotes, "I would rather be lucky than good". I personally believe you need to be blessed by the Pope as well as possessing sensational talent.
With this in mind, I got to experience first hand two of the programmes responsible for helping those of you new to the game, the opportunity to learn about poker, virtually for free. Today's players do not appreciate how lucky they are, to have the vast array of open knowledge to the very expensive lessons learnt by the top pros. The "4/2 odds" rule for one, ie, multiply your outs by 4 for a percentage chance of hitting from flop through to river, and by 2 for each single turn at 4th and 5th street. Only a small percentage of players would have known or used this little secret five years ago.
Poker Night Live, part of PokerZone.TV, was my stop on Wednesday night, where I was pleased to be asked to be a guest presenter for the fifth time. PNL has been promoted to cult viewing by the duo of Jim Sibcy and Sam Orams, two brilliant "diamond geezers". Being a relatively small independent company, fuelled by sponsorship, its dynamically simple structure has pleased many "newbies" and taken them to a fairly advanced level of understanding poker.
The problem is that we are all experts after a couple of months. James Browning, my fellow presenter, and I got close to a punch up on the morals of betting a set on the flop, well, in a very loving way of course. All of the PNL presenters have a great knowledge of the game or are very pretty, and the knowledge they throw out is excellent for the new and advanced player. So what is the best way to learn? The answer is as simple as this, the cheapest way possible! Bankroll management is the primary issue and, without any doubt, the ability to focus on the zillion aspects of a game that will make you into a Phil H or Roland.
Multi-tabling online cannot be the route. For all the life of me, I can certainly only focus on one tourney and maybe a small cash game, but who am I kidding? Most poker players who have got a Sky Box will have flicked onto this channel at some stage and I, for one, love it. But the time has come for Jim and Sam to move forward, which I know they are doing, for there is a strong competitor on the block.
Friday night saw myself and the lovely Alina Danilova (poker nickname MoneyLover – yes, my kind of girl!) got to travel to Feltham to experience Sky's venture into poker, and play in the Sky Poker Open. It is so interesting to see what Millions can do, compared to the PokerZone One Million pound operation.
Having spent two days twiddling the chips as the 'Fingers Extra' for Sky Poker's TV ads with a crew of about fifty, I knew that this was going to be a no-expense-spared operation.
As part of one of the world's biggest corporates, I think Sky Poker was a very limited gamble. I imagine that the cost of the surreal virtual reality TV set that hosts Sky Poker's present nightly format would be close to several million alone. Yes, Sky can afford it, but could they get it right? The answer is a very simple "yes".
Their nightly £10 (they use ££ not $$) Open Freezeout attracts 400 to 500 daily. The event is already creating a vast community of players, who get a buzz out of the TV environment and of course the opportunity to play through the TV screen. It is poker for beginners, and all the poker afficionados won't yet acknowledge the presence of it, but how big will they become? My advice is to get your shares now, for everything at Sky is done to the highest professional standards you would expect from any major TV production. Again, with an ultra-simple format, aimed at the new player, let's think in the style of Gutshot and PNL, when all their early audiences were beginners. If any marketing team will know how to sell, it will be Mr Murdoch's corporation.
We were given the VIP treatment from the moment we arrived at the studios. Yes, having make-up applied and the wardrobe lady brush you down makes you feel like the star we all want to be. You have a green room (anybody who wants to know more about going on the show, email me), studio tour, wine – yes, we did hammer it! - and food. What a great Friday night out. Of course, I was being paid too; playing poker and getting paid, this is the life.
As I entered the green room, I met a nice man called Alan, another studio guest.
"Catman, what is a tell?" asked my new found friend. Off I went and gave my worn out story of how it took me a year and a half to learn what a tell was and that I had a major one. "So, you don't play much poker, Alan, what do you do?" "I used to be a footballer."
This was Alan Mullery, the ex-Tottenham Hotspur player, who was the first man sent off whilst playing for England. I bowed and curtsied; I was with a real superstar! Then in walks Norman Pace and Matt Lorenzo, Norma (joke) the poker analyst and Matt the presenter.
"Catman, I am a presenter and know ****** all about poker, Norman is the expert!" said Matt. God, this was going to be fun. Alan went on with his first poker story,
"I was on the train with Harry Bloom, a man who loved poker. In those days we loved to play poker on the way to a game. He looked a bit down in the mouth as we boarded. After a trip and onto the bus with the player, Harry yelled "I just won £750 off you lot!", and then passed out dead." Alan said "I believe he is related to one of Brighton's present directors, Tony Bloom."
As you know, Tony "The Lizard" Bloom is one of today's great players, so poker may well be in the blood. The stories went on, the night was sensational fun. I won £41 for "Children with Leukaemia" and what more can I say? Well, a lot, but Norman Pace is an absolute boss, his commentary was impeccable, good enough for most to take heed of too, but for a total novice, a ten. He is a poker fanatic and a brilliant entertainer. His exuberance and passion for the game, put across in a showbiz style, is exactly what Sky want. The plan is working and I believe Sky might develop and produce poker TV, which will too become cult viewing.
PokerZone and Sky - hats off to you both! It might be for beginners or semi-pros, but we need more British and European companies to be pushing the boat home.
The next bit of news I relished hearing was that Party Poker had taken on sponsorship and sole online qualifying for the European WSOP Circuit events. I am now happy to give odds that the Big London Event will have a minimum 700 players in record time. Warren Lush is the PR man for Party, and I am sure he must have been pushing like a man with a deathwish. Get to him and start blagging now, but form an orderly queue behind me please. This is a stroke of genius for Party, who must have sensibly outbid all opposition for this chance. The WSOP Europe is going to blow the cobwebs off the rocket ship that is The European Poker Scene, and I am not promoting anyone, just buzzing with anticipation.
Finally, Question of the Week to Matt Lorenzo or anyone who knows, "Who was the Premiership footballer who recently did £38,000 on the coach playing poker?"
Ed note: You can take part in the Sky Poker Open. Click that link for more.