Poker Pro Series 2 Update – WPT Freeroll and Leaderboard

Tony Bromham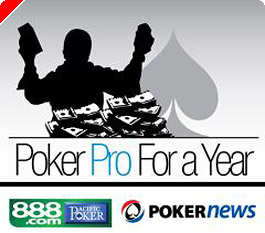 The biggest poker league prize in the world comprising of individual sponsorship into the WSOP Main Event, a WPT Main Event, an EPT Main Event and the Aussie Millions – over $50,000 worth of entries – can be yours. We explain how.
Too many people think that once they have missed the start of a poker league, they will never catch up. You should forget that notion - it doesn't apply to the Poker Pro For A Year poker league!
It is instead split into six separate Series with a fresh start being made in each Series by the players that enrol. Currently, we are only part way through Series 2. We'll briefly recap who has made progress so far in this Series and explain again how you can qualify for the final of the entire programme, which will be held in a secret location, to be webcast live on Poker News!
The prizes are mind-blowing and, amazingly, only 66 players are currently participating in Series 2. What a chance to get through and win $50,000 worth of 2008 sponsorships!
In addition, participants can enter two freerolls during each series, one for cash and the other for a huge prize of a seat in a top Main Event. The Global Freeroll for Series 2 is for a seat in the $15,000 buy-in WPT Grand Prix de Paris!
Poker Pro For a Year is easy to enter and cheap to play, and there is the fun of being in a poker league. You play regular $10 tournaments online at 888 Poker which you need to download through the PPFAY website (click here to access it) and accumulate points that way. In addition you can enter the Global Freerolls (Series 2 is the $15,000 WPT Paris event) and cash freerolls that are on offer during each league's duration.
Remember that, in Series 1, a mere 42 forward-looking players saw the light early! One has already played at the EPT in Dortmund by winning the Series 1 Global Freeroll. Another is already booked into the Live Final at the end of the six Series and possibly on his way to $50,000 worth of sponsorship in 2008!
In Series 2, as we said above, so far only 66 players are in line for the goods. You can still join them in Series 2. The Series does not finish until 25th April, the date of the Series final. The Global Freeroll for Paris is on 11th May. Two high finishes in the Series 2 events 8 and 9 could get you a place in the Series 2 final on the 25th and a place in the Global Freeroll. The top finishers in the final then get a large number of points and you could be on your way to the big one itself at the end of the year.
There are so many ways to benefit in this PPFAY poker league! For those that miss out in Series 2, no problems – Series 3 starts straight after it. Then Series 4, 5 and 6. You can play them all and win as much as you can.
Waste no more time. Take advantage of other people's lethargy and play this huge overlay Series! Simply go to Poker Pro For a Year.
Series 2 so far
We have looked at earlier events in Series 2 in an earlier article. Here therefore are the results of tournament no. 4 and a recap of the Leaderboard at present. Events 5 and 6 results are still to be advised to us at the time of going to press. We will update those next time.
Results for Series 2 Round 4, Mar 24, 2007
1. IMNTZONE (wins $80.00; 500 points)
2. fsh1982 (wins $48.00; 450 pts)
3. DRM88 ($32.00; 400 pts)
4. mobay (350 pts)
5. JB007BJ (300 pts)
6. k3nn3 (250 pts)
7. cerunch (225 pts)
8. 23Nafe23 (200 pts)
9. davidw2 (175 pts)
10. Goldrak (150 pts)
11. tipnip (80 pts)
12. kassike (80 pts)
13. sfanants (80 pts)
14. black500 (80 pts)
15. merock (80 pts)
16. violet27 (80 pts)
Leaderboard Top Ten to date
1. splug – (Qualified for Final)
2. costa79 (9,684 points)
3. fsh1982 (9,646 pts)
4. nigeha (7,222 pts)
5. Joshje (7,090 pts)
6. kassike (5,160 pts)
7. black500 (4,212 pts)
8. JJJZ (3,608 pts)
9. mobay (3,491 pts)
10. Scartho (3,362 pts)
Ed note: Want to play WPT, EPT, WSOP and Aussie Millions events for next to nothing? Go to Poker Pro For a Year for more details of how to do it!