Party Gaming Moves to Deny Access to Turkish Players

Tony Bromham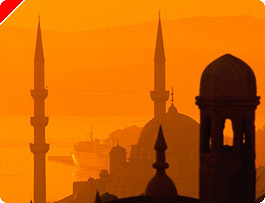 Party Gaming plc, the parent company of Party Poker, has today stated that it has acted to ensure that customers in Turkey are denied access to any of its online gaming websites, following changes in legislation in that country.
The leading online poker and gaming company has moved following changes in Turkish legislation which prohibits certain forms of online gaming from being offered by any "unauthorised" domestic or foreign company to citizens in Turkey. Party Gaming says that it has therefore "…now taken all reasonable steps to ensure that customers in Turkey are denied access to any of the group's gaming sites.."
Party Gaming also states (as a publicly-quoted company for the benefit of its investors) that revenue generated from customers in Turkey does not represent a material proportion of the group's revenue.
This move by one of the leading online poker companies in the sector has come soon after a similar announcement by the leading online gaming money processor and "e-wallet", Neteller plc.
As with the US upheavals of 2006, it must be a forceful law change to cause big companies to pull out. Either that or the changes in Turkey are of nuisance value and the small market makes it not worth staying put. So what is happening in Turkey?
According to various sources, the spread of online gaming has been large in Turkey and many funds make their way to the gaming sites via credit card transactions and, of course, Neteller.
It appears that the Turkish Authorities have taken a dim view of this electronic activity. Specifically, the Turkish National Lottery Administration issued a Regulation on the "Prohibition of Organizing and Marketing Online Gambling". This came into being on 14th March 2007.
The name of this organisation includes the phrase "National Lottery". Perhaps that is a clue to the real purpose behind the changes. Whatever the case, the law is designed to prevent the organising and marketing of games of chance via virtual media including computers, interactive TV and mobile phones. In addition, the advertising of such interactive gaming services is also banned.
It appears that enforcement will be actively pursued by the Department of Games of Chance who will have powers to examine sources of access of people and organisations in Turkey and cut off that access if need be, while laying down punishments for the transgressors.
However, putting such laws into practice may have to rely on an element of voluntary compliance. The internet is what it is and highly difficult to police. Party Gaming and Neteller have gone because they are publicly-quoted on the London Stock Exchange and cannot be seen to challenge international laws. There are however plenty of Turkish players gambling on other privately-owned online poker rooms and casinos. It will be fascinating to see if their numbers drop markedly in the near future.
Ed note: Play poker in international waters for free. Win a fantastic Ladbrokes Poker Caribbean Cruise Ticket (click the link for more) exclusively here at UK Poker News!