Ladbrokes Caribbean Poker Cruise Update!

Tony Bromham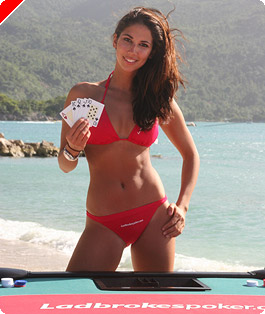 As first highlighted in UK Poker News last week, we have the real deal here with a fantastic chance for several of our poker playing readers to grab a FREE ticket for a 10-day Poker Cruise in the Caribbean worth $5,500. This includes the buy-in to the Main Event!
All you have to do to join in the fun is play our EXCLUSIVE FREEROLL on Ladbrokes Poker. The cost to you is nothing apart from downloading the Ladbrokes Poker software through our review pages (see Ladbrokes feature to the right or click the link above), play a few hands to accumulate 100 Player Points (which won't take you long) and you are eligible. Ensure you leave your email address when you sign up so that Ladbrokes can register you.
Believe us when we say there will not be a better value freeroll. Compared to many freerolls you play on standard sites, this one will give you an excellent chance of winning a Poker Cruise ticket. Because it is open only to readers of UK Poker News and our sister Spanish site, the numbers will be extremely limited. Even if only 100 of you sign up to play, Ladbrokes will be happy to give away this incredible prize!
Remember that you will be sailing from New York for 10 days around the Caribbean, visiting the Dominican Republic, Puerto Rico, St Thomas and a private beach and watersports paradise. Around all of that, you will have wall-to-wall poker on board the vessel, Explorer of the Seas, with several tournaments and cash games on offer. Last year, Dave "Devilfish" Ulliott and Marc "Mr Cool" Goodwin were amongst a talented field of poker players taking part as well as a host of like-minded Team Ladbrokes online qualifiers. You will be joined by a host of celebrities and personalities from Team Ladbrokes with the likes of "Mad Marty" Wilson, Roy "The Boy" Brindley and Leilani Dowding (pictured).
Quite frankly, if you have not opened a Ladbrokes Poker account before, there can be no reason not to take part in this one-off, extremely generous, event. It is open for a limited period only, so you really should make the move now.
Cruise Winners
The winner receives a ticket to the Caribbean Poker Cruise directly. The second and third placed players get free entry into the Ladbrokes Weekly Cruise Final worth $550. One in ten players from that also wins a cruise ticket! Finally, the fourth to tenth placed players gain a $66 access to an online satellite tournament to enter the Weekly Cruise Final.
Last year, the winner of the Ladbrokes Cruise Main Event picked up a cool $375,000, while 65th place also went home $5,500 richer. As a winner of the UK Poker News/Ladbrokes Caribbean Poker Cruise Freeroll, that money would be pure profit to you! Plus you get a dream paradise holiday as a bonus!
The Cruise awaits your embarkation, and it will be extremely warm in the Caribbean when it sails!
The Ladbrokes Caribbean Poker Cruise will set sail from New York on 25th January 2008 and return on 3rd February 2008. Each cabin on the cruise ship, the "Explorer of the Seas", will have its own balcony and wi-fi internet connectivity.
But don't wait around, the Freeroll takes place in June and the winner will hold the first Cruise Ticket!
Ed note: If you are new to Ladbrokes Poker, join now and play for a realistic chance of setting sail on board the Ladbrokes Caribbean Poker Cruise!