UKPN Review: Grosvenor UK Poker Tour Event Four: Manchester

Richard Prew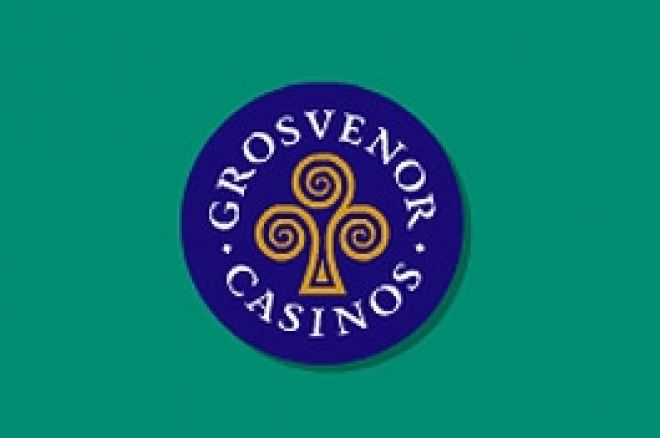 Following the first three events of this significant new series in Bolton, Walsall and Cardiff earlier this year, won by Praz Banzi, Jerome Bradpiece, and Michael Greco the fourth leg of the GUKPT was held in Manchester's sparkling new "G" casino this past weekend. This event attracted a sell-out 285 competitors split over two day ones each paying £1,000 or winning a satellite seat to battle for a first prize of over £88,000, significant added value of £10,000 and a £3,000 seat into December's Grand Final for the winner. The field comprised most of the European household names despite the competing attraction of the WPT Bellagio grand final and then a large number of qualifiers.
Once again the structure was attractive with 10,000 starting chips and a one hour clock accompanied by the relatively early introduction of running antes. At the end of the first two days 90 competitors advanced to the combined field for Saturday's Day Two. Chip leader at the end of the day ones was Irishman Mick McCloskey with 88,000 chips followed by Rumit Somaiya, Karl Mahrenholz ( runner-up at GUKPT Bolton), Guy Kensworthy and Ian Herbert and ahead of a host of threats such as Nick Slade, Dave Colclough and Willie Tann, all in the top twenty of the chip counts.
Day Two saw the field play down to the final table. Action at the start of the second day is always brisk as short-stacks look to progress and as the blinds become unplayable if they do not. In common with previous events this happened in Manchester as the 90 players became 9 at the end of the day. Two players in particular had a sensational day and dominated proceedings. Dave Colclough found himself on a table with most of the big stacks and first stole his way into contention and then managed to persuade McCloskey to re-raise him all in from the blinds with AJ, Colclough having this time raised with a genuine hand, AK. When the AK held up Colclough doubled up and moved to the chip lead, which he was not to relinquish. Barry Neville from Sheffield outdrew Stuart Rutter's AA with KJ on a K high flop, Jack on river to win a huge pot and out him close to Colclough.
As the day's play ended 9 players remained as follows:
Dave Colclough 874,000
Barry Neville 795,000
Richard Ashby 358,000
Nick Slade 216,000
Jack Dionysiou 178,000
Tom Sambrook 161,000
Chris Bruce 139,000
Victor Kaye 80,000
Ryan Fronda 76,000
The final saw blinds begin at 6,000/12,000 with a 1,000 running ante and Colclough and Neville accounting for approximately two-thirds of the chips in play. At the other end of the chip-counts Ryan Fronda had made a remarkable comeback from being down to 1,300 chips in the fifth level.
Kaye was first to depart, stealing all-in into the tight Sambrook's blind with K4 only to find Sambrook sitting there with KK. Sambrook then doubled through Ashby, KK versus AQ to put him in the running for a high finish.
Dionysiou then took QQ against Colclough's AK, all-in for him pre-flop to see a King hit the turn and eliminate him in 8th. Colclough was in great form, turning a straight against Bruce's flopped top pair to knock out the Nottingham man in 7th. Barry Neville then got in on the act. Having doubled up several players with gambling calls with low pairs he tried again. Ashby pushed with 88 and Neville called with pocket threes. He spiked a three on the river to knock Ashby out in 6th.
With five players remaining, Ryan Fronda had hung on grimly short-stacked and laddered to a great finish having never been above 150,000 chips and showing extreme patience and judgement throughout the final. Eventually faced with a virtually automatic push from the button with a few big blinds worth of chips left he was looked up by both blinds who checked down and Colclough eliminated him in 5th with second pair.
Nick Slade then perished making a gutsy move on Colclough, betting the river on a board of 6 3 K 9 Q with AJ, seeing Colclough raise, he then pushed all in with Ace-high. Sadly for him Colclough had turned a set of Nines.
Three handed Sambrook took QJ against Neville's A 10. He flopped the Jack but Neville four flushe with the Ace of clubs to leave Neville and Colclough heads-up for the title, a situation that had looked likely for the best part of two days.
Heads-Up provided a long and fascinating battle and a contrast in styles. Colclough was content to play small-ball and let Neville bluff at him hoping to pick him off whilst Neville fired off a volley of all –in moves whenever Colclough raised. Colclough began with a two-to-one chip lead but this soon hit parity as Colclough struggled to subdue the more aggressive player.
Eventually the key hand arrived. In an un-raised pot on a flop of 3c 8c 9 both players moved in. Neville held J9 for top pair and Colclough 9c 10c for both the top pair and the flush draw. When the Jack of Clubs arrived on the river Colclough had triumphed to become the GUKPT champion for Manchester and provide a victory for Poker's old Guard.
Ed note: Have $50 FREE to play online when you register your new account at Titan Poker