EPT Monte Carlo Final Table Is Ready to Play

Tony Bromham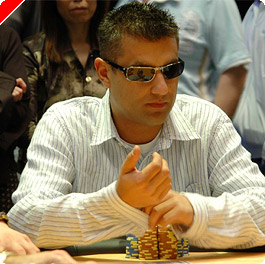 The Hendon Mob's aggressive Ram "Crazy Horse" Vaswani, along with fellow Briton Steve Jelinek and Ireland's Andy Black occupy three of the last eight places at this year's biggest ever EPT Grand Final. However, all three are the short stacks. Miles ahead is Gavin Griffin of the USA.
The European Poker Tour finale has been the biggest European-hosted poker tournament ever, matching many of the best in the USA, with a world-wide cast of players to boot. The venue at the Monte Carlo Bay Hotel is a fitting place for such an event.
For once in an EPT event, the Scandinavian kids on the block have failed to dominate but they may yet win it. While it seems the North Americans still have what it takes to win the really big events, there are still two well-placed Scandinavians waiting to pounce.
Here is the final table line up in chipstack order:
2,597,000 (Seat 7): Gavin Griffin (USA)
1,742,000 (Seat 3): Marc Karam (Canada)
1,612,000 (Seat 5): Soren Kongsgaard (Denmark)
1,593,000 (Seat 6): Josh Prager (USA)
1,203,000 (Seat 8): Kristian Kjondal (Norway)
758,000 (Seat 2): Steve Jelinek (UK)
683,000 (Seat 4): Andy Black (Ireland)
432,000 (Seat 1): Ram Vaswani (UK)
Day 4 commenced with four tables of 8 players, all guaranteed a profitable week. The first to drop and collect €26,550 was David Mobbs of the UK who made a move with K-J suited on a flop of 9-2-2. Norway's Christopher Ulsrud called and eliminated him with 7-7. Ulsrud himself collected the same prize as he was soon to head for the rail in 25th spot.
Two more UK players fell before that point with Richard Waters in 30th and Ben Callinan in 26th concluding good tournaments for themselves. The US WSOP finalist Josh Arieh similarly finished in 29th and will probably be disappointed after being amongst the chip leaders on Day 3.
Andrew Black of Ireland, who had dominated proceedings for the previous two days had a bad Day 4 getting the worst of the big pots whenever he was in them. He lost chips to Carlos Mortensen of Spain and Marc Karam of Canada at different times.
Black finally made some headway towards the latter part of the day, including a double-up with pocket aces through Eric Van Der Berg of The Netherlands that damaged the Dutchman who nonetheless managed to hold on until the last hand of the day to finish in 9th place.
Karam had been on a rush and continued this when he eliminated a disgusted Dean Sanders of the UK in 18th place (who had been Day 3's second placed player after Andrew Black).
On the feature table, Sanders, holding 8-7, flopped the straight on a board of 10-9-6. Karam meanwhile had flopped two pair with 10-9. Sanders was all-in on this flop but the turn and river revealed two more sixes. Sanders' 9 played for the full house, sixes over nines. The loud sound emanating was Sander's microphone striking the table as he departed. The prize of €33,180 was unlikely to provide much consolation for the Briton.
The card rush for Karam on Day 4 has left him sitting poised behind runaway leader Gavin Griffin who had been picking up monster pots. Two examples dealt blows to Eric Van Der Berg and Ram Vaswani, both of whom mucked their cards on the river upon sight of Griffin's big cards.
Carlos Mortensen was busted by Josh Pragar of the USA while the final play of the day saw Eric Van der Berg all in with A-Q against Denmark's Soren Kongsgaard's A-5 (spade ace). An all spade flop kept the Dutchman in the lead but a spade on the river sealed his fate as Final Day Bubble Boy, and ensured the Norwegian Kongsgaard was to start the final in contention.
The Day 4 money winners were:
9 Eric Van der Berg (The Netherlands) €99,550
10 Alex Kim (USA) €99,550
11 Carlos Mortensen (Spain) €66,360
12 David Peters (USA) €66,360
13 Pete Giordano (USA) €49,770
14 Jan Viet (Germany) €49,770
15 Philip Hilm (Denmark) €39,820
16 Christian Neirinck (Belgium) €39,820
17 Kristof de Smedt (Belgium) €33,180
18 Dean Sanders (UK) €33,180
19 Roi Elmaliah (Israel) €33,180
20 Lars Eidissen (Norway) €33,180
21 Anthony Lellouche (France) €33,180
22 Shane Reihill (Ireland) €33,180
23 Simon Johansson (Sweden) €33,180
24 Johanes Strassmann (Germany) €33,180
25 Christopher Ulsrud (Norway) €26,550
26 Ben Callinan (UK) €26,550
27 Jacob Larsson (Sweden) €26,550
28 Herman Zango (Costa Rica) €26,550
29 Josh Arieh (USA) €26,550
30 Richard Waters (UK) €26,550
31 Cristinel Dumitru (Romania) €26,550
32 Dave Mobbs (UK) €26,550
Stay tuned today to the leading edge Poker News Live Update Service for the Final Table of the EPT Monte Carlo, with video interviews and photos appearing throughout the session.
Ed note: Don't miss out on the best new player freeroll on the net. Download Sun Poker right here and qualify for entry into an exclusive April new players $10,000 Freeroll Tournament.